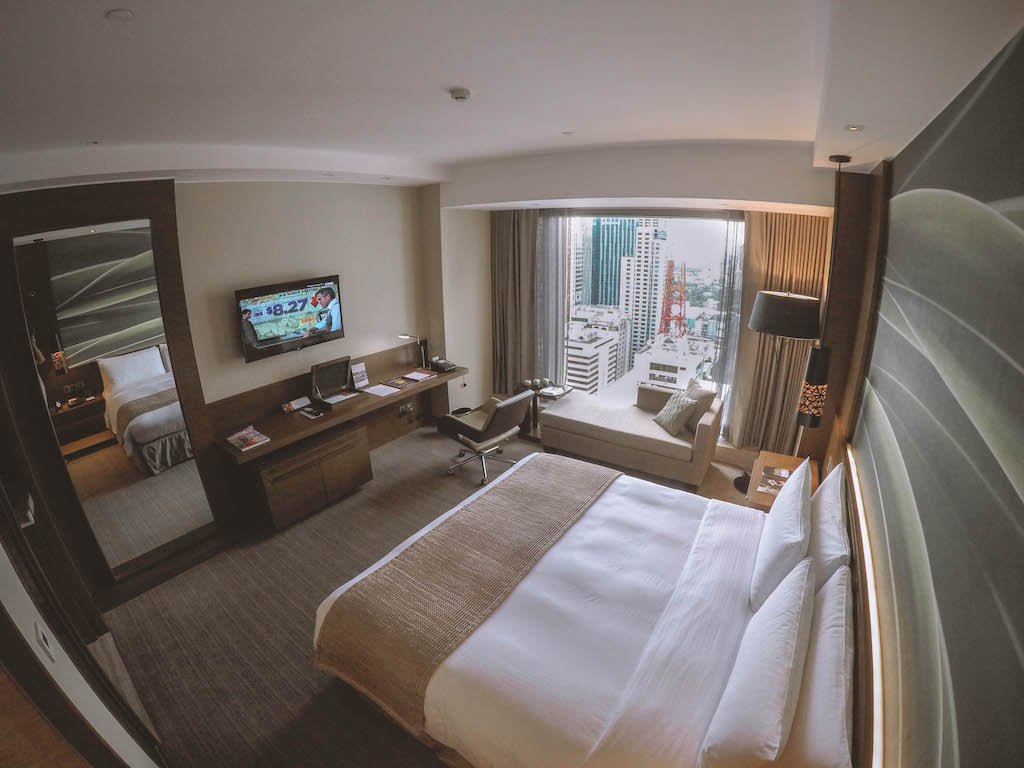 It's a common notion that 5-star luxury hotels also come with a 5-star price, that's why Beep and I only get to stay in such hotels once in a while because of discount deals or when we find hotels with top class amenities with surprisingly affordable rates. During the long holiday break, we found ourselves stuck in Metro Manila while most city dwellers escaped to the beach and islands. The rooms in the 5-star Marco Polo Ortigas Manila Hotel can be booked for as low as PHP4,000-PHP5000+ a night. A steal price for a 5-star hotel!

Located in the business district of Ortigas along the busy Meralco Avenue and near Megamall and Metrowalk, the 41-stories high 5-star hotel with 316 rooms and suites opened its doors back in 2014. It's one of only 3 Philippines hotels that has received the highly-coveted 5-star rating from Forbes Travel Guide (considered the Oscars of the hotel industry) in 2018, and Marco Polo Ortigas has earned this for 2 years in a row since 2017.

A member of the internationally renowned chain of Marco Polo based in Hong Kong, it's also dubbed as the first "sky hotel" in the Philippines because the hotel's rooms and amenities are all on the top 20 floors while the lower floors are occupied by offices. It also has 2 Continental Club floors for higher level of luxury with supreme privileges and benefits for guests like complimentary breakfast, afternoon tea, and cocktails.

Checking-in to our Deluxe Room
We arrived just before 2:00 in the afternoon for check-in. As a sky hotel, their lobby is located at the 24th floor where the towering floor to ceiling windows will give you majestic city, valley, and mountain views while you wait for your quick check-in. There are also plenty of seating available and a bar in the lobby if you prefer to lounge there longer or while waiting for your companions.

We were given our room key cards in just minutes and alighted the elevators to our Deluxe Room. As an added security for their guests, room key cards are needed if you're using the elevators to access your hotel floor and the common areas like the lobby, restaurants, indoor infinity pool, spa, and gym.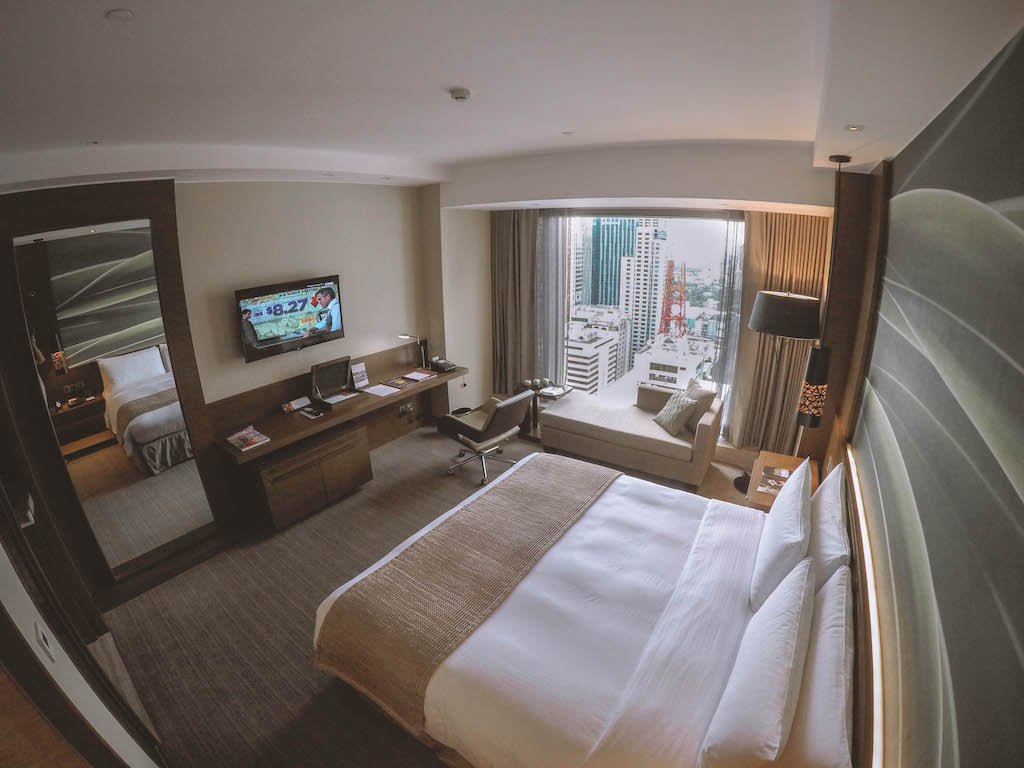 The rooms are designed with an elegant earthy color palette for a homey ambiance, combining Asian and Western comfort with luxury in the details. Our 40 sqm Deluxe Room with a stunning view of the Ortigas skyline in our wall-to-wall and floor to ceiling glass window has a King size bed (with 2 double beds option upon request) and day bed/couch by the window.





The room is well-equipped with high-end amenities like a Nespresso coffee machine and tea making facilities, executive desk, LCD TV with cable, mini-bar and fridge, in-room safe, and Wi-Fi service. And oh, you're welcomed in your rooms with complimentary fresh apples by your window. Their Deluxe Rooms are spacious enough to accommodate two adults and two children (under 12 years old).

We love our beach and nature views during travels, but the city views at night in our room was a welcome break. It's reminiscent of the movie Lost in Translation. At first look, you'll think we're in Tokyo because of the red and white tower.

Of all the hotel bathrooms we've been to, our bathroom in Marco Polo is definitely one of THE best. The large bathroom shouts luxury with its rain shower, marble bathtub with a view, a state-of-the art digital toilet with bidet, high-quality bathrobes, and Marco Polo toiletries from shampoo, bath gel, bath soap, dental care, and vanity kit.






We were supposed to swim in the hotel's indoor pool but after a long warm bubble bath in our marble bathtub made more relaxing by adding the complimentary bath salts and a glass or two of wine, we were knocked out as soon as we lied down in our soft warm bed with fluffy pillows and fresh white sheets. Oops.

Massive breakfast buffet at Cucina
As a 5-star hotel, you can expect 5-star culinary offerings too from Marco Polo Ortigas. They have 4 restaurants: Cucina, Lung Hin, Café Pronto, and VU's – Skybar. The complimentary breakfast for hotel guests are in served in Cucina, located at the 24th floor hotel lobby, from 6:00 to 10:00 in the morning. Last servings are offered 15 minutes before 10:00 so make sure to have your breakfast a bit early if you can so you can maximize the complimentary breakfast buffet with a wide array of international and Filipino dishes. Waking up early will be worth it.








5-star stay at an affordable price
As a 5-star hotel that surprisingly has affordable rates, Marco Polo Ortigas Manila does not scrimp on its luxury rooms and suites, amenities, food, and service. It's an ideal choice for couples, families, and business trips if you're looking for a relaxing home away from home in the middle of the city. We agree 100% with the reviews and awards that testify to Marco Polo Ortigas Manila Hotel being one of the best hotels in the country. This is definitely not the last time we'll be checking in here. Hopefully next time, we don't sleep on the planned pool trip.