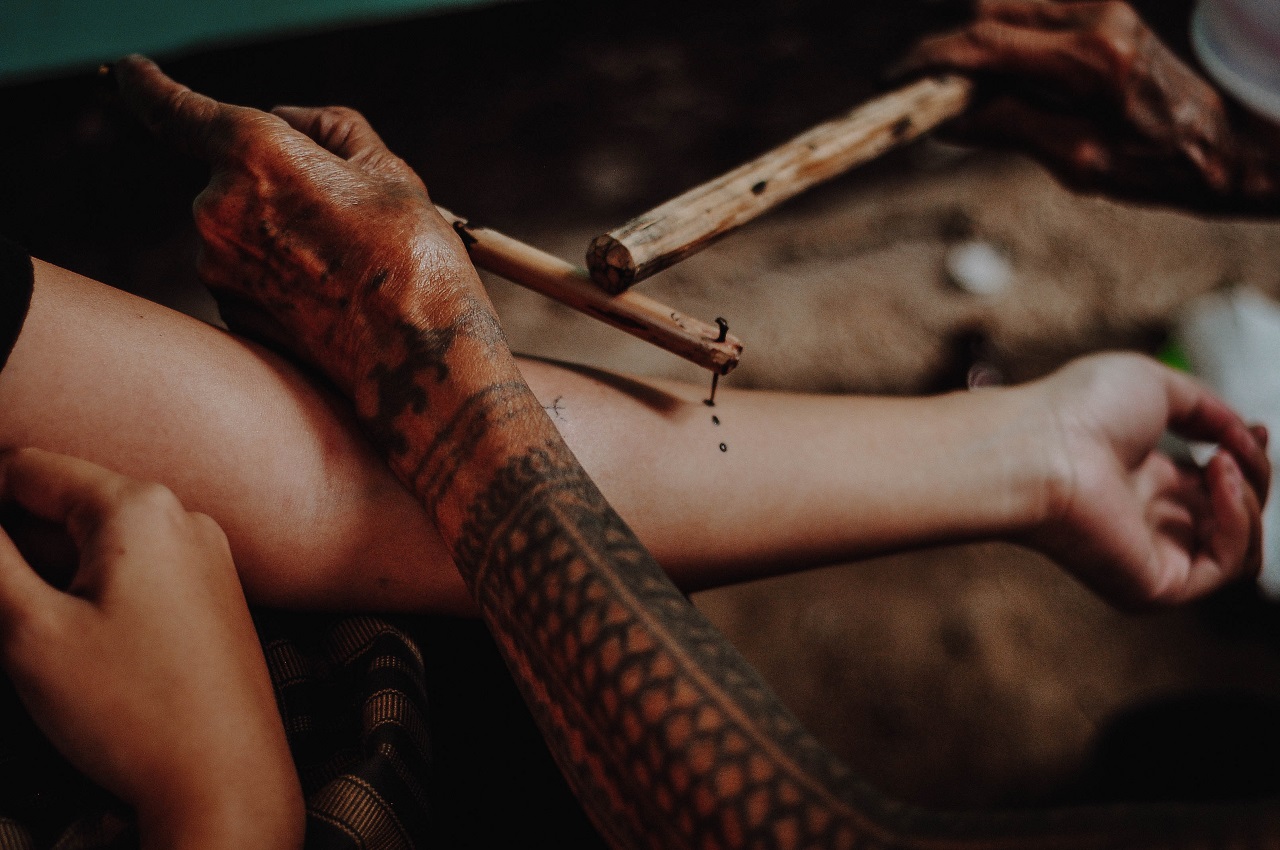 Of all the places I've traveled to in the Philippines, the secluded small village of Buscalan in the mountains of Kalinga holds a special place in my heart because it's where I got the best travel souvenir yet – tattoos from the legendary mambabatok (traditional tattoo artist) of the Butbut tribe herself, Apo Whang-Od. She is now 100 years old, and in her hand lies centuries of tradition. The tribes in Kalinga are known in history as headhunters. By tradition, male warriors of the Butbut tribe only get tattooed when they have killed an enemy – like a coat of arms. The more tattoos you have, the more respected you are. Females from their tribe, on the other hand, are tattooed for beauty. The wrinkled skin of Apo Whang Od and other elderly females in Buscalan are adorned with beautiful and intricate black patterns that have stood the test of time.

 Photo by
Meeting the legendary Apo Whang-Od and her successors
Apo Whang Od was supposed to be the last traditional tattoo artist of her tribe, until she realized that she needed successors to pass on the ancient art. They say that a mambabatok can only pass the legacy to their bloodline, otherwise it would bring bad luck. Since she doesn't have a husband and kids, she taught her grand nieces, Grace and Elyang.

Our group went up to Kalinga on a Wednesday night and left on a Saturday morning since there aren't much visitors compared to weekends. We heard that on weekends, as much as a hundred people line up to get inked by the 3 mambabatok. It was one of those rare opportunities when you can ask all 3 of them for tattoos, and I did. I travelled for about 16 hours by bus, rode topload on a jeepney and motorbike, and even hiked up to their village, so might as well make the most of the time I have with them. Learn how to travel Buscalan, Kalinga at the end of the post. 


Getting a traditional tattoo
The Butbut traditional tattooing process is actually simple. First, you choose a design from their board, or you can let Apo Whang Od or her successors choose one for you. Then, they take some black ink made out of soot from cooking pans or burned pinewood and blends it with water to make a creamy-paste ink.

Once done preparing, they use a thin blade of grass to mark the pattern on your skin. With a pomelo thorn poking through on a small bamboo stick, they bleed the skin by tapping the bamboo stick with another bamboo stick, poking the ink onto your skin. They tap down one small black dot at a time until your skin absorbs the ink beautifully and form the pattern.


Photo by 


 Photo by 

I got Apo Whang Od's three-dot signature on my forearm. Even if it only took her a few minutes to tap the three smalls dots on my skin, it was the most painful of the 3 tattoos that I got during that trip. According to Grace, the 3 dots represent the 3 of them. My first session was with the youngest, Elyang, who inked a hawk (messenger) followed by an eagle (bravery) from Grace. Grace and Elyang were playful with the guests and would easily befriend anyone, so don't be shy around them when you're in the tattoo hut. Whenever Apo Whang-Od arrives, Grace would tease her that Coco Martin (a local celebrity) was there and it would bring a sweet smile on her grandma's face.
 Photo by 
The young girls usually start their session early morning and Apo Whang-Od arrives at around 9AM to ink a few people. She then leaves for her afternoon nap and goes back to the hut if she feels like it. The girls stay in the tattoo hut until after sunset.

 Photo by 
Your hired local guide will be the one asking if you can get queued to sit down with Apo Whang-Od for a tattoo and they also translate your request to her. Be considerate of her old age when you request a design and where you want it done, she tends to get grumpy when you're demanding too much from an old lady like having her bend down to ink your foot.

 Photo by 
After getting your tattoos, visitors are asked to go to Apo Whang Od to ask for the price. Every tattoo's price varies depending on the size and area. She was already back at her house when we were done with the tattoos from all 3 of them. She took a quick look at our freshly-inked tattoos and told the guide the total price. Would you believe that I only paid for PHP800 for all 3 tattoos?
The simple life in Buscalan
Apo Whang Od isn't the only reason to visit Buscalan, Kalinga. The province, full of friendly smiles and hospitable locals, can take you on an adventurous mountain bike trail or breathtaking trekking experiences to Palan-ah Falls or the sunrise above the Padjao Rice Terraces and swimming through the Chico River.

Photo by 

    You do not just see the beauty of the region, but you could also taste it through the infamous Kalinga coffee. Coffee beans in the region are hailed as the Rice Granary of the Philippines, and it was once the top coffee bean supplier in the world. We had their coffee for breakfast, lunch, merienda, and dinner!

Photo by 

There are no hotels in the village, but locals offer homestay where tourists can live in one of the rooms in their house. Our group of 3 girls stayed in one of the rooms in Kuya Charlie's reggae-inspired room. Just bring food like canned goods that your host will cook for you, they provide the rice and Kalinga coffee.

 Photo by 
Don't bother updating your social media accounts during your stay there because there's no signal. It's a perfect excuse to disconnect from the world and enjoy the simple life in the mountains. Even if it took us half a day of exhausting travel to get to Apo Whang-Od's village, I don't mind going back there to experience it all again. Every time I see the 3 tattoos on my forearm, I'm reminded that I will forever be wearing their culture, and that I should wear them with pride.

 Photo by 
A trip to Buscalan, Kalinga is just one of the many culturally rich yet affordable places you can visit in the Philippines like these destinations. It might be a challenge to travel to but it's an experience that you will tell your children and grandchildren about because only a few people can proudly say that they got to meet and get tattooed by the legend herself. Apo Whang-Od is one of the treasures of this country and I hope you get to meet her in person too very soon. Whether you're a foreigner or a Filipino, do explore the  and discover what other unique experiences our country has to offer!
How to go to Buscalan: 
1. From Manila: Board a bus bound for Tabuk at Victory Liner-Kamias Terminal. You can choose from the 7PM or 8PM trip, but we highly suggest you take the first trip. One-way ticket will cost you about PHP700. Travel time is 9 to 13 hours. Ours was about 12 hours. Asked to be dropped off in front of St. William's Cathedral. Your target arrival time should be 5AM.
Not from the Philippines or Manila/Luzon? You can opt to fly to Manila, the country's capital. You can check the best airfare deals to Manila using the Traveloka App and even get big discounts with their promo codes. Learn how to use their features in my post: How to Score Cheaper Flighs with Traveloka App
2. Ride a Bontoc-bound bus (PHP150) or Tinglayan-bound jeepney (PHP130). The terminal is just 5-10 mins walk (depending on your pacing) from where the bus will drop you off. Since our bus arrived at 7AM, there were no more buses or jeepneys in the terminal and the locals said that the last jeepney just left. We opted to wait and pray that a jeepney will arrive and luckily there was another jeepney! We rode topload with the local men because we wanted to see the amazing views of the mountains. Just be extra careful! No photo is worth your life! The trip takes around 3 to 5 hours.
3. You will be dropped of at Barangay Bugnay in Tinglayan. Ride a habal-habal (PHP100) that will take you to the drop off point. 4. With your guide, you will then trek to the village for about 20-30 mins.
For homestay and local guide at Buscalan, you can get in touch with Kuya Charlie at 09981888697.