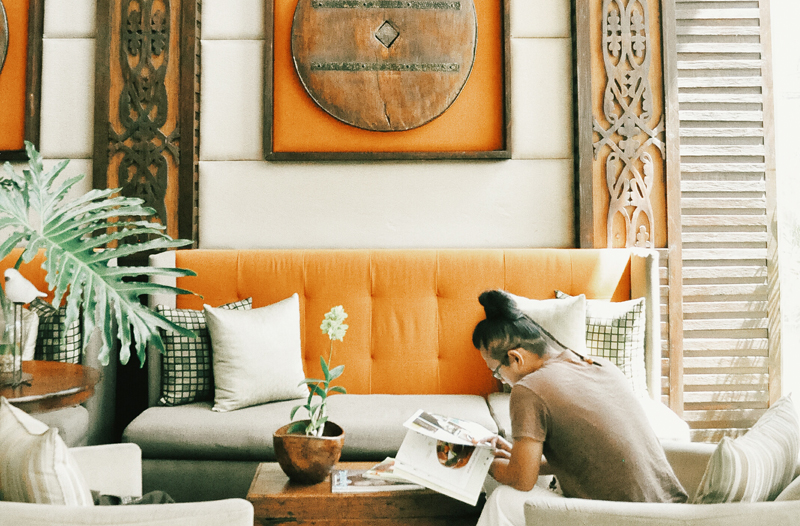 We don't really get to stay much in luxury hotels or resorts during our travels. We just don't see the point of splurging on an expensive room that we just sleep in for a couple of hours because we spend most of our time outdoors exploring the beauty of Mother Nature. For us, Mother Nature IS the best luxury resort. As long as we have a roof over our heads, even if it's just a tent that we pitched ourselves, then we're fine.
However, when we do have extra cash to burn, we treat ourselves once in a while too, usually on special events where we don't have any budget trip planned. We look for accommodations in the city where we can have a weekend of peace and quiet to take a breather from our busy corporate lives. One of our favorite city staycation destinations is the Cocoon Boutique Hotel in Quezon City.
Now, Cocoon Boutique Hotel isn't your run-of-the-mill luxury hotel.
There's a reason why it's one of our top picks for a city staycation and that we don't mind splurging for a weekend stay here: it's luxury the way Mother Nature would have intended it.

Nestled in the middle of the hustle and bustle of the North, Cocoon Boutique Hotel is an award-winning eco-friendly deluxe boutique hotel that is a first of its kind in the Philippines. Taking cue from Mother Earth herself to create their own standard of green luxury, sustainability is built into EVERY detail of the hotel's structure, modern design, choice of furniture, and even the cooling systems! But more than the amenities, what makes Cocoon Boutique Hotel a relaxing sanctuary is their their sincere and warm staff who always made sure that we felt at home and pampered.
We first stayed here back in 2015 to welcome the New Year and we loved our weekend stay so much that we wanted to go back if we get the opportunity (and the budget). Fortunately, we were invited by Cocoon Boutique Hotel for their Mother Earth celebration last March 25 – how could we say no?

Award-winning service
Since we were invited by the hotel for our second visit, we compares the hotel services to our first stay where we checked-in as regular guests. Not surprisingly, the service was still as excellent as what we remember it to be. Every guest in the hotel is treated as a VIP.
Andrew from reception asked us how our day was while waiting for the elevator and I mentioned the intense heat outside, he was quick to offer to bring us an ice bucket for our room and called us to make sure that we received it. This is just one example why they've been voted as T
rip Advisor's Travellers' Choice Award for 2016
, and have been receiving it for the past 4 years!

Check-in was a breeze. They just asked me for an ID and directed us to the get comfy in the lobby couches with a complementary cold glass of dalandan juice. I was so parched that hot afternoon that I finished my glass in seconds so they offered to give me a second glass. They gave me a form that I only needed to fill up in seconds and we were all set. We were escorted to our room by Andrew who also gave us a brief introduction to the room features.

Eco-friendly rooms 
The first thing that we did was to plunge into the glorious 400-600 thread count, 100% Egyptian cotton beds that were still as soft as we remember them to be. Beds are the first thing that we inspect in a hotel when we step in the room, and Cocoon Boutique Hotel's beds are on top of our list of the best! I loved their beds so much that I even created Instagram stories of me plunging into the beds and is now my Facebook profile video.

As part of their eco-friendly design, the room has inverter type non-ozone damaging ACs, floor to ceiling glass windows for natural lighting and dim lights, reclaimed solid hardwood for the built-in desks, floors, and art wall. Oh and they also implement a waste segregation program in the room so you have 2 waste baskets: biodegradable and non-biodegrable.

Next to their beds, the best feature of the rooms is the deep-soak bathtub in the bathroom where you can still get natural light because of the open bathroom set-up, and even watch TV with speakers while you're having a bubble bath.
The bathroom amenities are eco-certified 100% and they use plasticized cornstarch material with stone paper and soy ink for the packaging of toiletries.


Rooftop bar/restaurant and pool  
The Earth Hour event that night was held at the rooftop where the bar/restaurant and pool are overlooking Quezon City's night lights. Cocoon Boutique Hotel has actually been participating in Earth Hour for years now. For 2017, they invited guest speakers from various environment conservation organizations like the WWF to inspire the crowd to go beyond Earth Hour in helping save Mother Earth. Chikoy Pura also got on stage to sing for the crowd. Even if it was dark, I could see the big smile on Beep's face who is a big fan of The Jerks.

When the lights were turned off, the rooftop was still well-ventilated thanks to the vertical organic garden that surrounded the pool. They don't use any chemical pesticide or fertilizer and they utilize harvested rain water for irrigation of the plants. The same vertical garden is where they source the mint in the mojito and other herbs used in the restaurant food – from garden to your table!

Our complimentary buffet breakfast was also served in the rooftop. Though the menu is not as extensive as other hotel buffets, it had plenty of choices from international to Filipino food, with healthy options too like the oatmeal with bananas, cinnamon, and fresh yogurt that Beep and I both had.


Rejuvenate at the hotel spa 
After the Earth Hour event, we went to the spa for the 1-hr massage that we reserved by calling the reception that afternoon. Beep still remembers the relaxing massage from when we had it back in 2015 so he was very eager to have it done again this time. They offered us a private room upgrade for only PHP100 which had thermal massage beds. We're spa addicts but this was actually the first time we experienced a thermal massage bed.
I try to stop myself from falling asleep during massages because I want to feel every soothing pressure but Beep and I both fell asleep within 10 minutes. I was awoken with Beep's loud snoring, when the massage was halfway done.
As soon as we got back to our room, I jumped on the bed and instantly fell asleep. Beep said he jumped in a few minutes later too because he couldn't keep his eyes open anymore while watching TV. Cocoon's Spa and their room's beds are a lethal combo for rejuvenating your weary bodies.
I planned on waking up at 6AM to take sunrise photos in the rooftop but knowing that I only have a few hours left to sleep in that bed, I just snoozed my phone alarm and went back to sleep.

Right after our breakfast was our scheduled foot spa and massage, where they had us sit comfortably on lazy boy chairs with  hot tea on the side. A fitting end to our relaxing staycation weekend.

Aptly named "cocoon", though a temporary home, it envelopes you in warmth and softness and and you come out renewed and invigorated.
The vision of the Vinzon family, who owns and operates the hotel, is simple: to offer the highest standards of luxury without taking anything away from the environment – and they live up to to their promise. Cocoon Boutique Hotel is worth splurging for.