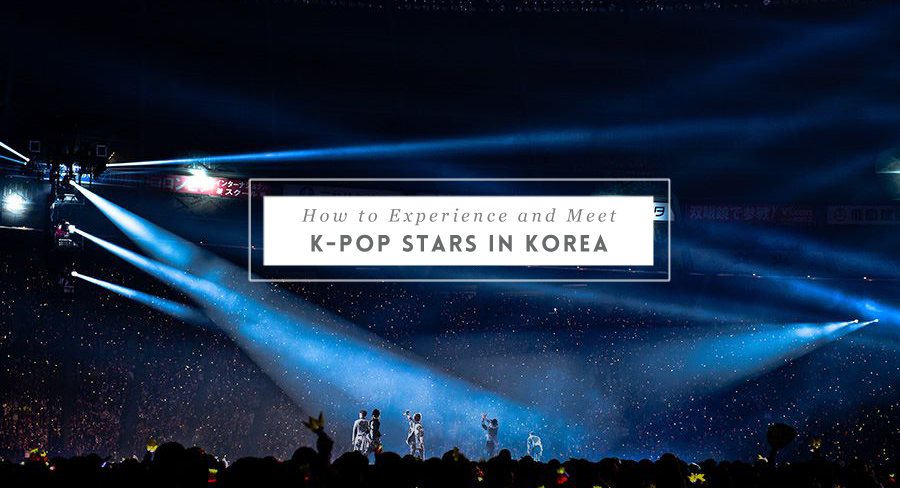 I was only in high school when I first got into the K-Pop craze that was just starting to take over the world (this was about 10 years ago). Back then, there were just small groups of fangirls like me in the country who discussed about our fandoms in online forums, meet up to celebrate the birthdays of our idols (complete with cakes that had their faces on it #TrueStory) and go to Korean K-TVs to sing and dance along to K-Pop songs. My family thought that I was weird for listening to and memorizing songs that I didn't even understand, but they got used to it eventually and even knew the name of my K-Pop crushes.
Don't have plane tickets to Korea yet? Score cheaper flights to South Korea here. 
Looking for a place to stay in South Korea? Find the perfect hotel that will fit your budget here. 
Live the Dream of Going to Korea
My ultimate dream was to go to Korea and actually meet my idols, see them performing on stage or even just bump into them in the streets. Back then, it seemed like it was impossible. But I knew that as I get older, I'd be able to fulfill my dream because I'll eventually have work to earn my own money. I have to admit, the Korean Visa requirement felt like a big block on the road because I had never gone abroad before and I thought that I would never get approved if I do apply.
The years passed, I got into college, graduated, got a job, and faded away from the fandom, but I still dreamed of going to Korea. In late 2012, I booked a ticket on impulse during a seat sale and in 2013, within 3 months of my date of travel, I applied for a Korean Visa. I was approved despite the trip being my first time abroad and not having a fat paycheck. I've gone to Korea twice now, the latest one being Spring of 2014.

Why did I just tell you that story?
Because I know that there are a lot of K-Pop fans out there who are just like me before, who feel like it's impossible to go to Korea and see your idols. It's not. A seat sale airfare to Korea can get as low as 3,500 PHP roundtrip from the Philippines. Save up for it and don't let that visa requirement stop you. If you need more help to make this possible for you, read our posts on 7 Tips and Tricks for Getting Cheaper Plane Tickets and  How to Apply for a Korean Visa + Tips for Getting Approved
How to Experience and Meet K-Pop Stars in Korea
Seeing your K-Pop idols in the flesh has now gotten a bit easier since K-Pop is so big that they have concerts in countries outside Korea. But what if you want to experience K-Pop and see the stars in the country where it all began? Here are some ways to do it (aside from stalking them – goodluck with that): 

1. Live K-Pop Concerts + meet and greet
Hardcore fans are always on the lookout for concert dates of their idols so they can book a flight to Korea for that date (join online forums specific to your fandom to get updated on the upcoming concerts). This one however requires you to be flexible with your finances because seat sales only cover specific travel dates. If there's no seat sale for the concert date then you either have to wait out for a seat sale that covers it OR buy regular priced tickets that cost a fortune.
2. Hologram Concerts
Now, if you can't go to the live concerts and your time in Korea is limited, this will be a cheaper alternative that is available all throughout the year. You may not see your idols in real life but this will feel like the real thing. Trust me, I squealed like a crazy fangirl when I saw GD of BigBang's hologram on stage because it really looked like he was just infront of me. The hologram concerts available in Korea are the K-Live Hologram Concert (featuring BigBang, 2NE1, and Psy) and SM Town Hologram Theatre at SM Town Land.

3. Korean Music Live Shows 
If you want to see not just one group or singer but all the currently famous ones in Korea right now,  you may want to do this instead. In Korea, you can become part of the audience in the major music shows like SBS Inkigayo, MBC Show! Music Core, KBS Music Bank and M net M Countdown in the broadcast stations. This is your best bet to see the hottest K-Pop stars in Korea during your visit, but getting the FREE tickets can be quite a challenge. Here's a guide to help you out. 

4. Hang out in restaurants/cafes that they own
A lot of K-Pop stars and their families have started their own businesses alongside their singing careers, with some putting up restaurants and cafes where their fans can go to and buy their merchandise too. Here's a list of the K-Pop celebrity owned establishments that you can go to when in Korea. If lady luck is on your side, who knows, you might see the owner celebrity there too (or their family)! (Photo Source)