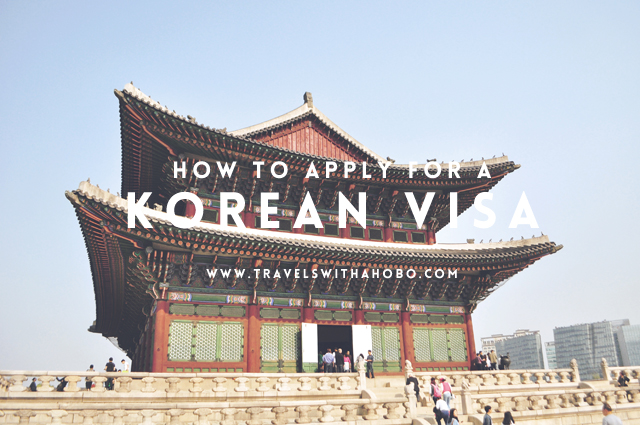 UPDATE [Feb 25, 2015]: The Korean Embassy announced new visa requirements for tourists effective Mar 1, 2015. See updated infographic below for the details. Those who will be traveling after March 1, 2015 will need to provide additional information from the required Certificate of Employment, Bank Certificate and copy of Income Tax Return, and submit  their Bank Statements.
I've applied for a South Korean Visa thrice and have gotten approved in all instances, so I must be doing something right. We got back from our 7-day Spring in Seoul trip a couple of weeks ago and what better way to reminisce about one of our favorite countries to visit than help fellow Filipinos to plan their own trip – but first things first, let us help you in applying for your visa. Here is Travels with a Hobo's Guide to Applying for a South Korean Tourist Visa for Filipinos Employees.
P.S. We've already written everything that we know about Korean Visa application in this blog post. Please take note that

we've only experienced applying for a Korean Visa as EMPLOYEES

so our knowledge about this is limited to the requirements for that category.

We are not in anyway connected to the Korean Embassy

so we cannot guarantee if you will be approved or not based on your application details because only the consuls can decide if you'll be issued a visa or not. 
In the three times that I've applied for a Korean visa, I was both employed under a private company so this post is more focused on applying for a visa as an employee. Here are what you need to secure when applying for a South Korean Visa:

ALL documents must be issued within 3 months of the date of application. Additional if you have an invitation:
Personally invited by a Korean : Invitation Letter & Copy of invitor's Passport
Invited by Company in Korea: Invitation Letter & Copy of Korean Company Business Permit
If you're NOT under the Employee category, please check the requirements in the Korean Embassy website.
 1. Application Form 
-  Completely fill up the printed latest application form that you can download from the Korean Embassy website.
- Before filling up the form, read the instructions in page 2 carefully.
- Avoid erasures; keep your application form neat and presentable. If it helps, use a pencil first to lightly write on the form, then when you're sure that everything is correct and complete, write over them with a pen and carefully erase the pencil marks.
- Your employer's contact number is important. Just to be sure, if your HR department has more than 1 contact number, write them down as well.
- If you don't have a place to stay yet in Korea, write 'undecided' for Address in Korea and Phone No in Korea. Looking for a place to stay in South Korea? Find the perfect hotel that will fit your budget here. 
- For Purpose of Entry, if you're going to Korea for a vacation, then write down "tour" or "vacation".
- If you'll be paying for your own expenses in Korea, write "myself" in Who Will Pay For The Expense For Your Stay?
- For Potential Length of Stay and Potential Date of Entry, make sure that your dates of travel to Korea are within 3 months of your application, because a single entry visa is only valid for 3 months upon the date of issue. 
- Don't leave any items blank, put N/A instead.
- Don't forget to sign your form and put the date of submission.
2. 1-pc passport size colored picture
- Unless you're really good looking, please, don't get your picture taken in one of those dingy rush ID places. Go to the photo studios in the malls where they will make sure that you look respectable, educated, and financially capable to be a tourist in Korea. They will even have you wear a black blazer and fix your hair.
- For the background, anything will do, but white is a safe bet.
- You don't have to look serious, you can smile a bit. – Glue this photo on the application form in the upper left, as indicated.
3. Original Passport (and your old passports if you've renewed)
- Make sure that your passport is valid for at least 6 months
- Upon claiming your visa, they will only give back your passport with the visa in one of the pages.
4. Photocopy of Passport
- A clear photocopy of your passport's page 2, the one with all your information and photo.
5. Original and Photocopy of valid visa/s and arrival stamps to OECD member countries for the past 5 years
- See the list of OECD member countries here. If you've been to Korea in the last 5 years, that doesn't count.
- Don't bother providing a photocopy of the arrival stamps in your passport (OECD member or not), the consul will just give it back to you.
6. Original Certificate of Employment
- You can ask your HR department for this.
- Request for one at least a week or a few days before you submit your application, the date of issue matters.
- Specify with your HR that it needs to have the following:
Date of Issue
Company address
Employer's valid contact number/s (preferably direct landlines to your HR manager since the embassy will call him/her for verification of your employment, cell phone numbers are NOT allowed) and email address
Your job title/position in the company
Your monthly salary
Date hired and how long you've been with the company
Your travel dates and purpose of travel
Address it to:

Embassy of the Republic of Korea in the Republic of the Philippines

122 Upper McKinley Road, McKinley Town Center, Fort Bonifacio, Taguig city 1634, Philippines
- The embassy will call your employer/HR manager within a day or two with the numbers you provided. It is highly important that they speak with someone in your company to prove that you're currently employed and you have regular income. 
7. Original Personal Bank Certificate 
- This is NOT the same with a bank statement.
- A personal bank certificate is a 1-page document that certifies that you have XXX amount of money in your personal bank account.
- You can request for this at the branch where you opened your bank account. What should be included in your Personal Bank Certificate according to the new rules:
1. Account type
2. Current balance
3. Account opening date
4. 6 months average balance (ADB)
- You will need to pay a processing fee of P100 for this at the bank. In BPI Family Savings Bank, I got my personal bank certificate in just a few minutes, while at BDO, you will only get it the day after (both based on my own experience).
- How much do you need in your bank account? There isn't really an official amount cited by the Korean Embassy. But in my experience, it depends on how long you're going to stay in Korea. If you'll just be there for 5-7 days like me, having at least P50,000 in your account will do.
8. Original or Certified True Copy of Bank Statement/Passbook for the last 3 months
- You can request for this at the branch where you opened your bank account, like your Personal Bank Certificate
9. Photocopy of Income Tax Return (ITR) or Form 2316
- You can request this from your employer as well – It must have your personal TIN number
- If you're applying from January-April 14 (or before the deadline of filing taxes), you can submit your ITR from last year.
- Take note that you only need to submit a photocopy.
- If you're a recent graduate but employed and don't have an ITR yet, just tell it to the consul when you submit your application. They will see how long you've been in the company anyway in your COE.  

Additional Tips to Increase Your Chances of Getting Approved:
- Only submit the documents listed as requirements. You don't need to include your plane tickets, itinerary, and confirmation of booking of your South Korea hotel/accommodation. Don't have plane tickets to Korea yet? Score cheaper flights to South Korea here. 
- Arrange your documents in the order as listed above. 
- Submit your applications a month before your trip, just in case there will be delays in the releasing of your visa (yes, it happens! more on that later).
FAQs
Submission/Release of Korean Visa
1. How much do I need to pay for a South Korean Visa?
-You don't have to pay for anything IF you will stay in Korea for 59 days or less.
- For those who will stay there for 60-90 days, you will need to pay P1,800.
2. Do I need to hire an agency to process my application? 
- This is not required. You can process your application on your own.
3. Can a representative of our group submit and claim for us?
Yes. One person can submit multiple applications and claim multiple visas.
4. How long do I need to wait to claim my visa? 
You can claim your visa after 5 days, if you do not have OECD member visa/s. If you do have OECD member visa/s, it's only 3 working days.  Upon submitting your application, the consul will give you a claim stub with the date of release.
5. What time do I need to submit my application? What time do I claim it? 
Submission of application – 9-11 AM; Mon-Fri
Claiming of visa – 2-4 PM; Mon-Fri
We suggest you go to the embassy a few hours before the official time the submission/claiming begins. You will be handed a number; they accommodate people on a first come first serve basis.
6. Do I need to bring anything else when I go to the Korean Embassy? 
Just your complete requirements and a valid ID for registration.
7. What is the address of the Korean Embassy? 
122 Upper McKinley Road, McKinley Town Center, Fort Bonifacio, Taguig city 1634, Philippines
8. Do I need to personally come to the embassy and fall in line if I have questions? 
If you have any clarifications regarding your application, you can call the embassy at (63-2) 856-9210.
Approved/Denied Korean Visa
1. This is my first time to travel abroad and my first time to apply for a visa, will I get denied? 
The first time I applied for a Korean visa, it was also my first time abroad and my first visa application. I got approved. Beep the Hobo, who has never traveled abroad, also applied for the first time for our trip last month, he got approved as well.
2. I just graduated but I'm employed. I don't have an ITR yet, will I get denied?  One of our companions in the last Korea trip was in the exact situation, she was issued a visa.
3. Does the embassy immediately deny applications?
In our experience, they don't. If they can't contact your employer for example, they will ask you for an alternative number and delay the release of your visa to 2-3 days. One of our companions had her visa release delayed for 3 times, she kept on coming back to the embassy to provide them with her employer's contact information, and she was eventually issued a visa.
4. What are the reasons the embassy denies a visa application? 
As indicated in their website, the Korean Embassy can deny your application if:
- Your passport is invalid.
- You are prohibited to enter Korea as per Korean Immigration law no.11 sec. 1 (Prohibition of Entry).
- Their record shows that you have previously violated the Korean law.
- You failed to submit the required document completely.
- The documents you have submitted cannot be verified.
- You failed to prove the purpose of entry to Korea.
- You failed to prove strong economic and family ties to the home country.
- Your inviter is not qualified to invite you.
- You failed to prove the relationship with your inviter.
5. If my visa application is denied, how long do I have to wait to reapply? 
6 months. ouch.

GOOD LUCK! FIGHTING!