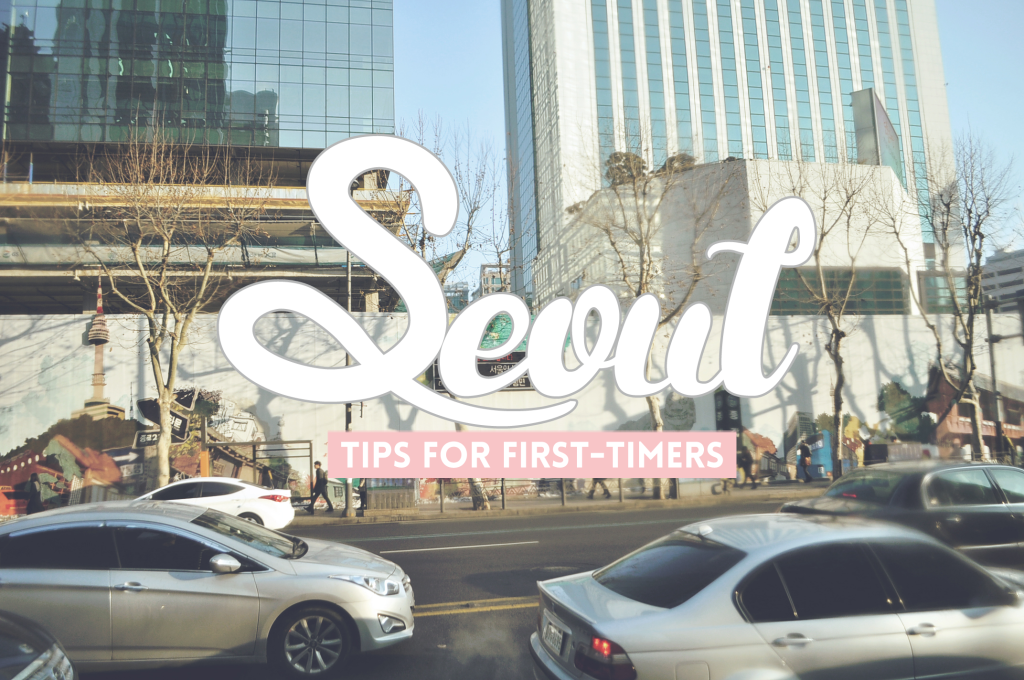 Don't have a Korean visa yet? Check out our guide to applying for a Korean visa + tips on increasing your chances of getting approved. 
When I was in high school and early college, I was so obsessed with K-Pop, Korean TV series and movies (and J-Pop, J-dramas and movies too!) that my mom once told me that I'd probably get married to a Korean. Fast forward to 2014, I'm not dating a Korean but I'm dating a guy who knows lyrics by heart and dances (can you imagine my embarrassment every time we go to karaokes with our friends?). Beep's not Korean, he looks more like a Japanese samurai who likes K-Pop, so yeah, close enough to my mom's prediction. 
Last Feb 2013, my dream to go to K-Pop country finally came true! Unfortunately, Beep couldn't come with me. He spent valentine's day alone back in the Philippines while I was at the Korean DMZ stepping foot on North Korean soil. I'm such a great girlfriend. Haha. I did bring him home a desk calendar of Girls Generation. LOL.

Planning a trip to Seoul? Find the best airfare deals to Seoul here.
With more people getting bitten by the Hallyu bug (like my college friend Bea who has been demanding me to make more Korea posts), and interest in going to K-Pop country is at an all-time high especially for Filipinos, I've rounded up some travel tips for first-time tourists in Seoul for a successful budget trip to K-Pop country:
1. Don't be ambitious with your itinerary
Trust me on this. After 5 days in Korea with each day having an average of 3 destinations/activities squeezed in, I never felt so exhausted in my entire life (which explains the yet to be edited Korea travel video and a slow progress on Korea blog posts).
I know you want to make the most out of your Seoul trip, but I'm telling you, you'll want to be a smart traveler by NOT following every schedule of activities in .
What you can learn from our itinerary:
-If you want to go to the DMZ tour, don't schedule a late night activity like going to a night market. You need all the sleep you can get for the DMZ tour since it has a really early call time.
- Don't schedule a trip to the theme park after a tour like DMZ. You'll want to instead dedicate an entire day for a theme park like Lotte World and especially for Everland.
- Don't spend the night at the jjimjilbang (korean public bath) if you have an early start the next day.
- Bottom line: Give yourself enough time for a full 8-hour sleep.

Lotte World
2. The subway will be your BFF
Every place is conveniently reachable by their subway. I recommend that you print out the subway mapor download the . The map may seem like it's hard to understand, but it's not. I promise. You'll realize how much of a genius its planner is when you experience it.

Another thing, most subway stations are just a few blocks away from each other, just walk if you don't mind stretching your legs and doing more sightseeing.


3. Research your destinations
If you can see in our itinerary, we included the directions for every destination: which subway lines to take and which exit number to get out of. Take the wrong exit and you're gonna waste a lot of time trying to find the place you want to go to. Korea has a very detailed website for how to get to tourist destinations by bus or subway. But I highly suggest you take the subway when going around the city. Signages in Korea have english translations so don't worry if you don't know how to read Korean.
READ: Make sure the place you want to go to still exists or is open. We went to the Coffee Prince shop but it was closed for renovations.

 We got lost looking for the Coffee Prince shop. Then we found out it was closed for renovations.

4. Get a Seoul hotel/apartment near Line 1 and Line 4
See that Line 1 in blue in the subway map? That's the main subway line that is connected to almost every other subway line. The hostel we stayed in the first time we went there, Korea Hostel 10th, was conveniently located at Dongmyo station of Line 1. For our second trip, we rented a whole apartment for ourselves, which was also conveniently located near a Line 1 station.
One of our readers also suggested to stay near Line 4 because the interval between the trains in Line 1 is longer than Line 4. Moreover, you can easily get to the main tourists spots such as Myeongdong, Seoul station, Gyeongbokgung Palace(Gwanghwamun), Insadong, etc.
You can find more Seoul hotels based on your budget here. 
5. You'll be pushed a lot
If you don't like riding a jam-packed subway, better avoid riding it during rush hour or you might miss your stop. Koreans are always on the go so don't be offended when someone pushes you out of the way without an apology. At pedestrian crossings, when you see the green/cross signal, don't wait for the cars to stop, just cross immediately or else you'll be pushed out of the way by the Koreans who are always on a hurry.

6. Don't exchange all your money at the airport
Foreign exchange centers are available in every busy corner especially in shopping areas, so don't exchange all your money at the airport (you'll get better rates in the city). Exchange money just enough for your train or bus ride to your hostel.
 7. Get T-Money
The Korean T-Money is similar to Hongkong's Octopus Card. You can get a T-Money card at the airport and load more credit at convenience stores. This is the card that you will be flashing when riding the subway or buses around Seoul. During our trip, we got the M-Pass, a card exclusively for foreigners and it comes with discount coupons to tourist destinations like the theme parks. You can read more about T-Money and M-Pass here.

8. Get connected anywhere with Wi-Fi
From coffee shops, fast food restaurants, to the subway, your device will detect Wi-Fi hotspots. Some of it are free but some have passwords. Some hostels, like ours, also offer a wi-fi device (Internet/Wi-Fi Egg) that you can rent for a day. We got a tip from a reader who said that the Wi-Fi password in coffee shops are in the receipt.
Is Internet in Korea really THAT fast? Haha, yes.

9. No Engrish!
I have A LOT of funny No Engrish moments in Korea that it needs a separate post. Asking locals for directions or what food they're eating so you can order it too, is unavoidable especially when you're in Korea. Majority don't speak English so asking around can take a lot of time because of finding someone who can understand you and can talk to you. Don't be surprised if they run away, it happens. HAHA! Download korean translator apps or prepare a list of phrases in Korean that you can use when asking around. You can also ask your hostel/hotel front desk (who understands english) to write down in Hangul the place you're going to or the food you want to eat. You can also put photos of tourist destinations in your phone that you can show to people that you ask for directions from.
10. Set a budget for shopping
Night markets, malls, and shopping areas are included in our itinerary. Though we just wanted to check them out, it was hard to fight the temptation! If you're a big fan of Korean cosmetics, better get ready for A LOT of shopping. Cosmetic shops are all over Seoul, you can even find them in subway stations! You won't be able resist it. I know I couldn't. LOL.
Here's a tip from Joni who has been to Seoul before too: To stay within your budget, don't shop during your trip, or at least not a lot. Spend only on transportation, food, and accommodation – the basics. Unless you're in a country where most things are affordable (like Thailand or Indonesia!), loosening your purse strings a little is totally understandable.

COEX Mall
11. Pay at the counter at restaurants 
Don't ask for a bill when you're done eating at restaurants. After you finish your meal, go to a counter (usually located right behind the door ) where you will see other customers paying before they leave. For street food stalls, just pay directly to the vendor or one of their staff.

12. Sorry but you won't bump into your favorite K-Pop singers or K-drama actors
But you will see a lot of them in the city if they're really famous at the moment, well not the real them, but in billboards or cardboard standups.

GD at Myeongdong!! LOL.
P.S For my friends who have already been to Seoul, feel free to add any other essential tips in the comment box so I can update this list. I may have missed some other tips since it's been a year. Will link your tip to your blog.