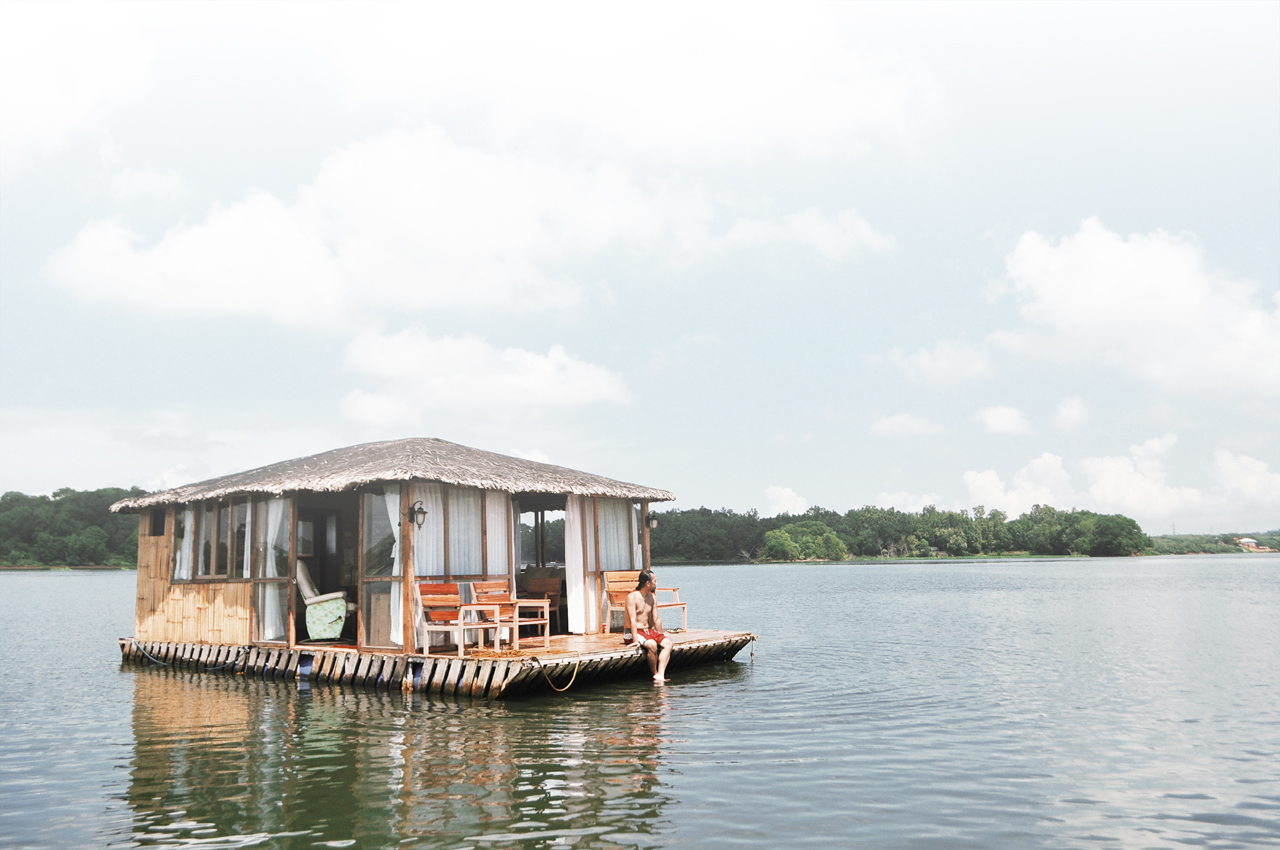 What's your idea of a perfect escape? If you ask me and Beep, it's getting away from the noise of the city, just the two of us, alone and one with nature. It doesn't even have to be in a high-end resort or beach – the more isolated we are, better. Like when we pitched a tent in one of the islands in El Nido, Palawan where we cooked our dinner by fire under the moonlight;  the soft waves, the rustling of the trees, and the sounds of the animals living in the island lulled us to sleep. Spending time outdoors, and one with nature, has a lot of health benefits too! While there are islands that are a couple of hours away from the bustling city of Manila, it's seldom that you'll have the place to yourself since you'll have to share the island with other campers or travelers. That's why Beep and I are always on the lookout for private getaways that we can easily drive to. We've tried renting houses but none of them can compare to that night in our own island, until we found out that there's a floating cottage  somewhere in Laguna thanks to an invitation from the owner of Eco Saddle [now Aquascape]. Planning a trip to Manila and its nearby provinces like Laguna? Find cheap flights to Manila here.  So last weekend, we drove to Eco Saddle in Caliraya Lake/Aquascape and spent the night in their motorized floating cottage. It was like having an island all to ourselves again, but this time we had a fully-furnished house that can cruise around the lake. Who needs a yacht when you have a real Hobo house?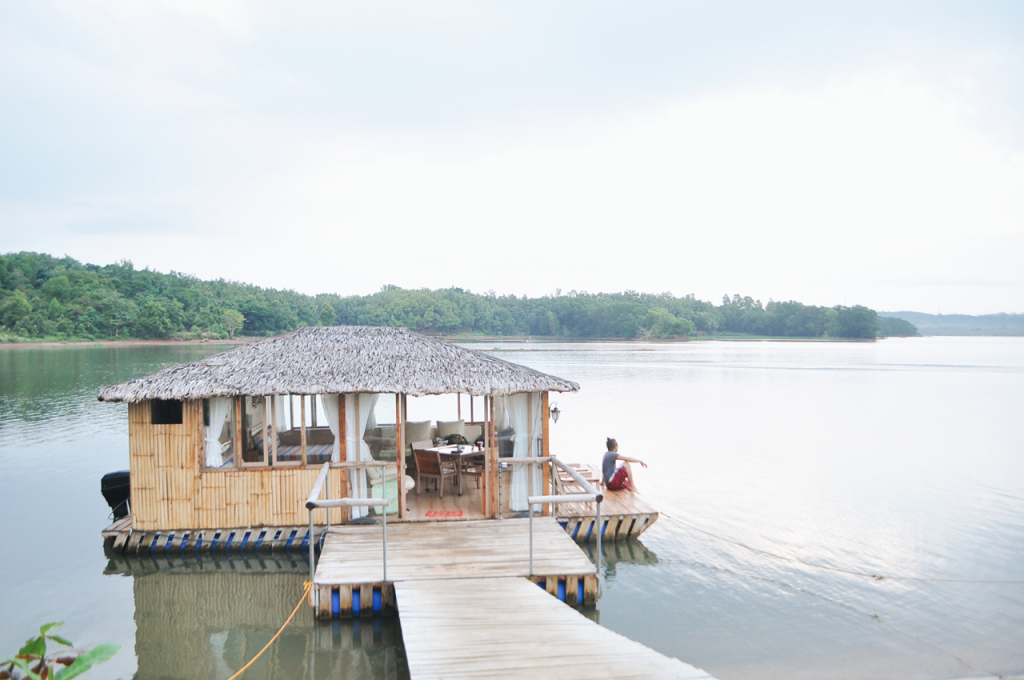 The floating cottage was actually designed and created by Phillip, the owner of Eco Saddle/Aquascape, for his personal use. He said that they recently made it available to the public when they realized that a lot of people were interested in renting it. Who wouldn't be? Apart from the fact that it's a floating house that can go around the like,  it also looks amazing with the beautiful sunset and sunrise of Caliraya Lake. The sun was rather shy when we went there though, but the lake was calm and mirrored the blue and pink hues of the sky – utterly magical. The cottage is primarily made up of native materials like your usual nipa hut, but has a modern and classy touch with its glass windows and sliding doors, to get in as much natural light as possible – just how I like it.




While the exterior was already impressive, wait 'til you get inside the cottage. The cozy interiors  include 2 double beds, a sofa, a modernized rocking chair, table and chairs, a TV, an audio system, and get this – laser and party lights AND  a smoke machine! It also has a bathroom and a kitchen at the back. Phillip said that they're still under development but are usable for now. The floating cottage has a ceiling fan and you can open the doors/windows at night to let the cool breeze in but make sure to bring and apply insect/mosquito repellant for a good night's sleep. It can fit 4 pax for PHP5,000 a night, including the cruise around the lake.








The next day, the sun peeked into the cottage and woke me up to see how much more beautiful the  view of the lake from the floating cottage can be by the morning.

I had to ask myself if I was dreaming as I rubbed my eyes because it felt like I was in  heaven. It was beautiful. 







After breakfast, the staff from Eco Saddle/Aquascape prepared the floating cottage for the highlight of our weekend stay – cruising around the lake IN the floating cottage. As expected, it was as amazing as we thought it would be. I was telling Beep to make a floating hobo house for us too, so the world can be our home. You can ask the driver (a staff from Eco Saddle/Aquascape) to take you anywhere in the lake. We just went around the lake to see the different views. You can stay longer in some parts of the lake if you want to, especially when there's not much breeze in the area where it's docked in Eco Saddle/Aquascape.



  The floating cottage still has power while it's moving so you can still watch TV, play music, or turn on the party lights and smoking machine! We opted to switch off everything though to enjoy the tranquility of the lake and the views. 


You can also take a swim as the floating cottage is moving around the lake. Just make sure someone is in the cottage to pull you back up!

While the lake is generally calm and perfect for a smooth cruise in the floating cottage, it can get a bit shaky when a jetski passes by – nothing too scary though. Phillip is planning to build another floating cottage, a bigger one this time. Aside from a liveable floating cottage, he's also planning to build a floating massage cottage – yes, you'll get a relaxing full body massage as you cruise around the lake! Click here to find more affordable but awesome Laguna accommodations like Eco Saddle.
Other Cottages in Eco Saddle/Aquascape
The floating cottage is just one of the 7 cottages that are available for rent in Eco Saddle/Aquascape. The rest aren't floating, of course, but most of them have a view of the lake too.
Karaoke Room
The karaoke room can accommodate 4 pax (sleeping) and can be rented overnight for PHP4,000. It includes a karaoke machine, disco lights, and smoking machine. It can be rented with another cottage if you're spending the night with a big group.


Villa 4
This room facing the lake can fit 4 pax for only PHP 2,500.


 Villa 8
This lake front room with bunk beds can fit 8 pax can be rented for PHP3,500.



Tree House
Another lake front cottage that includes a cool tree house for sleeping too, can fit 7pax for only PHP4,000.




Mahjong Room
This room right beside the karaoke room has a mahjong table and can fit 4 pax for PHP 3,000. 


Villa Terrace
This lakefront room with an elevated terrace can fit 4 pax for PHP4,000.



 Amenities
Aside from the karaoke room, Eco Saddle/Aquascape also has the following amenities for their guests:
Jacuzzi

Dining tables for big groups or celebrations

Bonfire set up
Food 
There's no restaurant in Eco Saddle/Aquascape or nearby restaurant/stores so they suggest for guests to bring pre-marinated or pre-cooked food + cooking utensils and charcoal. They have a common grilling area that guests can use for free of charge. They don't charge any corkage fee (yay!). If you don't want to bring food, you can also ask them to cook for you. Just tell them in advance so they can prepare the ingredients.
Activities in Eco Saddle/Aquascape
Phillip is a big fan of water sports so the minute we arrived in Eco Saddle/Aquascape, he asked us to change our clothes to try their water activities. He drove the jetski himself that dragged our inflated rides around the lake. He said that these are all his toys and when they opened Eco Saddle/Aquascape to the public, they started renting them out too.


  He called this the "tsinelas" or slippers because it does look like one. One of you remains standing while the other one is lying down. Beep liked this more while I liked the round one.


  Rates for watersports: Jetski – PHP4,000/hr for 2 pax (can use the inflatable rides) Speed boat –  PHP,1200 for 15 mins for 4pax Kayak –  PHP300/hr for 2 pax Electric motor boat – PHP600/hr for 2 pax Aside from the watersports, they'll be offering ATV rides soon. The staff wouldn't let us leave until we try them out.


They are also planning an air soft range and ebikes for rent in Eco Saddle/Aquascape, to be launched in a couple of months.
How to Get to Eco Saddle/Aquascape
Commute: From the bus terminal of either Buendia or Cubao, take the Sta.Cruz Laguna bound route and get off at Sta. Cruz Laguna (PHP160). Take a jeep going to Lumot, Caliraya and get off at Mt. Carmel aka Eco Saddle/Aquascape (PHP30) Service: Eco Saddle/Aquascape offers a hi-ace van for rent  at PHP6,000 roundtrip inclusive of driver's fee and gas. Pick-up and drop-off points can be discussed. Driving: Search for "Aquascape Lake Caliraya" in Waze or Google Maps. Travel time is 3-4 hours from Manila. There is an PHP80/person entrance fee for an overnight stay, charged by the local barangay.
How to Book 
They don't have a website or office yet. For inquiries and reservations, you can send an email to  or visit their and . Thank you to  the owners and the staff for the invitation and very enjoyable stay in Eco Saddle/Aquascape!