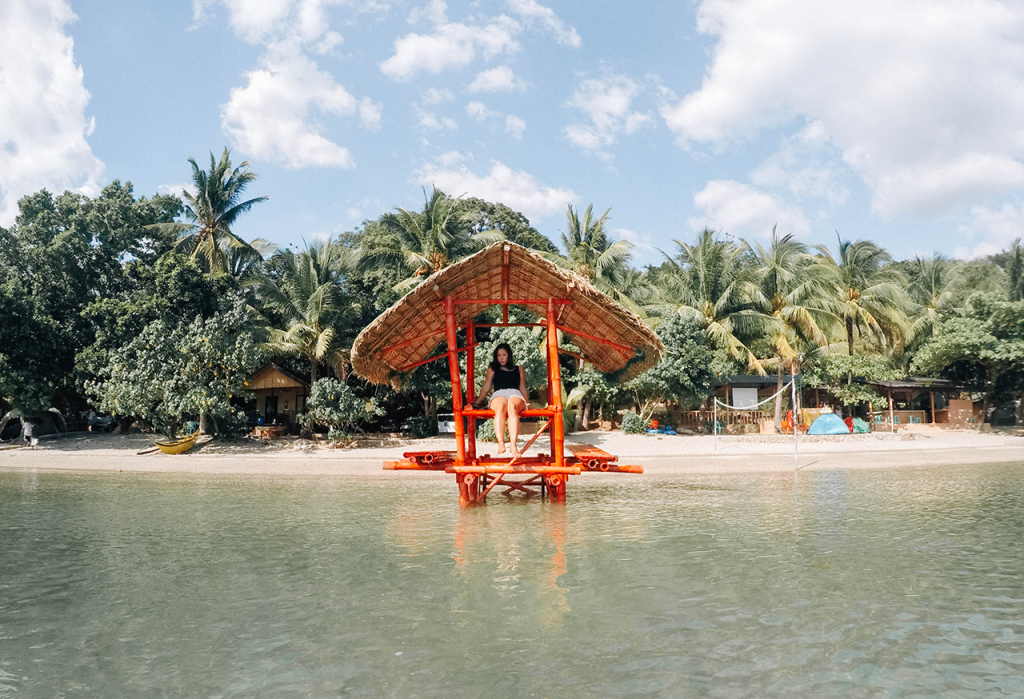 You'd think that for a couple who loves to travel, we'd have a planned trip for the Holy Week. We didn't. We intended to stay at home for the long weekend. But come Thursday night, I found myself packing my bag for a trip with no destination in mind because of Beep.
I was strongly against going on a trip without reservations, especially on a Holy Week! But Beep successfully talked me into it, promising that each of us in our group of 4 will only spend a small amount for a 3-day trip to who knows where.
When our group reached a stopover at NLEX, we were choosing between Baler or Bataan (and maybe Zambales). We decided to head to Bagac, Bataan after doing a quick Google search for beaches where we can camp without riding a boat. Compared to Baler or Zambales, Bataan isn't as popular of a beach destination so we bet all our chips that there wouldn't be as much tourists in Bataan as the other two. 

Although Bataan isn't a popular beach destination, the locals know about their beaches of course. That's why I didn't find it surprising that the first 5 beach resorts we walked in to were all fully booked. The guards/caretakers stopped our car on the way in to tell us that they don't allow walk ins anymore – not even for campers!
When we thought we couldn't find a beach to camp in anymore, we saw in Google Maps that there was still 1 beach resort left in that part of Bagac called
Auspina Eco Resort
. We drove through narrow rough roads for about 20 minutes, it didn't seem like there was still a beach in that part because it was secluded from other resorts. After following the bright yellow 'Auspina' signs, we finally reached the front gates to a hidden cove with just a couple of huts and tents – our car wasn't stopped on the way in and there were only a few groups of tourists. Finally, we found our home for the next 3 days.



Although it was a long weekend (not to mention, a Holy Week), we found this secluded hidden gem in Bataan that became our happy place for beach camping. We barely had any signal so it was a great time to disconnect from the world and just enjoy the simple life in the beach with our tent pitched under the shade of the trees. 


Environment-friendly resort 
We found out from Kuya Nonoy, a staff who welcomed us in the resort, that Auspina has only been open for 2 months. The owners were also in the resort that weekend, a Filipino-Australian couple. We saw the Australian owner cleaning the beachfront one afternoon and untangling the ropes of the bamboo rafts. According to their website, the cove was initially just for family use. The Filipina is a biologist and the Australian is a Sustainability Manager, so it's natural for them to personally invest in an eco-friendly business. The resort is their "small contribution to helping further develop the eco awareness in the local community and wider audience".


They designed the resort to have the least impact on the environment. That's why guests should only expect basic amenities. They don't have hot showers, no A/C units in the rooms, and the street lamps are solar powered and sensor operated.

The beach 
The sand isn't as white or as fine as the more famous beach destinations, but we still loved it – we're happy as long as we're at the beach. The front part of the beach is a fish sanctuary and sea grass reserve so we made sure to go around so as to not walk through it to get to the clearer and deeper waters for swimming. We also used the bamboo raft to get to the farther areas. Aside from the beach in the middle, we also explored the 2 sides of the cove.

Customer service and amenities
Kuya Nonoy became our favorite person that weekend because he's the definition of what good customer service should be like. We were so pampered by the resort staff that we felt like it was a glamping trip more than a camping trip. There were a number of common shower rooms and toilets available for campers and cottage-booked guests that the staff relugarly cleaned. Every time I had to use the toilet, there was a staff cleaning it. They also provided rolls of toilet paper and liquid hand soap in the common toilets. We also saw the staff regularly picking out trash or sweeping dried leaves.

Guests are welcome to bring in food for cooking or order food from the dining hall. They also have grills that guests can use for free.

There was a night where the staff set up a movie projector at the beach front dining hall for the kids to watch a Disney movie. By late night, there were groups of guests singing videoke by their cottage – good thing we were camped on the other side of the resort.


Accommodation
For camping, we were charged PHP200 per person, per day. There were a number of open cottages that campers or other guests can use for PHP1,500 for a whole day. We pitched our tents beside one of the open cottages so might as well rent it for our dining, food prep, and drinks at night.
If you're not into camping, they have kubo style cottages with fans that can comfortably fit 8 pax (Kuya Nonoy says up to 15 pax can fit for an additional PHP200 per head). A two-room cottage with no shower/toilet is PHP5,000 while a 1-room cottage with a shower/toilet is PHP6000. They also have small and large tents for rent if you don't have one of your own.


Cost
By the end of the trip, we only had to shell out about PHP2,500 each (we're only 4 in the group) for our 3-day stay in this hidden cove, including the transportation, food, camping fees, and the awesome customer service. Beats spending 3 boring days at home. Our expenses could have been lesser if there were more of us in the group.
How to get there
1. From Manila, ride the Genesis Transport or Bataan Transit bus going to Balanga (PHP200 head)
2. From Balanga, ride the bus going to Morong and ask to be dropped off at La Salle in Bagac (PHP45/head)
3. You will be fetched by an Auspina staff for PHP50/head, please contact them in advance to schedule your pick-up Thanks!
I'm glad Beep forced me to leave that long weekend. 
The next time you want to get away from the city, why not drive to Bataan and spend a day or two in this secluded cove? For inquiries, you can get in touch with Auspina at 09281991099.. Don't forget to mention that you got his contact details from us!