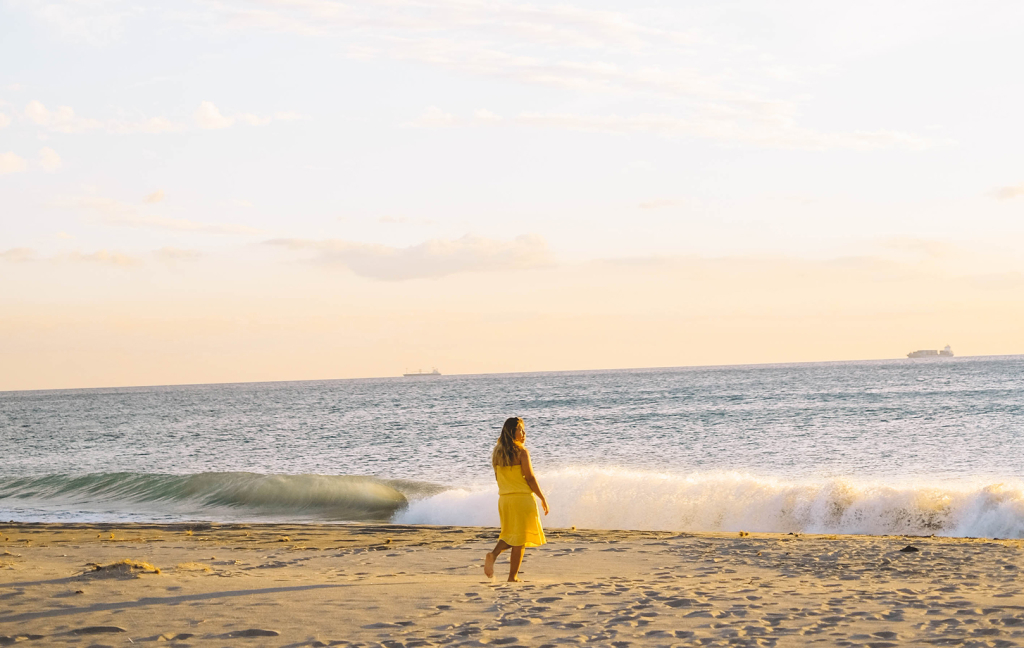 "What's the best beach destination near Manila?" If we could get a hundred bucks for every time someone asks us that question, we'd probably have enough money to go jet setting every weekend now.
Most people think of Batangas as the best beach destination near Manila, it being just 3-4 hours away from Metro Manila. But if you want to to explore beaches aside from good ol' Batangas, head to the North where we discovered a picturesque and very Instagrammable resort in Morong, Bataan called Brisa Marina Beachfront Resort ().
Our love for Bataan started in 2017 when we accidentally discovered the
secluded cove resort called Auspina
during a spontaneous Holy Week trip. A few months later, we traveled back to old Manila at
Las Casas Filipinas de Acuzar
, an open-air museum and resort. Both are located in Bagac. Bataan has become our go-to beach destination near Manila now and we're delighted to have another place added to our list, this time in Morong.
After 3-4 hours on the road, we found ourselves on a dirt road in the middle of nowhere. A few wrong turns no thanks to Waze delayed our trip for a few minutes but the thought of being back at the beach was enough to keep us a little more patient.

Brisa Marina Beachfront Resort, a family-run small business that offers just around 15 rooms only, is located along a long stretch of beach in Morong, Bataan. While it's just around an hour away from highly-developed Subic, this part of Morong is already so secluded that there are no banks or ATMs in the nearest town. It's the perfect escape from your busy city life but still with a comfortable and modern living.



Our Room 
Once we got to the resort and checked-in to our Family Room 2-C at the 2nd floor of the new building with a balcony overlooking the ocean, we knew that the tiring drive there was all worth it. Beep and I agreed that it's one of the most stylish modern beach resort rooms we've ever stayed in.






It was spacious and well-lit with natural light all thanks to the floor to ceiling glass windows plus the glass corner. The balcony was as wide as the room too where a clothes rack is provided for you to dry your wet beachwear.


Our room is one of 2 ocean view Family Rooms that they offer, the other one is at the 3rd floor. At PHP7,800 per night, the room can comfortably fit 6 people with a maximum of 8 people for an extra person charge of PHP 700/adult and PHP350/child. The room includes 2 large beds and 2 single beds, and they also offer extra mattresses in case there are more than 6 people staying.


The bathroom has hot and cold shower and toiletries are provided. Take note though that water pressure isn't strong so you might need to flush twice if you're withdrawing a big one, if you know what I mean.


By sunset, our room was filled with lovely orange and yellow hues. A picture perfect moment to lounge by the balcony but we opted to spend the rest of the day by the beach and pool until the sun finally set.


The Pool and Beach 
The pool is located right in the center of the resort, just in front of the wide beach area. There are lounge chairs by the side and at the front. We loved the bold statement lounge chairs placed in front of the pool and the beach, it really added a modern luxurious vibe to the resort.




The beach sand wasn't white but it was fine and clean, their staff really makes sure to clean up the beachfront for their guests. We loved that the beachfront was wide. From the steps of the resort, it's about 15-20 meters to the water. It's big enough to have little groups of beach goers scattered around without the beach front looking crowded.




The waves in that part of Bataan were not as calm as the other beaches we've been to since it's open sea so make sure to keep an eye on your kids if they're playing by the water.


The sunset at their beachfront was just stunning. Beep and I stayed there taking pictures and playing with the neighborhood dogs strolling along the beach area. Just looks at the photos!   This is one beach sunset that you should not miss when you're at Brisa Marina or in Morong. Amazing how Bataan keeps on surprising us every time we visit.

Other Amenities 
The resort has its own restaurant where they also serve your complimentary breakfast. Advanced orders are taken for lunch and dinner since their staff needs to buy supplies from the market based on the guest's orders. If you're ordering in advance though, ask them what time they can serve the food and make sure to come on time so the food is still hot.



At night for some drinks, you can stay in your room or at the balcony, by the bar (in front of the pool), at the nipa huts, or at the tables at the beach. You can even ask the staff to set up a bonfire for you. Our group chose the tables at the beach with our feet digging into the cold sand as we grilled some beef, with our portable speakers playing chill island music.
Overall
As a family-run resort with just a few rooms, you can expect to have a relaxing stay at Morong's Brisa Marina Beachfront Resort. Sure it's not a five-star beach resort but the clean and stylish rooms, the picturesque pool area, and the wide beach offer with a breathtaking sunset view offer a relaxing and cozy weekend away from the city. The next time you're looking for a quick getaway near Manila, we highly recommend booking a stay at Brisa Marina.
Special shout-out to Marie, Brisa Marina's Marketing Officer, who was very patient and accommodating!
Brisa Marina Beachfront Resort
Address: Nagbalayong, Morong, Bataan
Contact Nos:  /  / 
Facebook: 
Instagram: