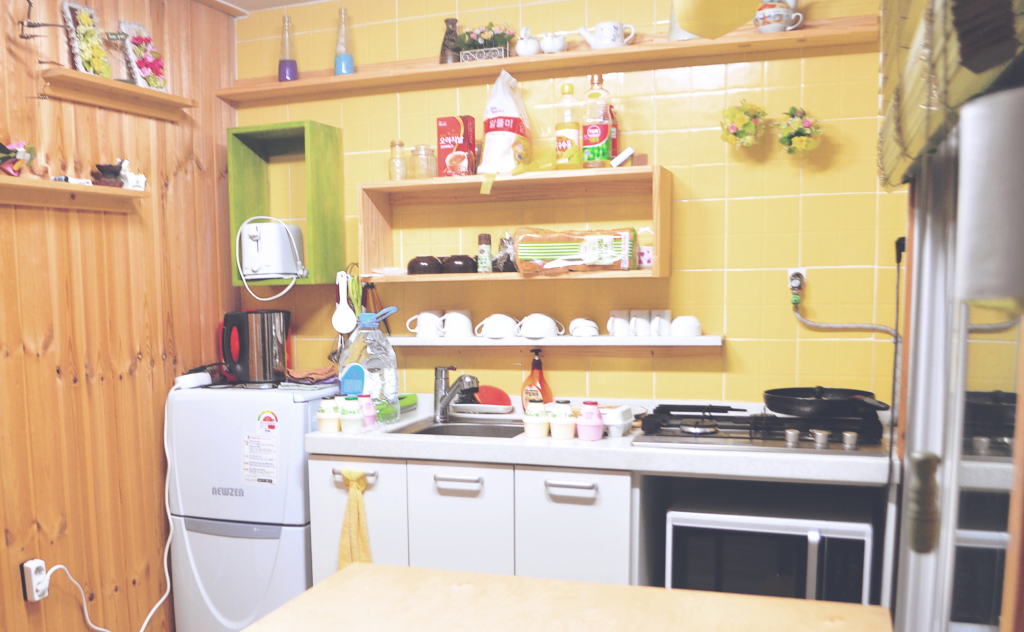 Don't have a Korean visa yet? Check out our guide to applying for a Korean visa + tips on increasing your chances of getting approved. 
As budget travelers, we have to sacrifice a number of our personal wants to successfully cover a trip's expenses with the tight budget that we have to work with – no to first class flights, no to a hired chauffeur in a limousine, no to fine dining, and no to a spacious luxurious hotel suite with jacuzzi.
Beep and I have gotten used to staying at cramped budget hotels, because they're cheap and they put a roof on our heads. In fact, for our first trip together, we pitched a tent instead of booking an actual room with a bathroom. Yeah it's fun, but honestly, sometimes we need a break from such a pitiful state of temporary housing.
Budget Seoul Hotel vs Rented House
The first time I went to Seoul last winter of 2013, my companions and I booked a room for 3 in a budget hotel. The location was great and there was free toast every morning, but what do you expect for a budget accommodation? Of course, it's small and doesn't have enough space for all of your luggage.
For my second trip to Seoul last April, with Beep this time, I wanted a place that actually feels like home away from home rather than a storage room where we just leave our things, one that will make us feel like we're true Seoul locals so we can live out our fantasies of being characters in Korean dramas (which we are really big fans of, FYI). But with a tight budget for 7 days and 6 nights, can we afford an actual Korean home?
Want to go to South Korea? Check the best airfare deals to Seoul here. 
Luckily, we were traveling with two of our friends so I did some research and found out that the price for a budget hotel room costs just about the same as the price of renting an entire house/apartment for 4 people.
Our Rooftop Apartment
I found this rooftop apartment in Wimdu (similar to AirBnB) owned by a Korean housewife. I booked the apartment online and exchanged messages with the host for my questions and requests (even before booking). (Update: You can contact the owner and book houses in their official website http://skyguesthouse.com/default/ or Facebook page . )
Compared to my transactions with budget hotel staff before, the host talked to me like a kind aunt who's excited for me to visit for the summer vacation. She gave me instructions on which bus to take from the airport and which bus stop we should get off in Yeongdeongpo. We waited for her at the bus stop since she volunteered to personally fetch us with her car and take us to the apartment. You don't get that kind of personal service from budget hotels.
The apartment has 2 bedrooms, a bathroom, a kitchen, dining area, a laundry room, heated floors, and a view of the Yeondeongpo neighborhood – the perfect home away from home for the 4 of us and our Korean drama fantasies, like Rooftop Prince!

Room 1, the big room, has a bed for 2 and a couch that can also be an extra bed. It had Internet TV (which had A TON of channels!) and the (insanely fast) Wi-Fi router for the whole house. By the side of the couch were maps/guides for guests. That's a flat iron under the TV desk and a blowdryer in the dresser.

Room 2 has a bed for 2 also, but the rest of the space was just enough for 1-2 opened luggage so our friends always hung out with us in Room 1 to watch Korean dramas. 

The kitchen was fully equipped with cooking oil, cooking pans/pots, microwave oven, fridge, bread toaster, plates/cups, utensils, water heater, and dishwashing liquid. The food supplies that you see here were bought by us in a nearby grocery store. 

I wasn't able to take a picture of the laundry room but that was one of our favorite amenities in the apartment. Every morning while cooking breakfast, we take turns  with the very easy to use washing machine/dryer (the host also provides the laundry soap). This is very helpful if you're not the type who brings a lot of change of clothes for a long trip. 
Location
It's not exactly located at the heart of Seoul since Yeongdeungpo is south of the river (the busier Seoul is north of the river), but we chose it because we wanted a more relaxed and homey ambiance. We did after all wanted to feel like true Seoul locals. It wasn't an issue with us anyway since the apartment is just less than 10 mins walk to the Singil station of the Line 1 subway (the main line), so it was easy to go just about anywhere. We suggest that you get a hotel/apartment near a Line 1 subway station since it's connected to every subway line in Seoul.
Our trip was in spring time so we were planning to go to the cherry blossoms festival in Yeouido, which is near the Yeongdeungpo apartment. Unfortunately, the cherry blossoms festival had to be moved this year because they unexpectedly bloomed earlier so we only saw a small number of cherry blossom trees, boo.
Han River (where we went biking), E-Mart (where we bought a ton of Korean food products to take back in the Philippines), Times Square mall, and 3 broadcast stations were also just a station or two away from the apartment (if you want to go to live TV shows and see your K-Pop idols).

We're not ashamed of hoarding Banana Milk at E-Mart. 

 Biking along Han River
Apartment Life
Since we had our own kitchen, we saved up a lot on food expenses. We bought rice, bread, eggs, milk, coffee, pork, etc at the nearby grocery store and cooked ourselves a feast at the apartment everyday for breakfast and (sometimes) dinner.

Banana Milk for breakfast is a must!


Compared to a budget hotel where you can usually only watch TV at the common area, we had our Internet TV (and the superfast Wi-Fi) all to ourselves. 

We wanted a legit jajjangmyeon delivery experience so we asked the host to call a local store to deliver 2 bowls to the apartment. We thought we'll be seeing Coffee Prince's Go Eun Chan at our doorstep as our delivery boy/girl,  but of course that didn't happen. 
Host's Service
Our host was wonderful. She could easily be reached via messaging apps if we had any urgent questions or requests. There was even one night when she came to the apartment to fix the broken light by herself. We offered to help her but she didn't mind doing it alone, said it was easy.
On our last night, we were supposed to go to the airport by 6PM so we can just sleep there to wait for our early morning flight. She offered us another night at the apartment for a discounted price and insisted to drive us and our luggage to the bus stop at 5 AM. I told you she's like a kind excited aunt who's having her nieces/nephew for the summer vacation.
Do I Recommend House Renting? 
Yes! It's convenient, comfortable, you'll save a lot of money especially on food, you'll have perks that you won't usually get with  a budget hotel, and you'll really have a sense of connection with the country you're in.
However, if you have a tight budget, you have to take into consideration first the number of people in your group. Whenever people ask me about accommodation in Korea, I always ask them first if they'll be traveling as a group of more than 3 people. If your group is composed of more than 3 people, then I highly suggest that you rent a house instead because there isn't much price difference. But if you're only 3 or less in the group, go for a budget hotel if you really have a tight budget.
You can check the best Seoul hotel deals here. 
Have you tried renting an entire house for your trips? How was it? Do you recommend it? Let's discuss in the comments below.