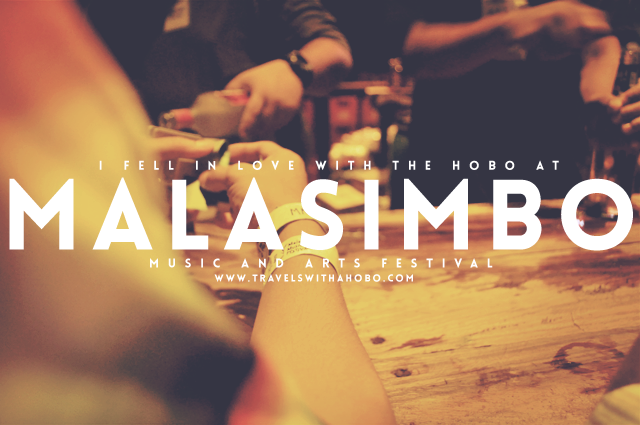 Whenever people ask how Beep and I met, my answer depends on how much time I can spend with the person who's asking. The quick and boring answer will go something like "We used to work together", but if you have a lot of time to spare, the story will begin with one word, "Malasimbo". 
It was sometime at the end of the year 2011 when I first learned about Malasimbo Music & Arts Festival 2012. I've never gone to any music festivals in my entire life so why not make this the first one, I thought. I invited some friends to come along but I was certain that the trip wouldn't push through – knowing that we will have to travel to Puerto Galera, Oriental Mindoro and buy tickets that would cost us a thousand bucks at least each. ALL of the friends that I invited were either disinterested, didn't have the budget, or had a prior scheduled trip.
Fortunately, a college friend agreed to be my festival partner. As the always enthusiastic person that I am, I immediately bought two tickets after she gave me the green light. But 2 weeks prior the festival, she backed out. The thought of going alone actually crossed my mind. Basta kahit anong mangyari, pupunta 'ko sa Malasimbo! (I will go to Malasimbo, no matter what!) I asked around again even those that I'm not close with, one of whom was an officemate named Beep.

When I saw the poster for the festival and the line up of bands performing, he was one of the first few people I thought of who would be interested. Out of nowhere, I messaged him and asked if he'll be going too (with no intention of inviting him to come with me of course). He didn't even know that there was such an event, and yes, as I've predicted, he was interested.
Beep and I were really just mere officemates (I called him Kuya before lol). The only common denominator we had was that we were both friends with some guys in the office. Sure we talked, he teased me at times, but that was it. I didn't give him any special attention. For me he was just this annoying, funny, and loud-mouthed long hair guy with a single dreadlock who wears different colors of Dr Marten's everyday and t-shirts with sizes and designs more appropriate for kids. Not my type at all. Well, I do dig guys with goatee but other than that, he didn't catch my eye.
(Kuya) Beep's the type of person who always decides at the last minute, but I don't know what happened that day that he suddenly agreed and said "Sige na nga! Kawawa ka naman!" (Alright, alright! You poor kid). There was another interested party who wanted to join us, but backed out a week before the event. So in the end, we had to go alone.
The night before our trip, even if the plan was to leave early in the morning for Batangas, we both went out that night. Beep isn't really the most punctual person you'll ever meet so I expected that the 7 AM meet-up schedule translates to a few hours later. I underestimated this punctuality issue which led me to spending 2 hours that morning trying to wake him up and an hour and a half waiting at our meeting place. This is what we call Beep's Magical 5 Minutes. My level of excitement for Malasimbo dropped from 200% to 0%. But when the most punctual person in the world finally arrived, the 0% intensified to 1000%. Yahoo! Malasimbo here we come!

At the Batangas Port waiting for the boat to Puerto Galera. To break the ice, Beep told me that there must be drugs inside that teddy bear. Because who brings a teddy bear to the beach, right?
When we arrived at Muella, we rode a jeepney that went straight to the concert grounds for Malasimbo. There was a foreigner who was shouting 'Malasimbo! Malasimbo!' as he waived his hand at us as we approached the jeep. He was wearing this really cool shirt that had 'PUTANGINA PUTANGINA PUTANGINA' printed all over the front side. (Foreigners and their fascination with Filipino swear words. :p)

This was actually my first time to go camping. Good thing Beep's a mountaineer who has been doing this for almost a decade. 
After setting up our tent on-site (we chose to go for on-site camping instead of getting a room at White Beach. It's cheaper at P350/pax and more convenient as it's only about 5 minutes walk from the ampitheater), we then headed to the venue where the magical night happened.
It must have been the shared love for great music (and alcohol) that made both of us more comfortable with each other. We sang, danced, and laughed the night away.

The festival is held at the foot of Mt Malasimbo where they built a natural ampitheater. 



We shouted "Malasimbo! Malasimbo! Malasimbo!" with the crowd.



We shared stories over ice cold beer. 



We sang along Kat Agarrado of SinoSikat. 

We gushed over the perfection that is Sarah Meier-Albano.

We went crazy when Radioactive Sago Project played on stage. 
And Beep danced and jumped along to Jr Kilat's music. 

In that weekend at Puerto Galera, we had more than enough time to get to know each other for the first time. We spent the sunday afternoon lying on the sand under the shade of the trees by the beach listening to Jack Johnson, talking about our love for foreign and indie films, the history channel and documentaries, shared ukay-ukay shopping tips, sang the soundtrack of some japanese movie that we both loved, and shared funny childhood and crazy college days stories. I just remember enjoying every minute of it.

I remember thinking how awesome it was to finally meet someone who likes the same weird things. Then the boat came, without even realizing how much time has passed, it was already sundown. I boarded that boat with him, laughed when the life jacket fell on his head, laughed even harder when he just sat there pretending to be sleeping. We arrived at the pier, boarded the bus back home, and laid my head to rest on his shoulder. Somewhere in that moment when I pretended to be sleeping just so I could rest my head a little bit longer, that's when I knew that this was the beginning of something crazy but amazing.

All I can say is that, I'm glad my original companions in Malasimbo backed out, or else I wouldn't have known that there is an amazing, wonderful, perfectly imperfect guy in my midst that I would be writing about and traveling the world with today.