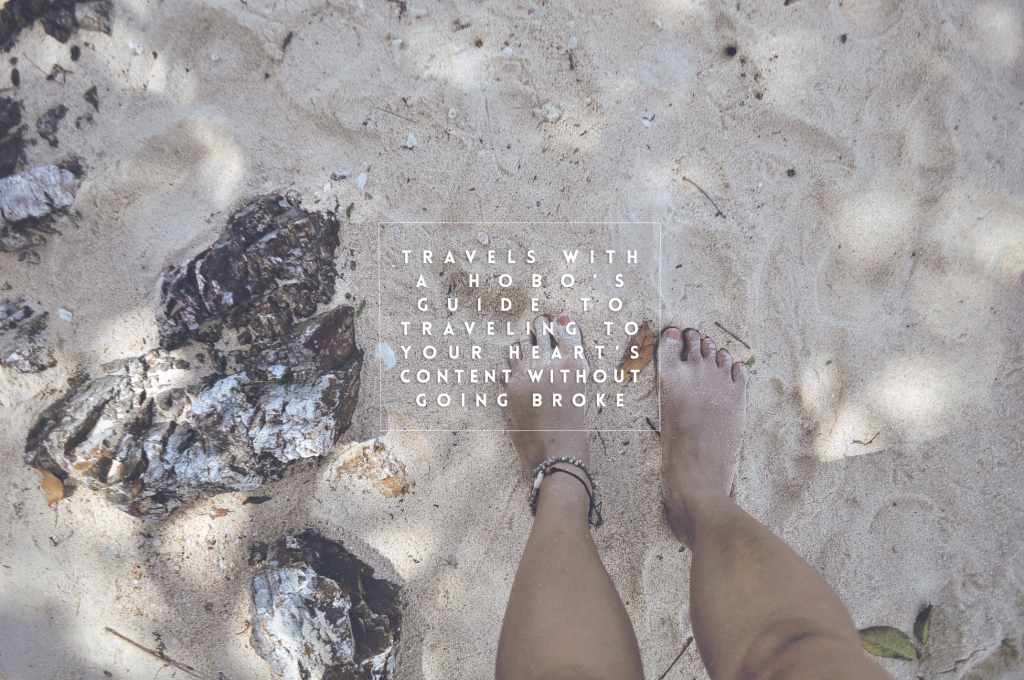 Don't you ever wonder how some people can afford to travel constantly despite not being CEOs or millionaires? Traveling is considered as a luxury. A mere day on paradise, getting a relaxing massage by the beach or soaking up the sun to get a tan with a pink lemonade in hand can cost a fortune. That is why most people only go on vacations a few number of times each year (or in their entire lifetime). I was one of those people too, before I started traveling with Beep who is known for being a cheapskate traveler.
Is it really possible to go on a vacation every weekend or every chance you get without breaking the bank? And the answer to that is… a big resounding yes!
Here are 8 budget travel tips on how you can finally fulfill your wanderlust dreams without going broke:
1. Stick to DIY
Most people believe they get a great deal when they book an all-in package tour, but what they don't know is that they can get an even better deal when they do their own planning. Keep in mind that these tour packages are meant to provide you with a convenient, comfortable, and a hassle-free vacation, so they'll book you in a not so budget-friendly hotel, bundled with a "free" breakfast, transportation to and from the airport, and guided tours.
When you do your own number-crunching and compare the deal price tag with a DIY, you'll discover that you'll be getting more bang for your buck. As a bonus, you'll get to make your own schedule and do just whatever you want or go wherever you want without being stuck in a tour group that does all the touristy stuff.
2. Don't impulse book; Set a limit for airfare
Seat sales pop up here and there every now and then, but that doesn't mean that every 'SALE' can be a good deal. If you want to be as cheapskate as us, set a limit for seat sale total booking fares. Ex: For domestic trips, our limit is P1500/pax for 2-way tickets. Depending on the international destination's regular rate, our budget ranges at P6,000-P10,000/pax for 2-way tickets. We do a trial online booking to see the total fare (because we all know that P1 fare isn't real). For more tips on scoring cheap plane tickets, check out our post 7 Tips and Tricks for Getting Cheaper Plane Tickets.
You should also use travel apps like Traveloka that will help you find the best airfare deals and even get huge discounts.
3. Research alternative cheaper routes
If we can save a ton of money by going the long way, we'll do that. Take El Nido for example, the reason most people think it's expensive to go there is because a direct flight to and from El Nido costs more than P10,000. Ack! That's like a plane trip to Japan already! Cheapskate travelers (like us) who go to El Nido take the Puerto Princesa route. Buy a seat sale to PPS then ride a van or bus (6-8 hours travel) to El Nido for about P350 one way.
That's why you need to plan ahead before you book plane tickets, so you can calculate the days that you should be spending on land travels and the days in the destination itself. You don't want to buy plane tickets for a 3 day trip only when you're taking the long way to destinations like El Nido.
4. Stay in backpacker hostels
We're big fans of budget accommodations. As a matter of fact, we just pitched a tent for our first solo trip together. We didn't really need all those extra amenities like a flat screen TV or an A/C unit since we'll be spending majority of the day outside anyway. Your accommodation will make up a big bulk of your budget so choosing to stay in a budget backpacker hostel will save you a lot of money that you can use for more trips. You can also opt to invest in a good quality sleeping bag that you can use with or without a tent. See more outdoor reviews here.

Beep pitching our tent on our first solo trip together
Most budget backpacker hostels offer dorm type shared rooms (the cheapest), this is ideal for  backpackers who have a really tight budget and don't mind sharing a room with other travelers. If you're not comfortable with that, they do also have separate rooms. Most budget backpacker hostels that we've stayed in have a common kitchen (where you can prepare your own FREE breakfast) and common shower and CRs with heaters. Also, take advantage of all the freebies offered in these budget accommodations like drinking water. Bring a tumbler and refill it every time you're at the hostel so you can minimize costs for drinks when you're outside.
There's also Couchsurfing if you really want to save! 
5. Eat like the locals
Beep and I love eating at local carinderias in public markets because that's where you can find the best tasting yet super cheap meals! Ask around where locals like to eat, for sure they'll direct you to that famous eatery frequented and always full of customers who actually live in the area. Sometimes, we also eat at one or two more expensive restaurants that are highly recommended by other backpackers, just for the experience.
the super cheap laksa at Tasty Point in Miri
7. Do a lot of walking
Explore the place more by doing a lot of walking instead of riding a cab all the time. Some destinations are very small that you can practically walk around the whole day to get to places, like Coron. Though we could have rode a tricycle for a very cheap price of P8-10 to get around, we chose to walk instead since the town is really small.
Get a map of the city/town and plot which places you wish to go to. Mark a starting point and an end point  that covers all those places so you can go to all of them during your loooong walk. It won't feel that long anyway since you'll be doing a lot of stopovers.

Seoul is a very walking-friendly city. And it's subway system will make you fall in love. 
8. Make every trip a challenge
When you've finally done your research on where to stay, transportation, and where to eat, it's time to set your budget for the whole trip. We always do a budget challenge for every trip, I learned this from Beep who always challenges every trip's budget. For example, our Coron trip had a budget of P5,000/pax including the airfare. For our El Nido trip, we made it into a 7k All-In Challenge. Stretch your budget and stick to your DIY itinerary. Also, don't forget to haggle.