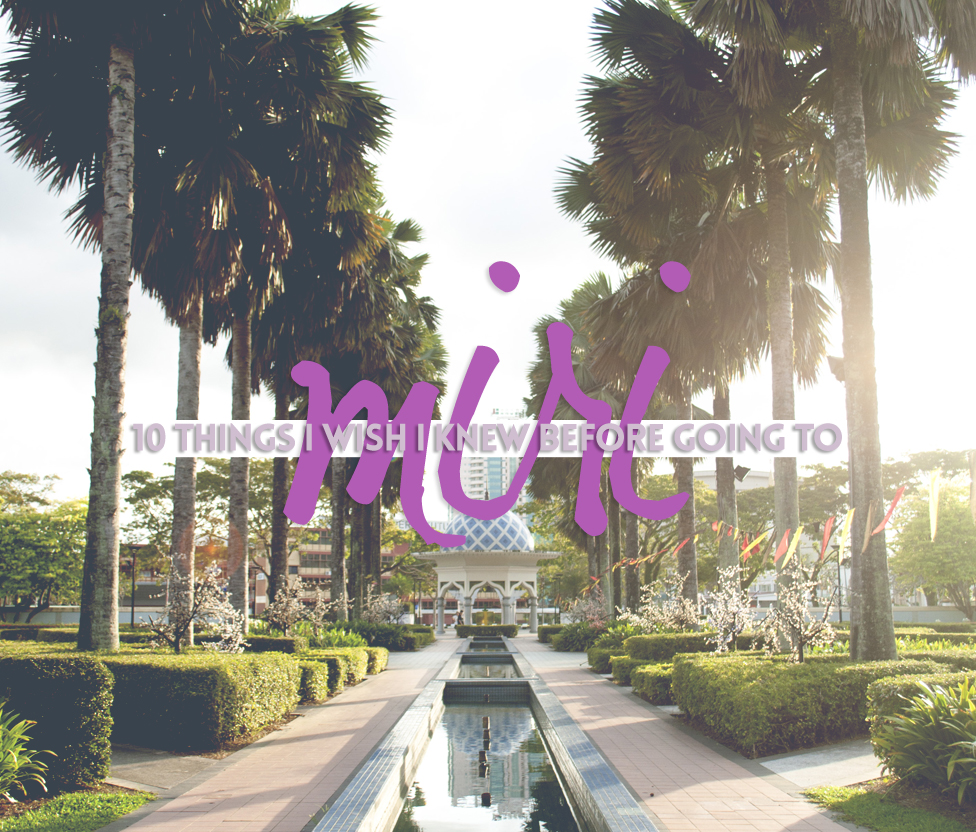 Miri City Fan, the beautiful park of Miri City
How many times has this happened to you: You go to a foreign country and during your stay there, you tell yourself "I wish I knew that (small items that you should have brought or vital factors in planning your trip)"? In the first edition of Travels with a Hobo's "10 Things I Wish I Knew…", Gem talks about her recent trip to Miri, Malaysia.
During my surprise weekend trip to Miri, Malaysia (it being a surprise because my college friend, KD, only gave me the 2 roundtrip AirAsia Zest tickets she won 2 days before the flight — THANKS KD!), I wasn't able to do a thorough research on what necessary items I had to bring or how to plan our itinerary to not exceed my budget. I know, what a shame. But I successfully didn't spend more than my Php5,000 budget. My Miri expenses (accommodation, food, and transpo within the city centre for 3D/2N) only amounted to…Php 3,496.45!
Planning a trip to Miri? Find the best airfare deals to Miri here. 
Our flight was the first ever direct flight from Manila to Miri, Malaysia, so I know that a lot of Filipinos are curious about Miri but don't have much information about it, which I noticed during my quick research before the trip.
So before the Air Asia promo fares tempt you into booking a flight to Miri, here are 10 things that you probably should know first about this small city in the Sarawak region for a successful DIY budget trip:
 1. Miri IS a city but it's not really like Kuala Lumpur
It only became a city in 2005. Don't expect it to be as advanced as KL. The only towering buildings you'll find here are the hotels in Miri, and they're aren't that 'towering' either. You'll understand what I'm trying to say as you read on. 
2. You need a car to go around the city
Because it's not your usual mega city, there are no subways in Miri that will conveniently bring you to your destination. Everyone here has cars because gas and getting a car is cheap. For those without cars, the fastest way you can go around the city is by riding a taxi or a bus, which are both REALLY rare.
If you do want to get around with a car, you can hire a driver with a car or rent a car. Of course, it comes with a price. Oh, their driver's seat is at the right side. And that can be really confusing for someone who's used to driving in the usual left driver seat.
Looking for a hotel in Miri? Check this list of hotels in Miri that will fit any budget. 
3. You can't just hail a taxi anywhere
As I've said, Miri Taxis are elusive and you can try to grab one at some corner but I'll tell you, it'll be a good test of your patience. There's a number to call to grab a taxi. You can also find them in the bigger malls or hotels in Miri. If you're staying in a hotel, hostel, or backpacker's lodge, ask for the front desk/lodge attendant to call one for you.
Miri Taxis don't have meters. So before you ride the taxi, talk with the driver first about the fixed fare. As of Dec 2013, taxi rides in nearby destinations within the Miri City Centre costs RM6 (each person). If it's somewhere outside the City Centre, it's RM20. We were told that when gas prices increase, so does the taxi fare.
Funny story: The driver of the taxi we were in was watching soft porn, not only is that DANGEROUS, it was also a traumatic experience for me and my Mom. Avoid distractions while driving!
4. They have the three square plug with an electric voltage of 220-240v
If you don't have an adaptor for this type of plug, you can borrow one from the hotel/hostel/backpacker's lodge.

5. It feels like a windless summer in the Philippines
It's really HOT in Miri even at night. So I really advice on getting a room with A/C. Wear light and cool but respectable clothing. Although some locals wear short dresses or shorts, you can't go to the many temples in Miri– from Chinese to Muslim — with such clothing.
6. Prepare for A LOT of walking
Because taxis and buses are rare, the best way to go around the City Centre is by walking. So it's best to wear very comfortable flats/sandals that you can take off easily. You need to take your shoes off before you go inside temples or in some backpacker lodges.
7. A lot of shops close after lunch/late afternoon and are closed on Sundays
Miri is a melting pot for Asian cuisine, from Malay, Indian, Chinese, Western, to Kelabit, and seafood. So if you have specific places where you want to eat, take note of their operating hours.
8. If you're on a super tight budget, plan you itinerary around the City Centre
Miri is the second largest city in Sarawak so you can't really walk around the whole city. You can however, walk around the City Centre where most of the attractions and restaurants are located. A map will be very very very useful. If you can't get one at the airport or your hotel/hostel/backpacker lodge, you can grab a variety of maps and guides at the visitor's information center, which is just beside/in front the central bus station (that one place where you'll see actual buses haha).
9. Bring an umbrella always
It rains in Miri every now and then, even without any common signs that it's gonna rain. So it's best to always bring an umbrella with you.
10. Miri isn't exactly THE destination 
Most travelers who go to Miri only stay for a night or two. It's actually popularly known for a gateway or jump-off point to the more favorite travel destinations in the Sarawak region, to Brunei, to Kota Kinabalu, etc. Although there are a number of tourist attractions in Miri for sightseeing, there aren't really exciting activities. Most people who go to Miri are those who want to go to the famous Mulu caves (an hour flight from Miri)/other caves and national parks/rainforest (hours away from Miri by land travel). Miri is a popular nightlife destination of those who live in nearby Brunei, because they're not allowed to drink alcohol in Brunei and there's really no nightlife there.