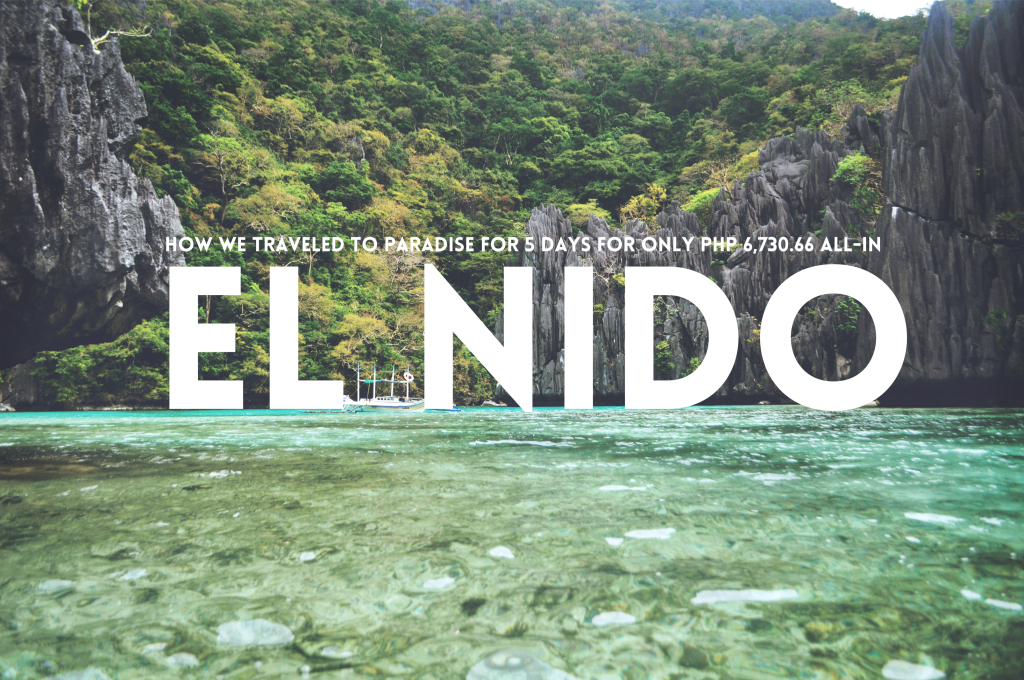 Last week, we asked people if they think we can successfully pull off a 5-day El Nido trip for just Php 7,000 all-in per person (we're 5 in the group). A lot of people couldn't even begin to imagine how we're going to do it but they wanted to see if we could really come back to Manila without empty wallets or maxed out credit cards. And so yesterday morning, when our plane landed precisely at 10:30 AM at NAIA Terminal 4, we concluded our 7k El Nido Challenge.  The final computation?
Php 6,730.66 ($149.57)
Congrats team! *virtual high-five*

The 7k El Nido Challenge team: Steff, Gem (me), Beep the Hobo, Harms, and Abhie at Pinagbuyutan Island
How did we do it?
Contrary to popular belief, you don't have to be super rich to enjoy the beautiful beaches of El Nido. You don't have to stay at one of the luxurious island resorts. You don't have to fly directly to El Nido.
If you really want to travel more, you need to face the fact that you cannot afford a luxurious travel lifestyle.Set a budget and find alternative and cheap ways on how you can spend within your means.
If you want to go to El Nido but don't have a fat paycheck, this is what you need: DIY El Nido trip. 
Disclaimer: As specified in the Mechanics, only the basic expenses will be included in the total calculation (airfare, land transportation, accommodation, tours, food expenses, terminal fee, environmental fee, etc.) Other personal expenses that are not related to experiencing and  traveling to/in/from El Nido and Puerto Princesa like souvenirs, cigarettes, and the likes are not included.
Though I've outlined this part in our Mechanics and The Plan post, we had to make some small changes because of the weather condition. Some activities in El Nido cannot be done when it's been raining every now and then, like cliff climbing.
TRANSPORTATION
If you fly directly to El Nido, it can cost you more than Php10,000 for 2-way tickets. So we opted to go the long way via Puerto Princesa, where we can ride a bus or a van that will take us to El Nido. That means we had to dedicate 2 days (at the beginning and end of the trip) for land travel that can be as long as 8 hours depending on your choice of vehicle.
Going to El Nido
The initial plan was to go for the 8-hour RORO A/C bus ride that would have cost us Php483, but Kuya Rodrigo of Tay Miloy's (our chosen accommodation in El Nido) gave as an offer we couldn't refuse — Php 500 for a 5-hour van service. Vans usually cost Php700 and can be discounted up to Php600 if you bargain with the operator (which we still wouldn't have chosen). We chose the super discounted Php500 van service because a tricycle ride to San Jose Terminal would have cost us an additional Php20 to the Php483 bus ride (a total of Php503). (will blog more about transportation choices to El Nido soon)
TIP: The roads going to and from El Nido aren't 100% cemented yet so you have to take into consideration the road dust when choosing your mode of transportation. Our companion, Steff, had a brown dusty face after our non-AC bus ride back to Puerto Princesa.
Going around El Nido
 The town proper in El Nido is so small that you can just walk when going from one place to another. It also helped that the accommodation we chose is located right at the heart of El Nido town.
The bus/van terminal is located at the public market which is quite of a distance from the town proper. With each of us carrying huge backpacks, we had to ride a tricycle going to Tay Miloy's. A single trip will cost you Php 50, which you can divide among yourselves if you share a ride.
 Going back to Puerto Princesa 
The last trip (from the same van operator from our first day) leaves for Puerto Princesa at 6PM. Since our flight is scheduled early next morning and we didn't want to book a room for the night, we chose to ride the last RORO bus trip at 10PM. Fares are cheaper when you're riding back to Puerto Princesa. The RORO A/C bus costs Php 380 but at the last minute, the A/C bus had problems so we had no choice but to ride the RORO ordinary bus which costs Php 294. Late night bus trips are faster: 8 hours are lessened to 5 hours.

Beep living the Hobo island life
ACCOMMODATION
We stayed for 4 nights at Tay Miloy's Inn. I contacted Kuya Rodrigo (the owner) 2 months before the trip. He offered me a room for 5 pax that costs Php1,200/night, which has a private shower room and CR. We paid for Php 960 each for 4 nights.
TIP: We wanted a room without an A/C unit because electricity in El Nido only runs from 2:30PM to 6 AM. So we we're really surprised when Kuya Rodrigo gave us a room with an A/C unit because I clearly requested for a fan room and NOT an A/C room during our text conversations. Thought he would charge us more but he didn't. Compared to other A/C rooms in El Nido, Tay Miloy's was a bargain. (will blog more about Tay Miloy's Inn soon)

TOURS
There are 4 island hopping tours offered in El Nido (A,B,C, and D). The tours have a fixed rate among tour operators which ranges from 1200-1400. The two most popular tours are A and C, but we chose to go for all 4.
We booked our island hopping tours with Lagoon Tours, as recommended by another backpacker friend (Thanks Zarah!) who has been to El Nido a couple of times already.
Kuya Harvey (the owner) of Lagoon Tours gave us a really good deal on the tours: Php 1000 for combination tours (combined 2 tours in one day). So we paid for Php 2000 for all the four tours (which makes each tour Php 500). Combination tours won't cover every island included in individual tours, but it will include some of the best ones depending on the weather and the waves. (will blog more about Lagoon Tours soon)
Aside from tours, we rented snorkel gears  (Php 100/day) and rented kayaks that we used for one day (Php 300/pax a day)
Every tourist in El Nido has to pay Php 200 for the environmental fee which is valid for 10 days.
FOOD
 El Nido has a lot of restaurants and bars that are frequented by foreigners. We knew that we'll be going over the 7k budget if we ate all our meals in those places. What we did was we really ate like the locals. We ate at carinderias, bought food at street stalls, or at one of those roasted chicken or pork stores like Andok's and Baliwag and ate our food at our room. Our budget for every meal (breakfast, lunch, dinner) is Php 50. Our budget for snacks/merienda is Php 30. Sometimes we'll be too full to eat merienda so we just eat dinner.  (will blog more about where to eat in El Nido soon)
For our last day, when we knew that we had more money to spend and won't go over the budget, we splurged on one of the more expensive restaurants at El Nido with the highly-coveted seats overlooking El Nido – The Alternative Restaurant and Bar. 
The BEST lunch meals that we had during the trip was during the island hopping tours where a lunch buffet is included. Kuya Jonel and Kuya Mark are not just great tour guides, they're also great cooks and even design the food for presentation!

For our camping at one of the islands one night (drop off and pick up in an island for camping by Lagoon Tours is Php 250), we brought canned goods like Spam and vienna sausage from our own kitchens back home that we can just fry (because we're not really good cooks haha). We bought cooked rice, bread, etc from the town for the camping night as well.
Kuya Rodrigo let us cook at their kitchen at Tay Miloy's Inn (a house turned into a budget lodging), so one time we cooked spicy korean noodles that Steff brought from home for merienda and just bought eggs at a nearby sari-sari store.
We didn't starve ourselves even if we had a tight budget on food. In fact, our meals are never complete without a big 1.5L cold bottle of Coke! Haha. Diet? What diet? I think I got fat from all that extra rice.
BREAKDOWN OF EXPENSES 
The 7k budget is per person. We are 5 in the group. We split the bill for the accommodation, tricycle rides, and food that are meant for sharing like a whole roasted chicken. The rest are charged on a per person basis (ex: tours, airfare, van/bus ride, kayak, snorkel gear, set meals, terminal fee, etc.) This breakdown is based on Beep and I's individual expenses.
Airfare – 911
Van to El Nido – 500
Tricycle to El Nido town – 16.66 (P50 per trip divided by 3 pax; another tourist shared a ride with Beep and I to Tay Miloy's)
Accommodation (4 nights- P1,200/night for the room) - 960
Food –  883
Tours (combination Tours A/B and combination Tours C/D – 1000 per combi tour) – 2000
Environmental Fee – 200
Snorkel gears – 100
Kayak – 300
Camping drop off/pick up – 250
Tric to bus terminal – 25
Bus to El Nido – 294
Tric from Terminal to Mcdo – 60 (tricycles at the terminal were charging us P150 for a ride, we bargained for P120. split the bill with Beep as the other 3 rode together in another tricycle)
Mcdo bfast – 121 
Mcdo to Airport  - 10
Terminal Fee (PPS) – 100
TOTAL: Php 6, 730.66 (5 days and 4 nights)
Stay tuned for more 7k El Nido Challenge blog posts and learn how you can pull of the same budget trip (or even spend less than 7k)! Will post sample itineraries with various number of days (plus budget), where to stay, where to book you tours and which tours to book, where to eat when on a budget, etc