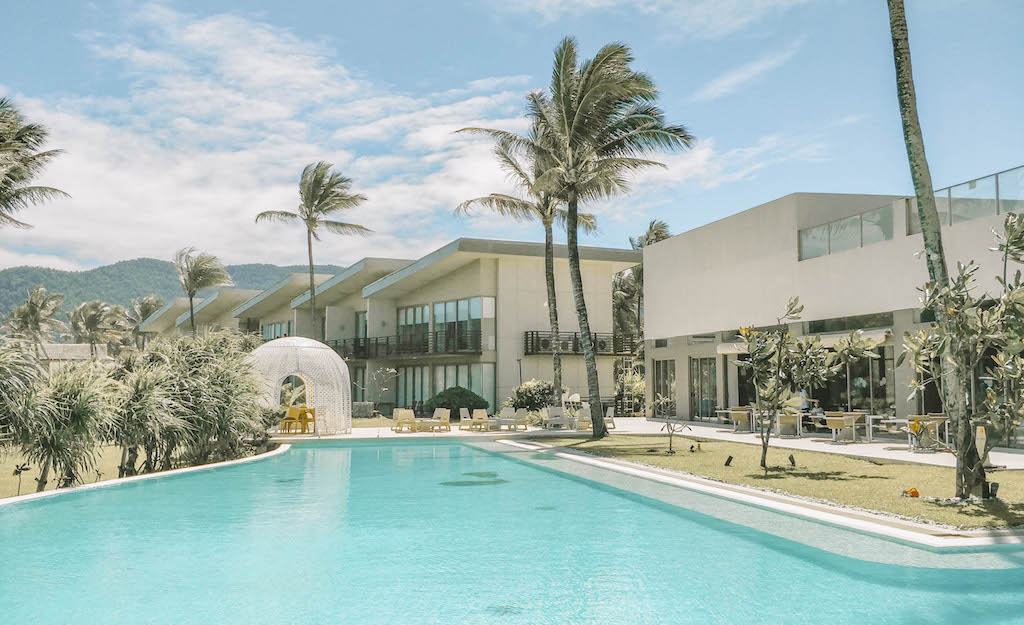 As a country surrounded by bodies of water, local and foreign travelers are treated with plenty of beach destinations in the Philippines. City dwellers like us only need to drive for a couple of hours to get to beaches during weekends. But for the adventurous souls looking for more than just lazy days on the beach, surfing destinations like La Union and Baler are also easily reachable via bus or a private car from Manila. After spending most of our days off at the beach last year, we craved for riding the waves to kickoff our February, exactly a year after we
surfed in Sorsogon
.
We were choosing between La Union or Baler in Aurora but since I've never been to the latter and Beep's last trip there was in 2009, we chose Baler for this trip.
We booked an overnight stay at Costa Pacifica, it's a fairly new upscale beachfront resort in Sabang Beach that we've heard so many good reviews about since it opened a couple of years ago.
Coincidentally, it's the same resort that Beep's sister wanted to go to some years back but it was always fully booked. Upon finding out that we were planning a trip to Costa Pacifica Baler, Beep's family booked a room too and traveled there with us on a sunny weekend.

Baler, dubbed the birthplace of Philippines surfing
Back in the late 70s, Baler earned the distinction of being the birthplace of surfing in the Philippines after Hollywood director Francis Ford Coppola chose this laidback fishing village as the shooting location for his cult classic film
Apocalypse Now.
 Legend says that when filming wrapped up, the crew left behind surfboards and 5 local children thought themselves how to ride the waves with it, these kids then became the first Filipino surfing champions and established the surfing culture in the Philippines (
source
). Read more about the history of surfing in Baler 
here
.


inside the big waves of Baler 
Today, surfers riding the big waves of Baler (that reach up to 2.7 meters or 9 feet high!) are a regular sight in this once-remote fishing village that is now known as one of the best surfing destinations in the country with a number of surf shops, cafes, bars, and resorts to cater to wave-loving locals and tourists.


The Resort 
Costa Pacifica is one of the biggest and most upscale resorts in Baler, Aurora. Some even call it the "best resort in Baler".  Built on a prime location, Costa Pacifica is directly facing the shoreline of Sabang Beach, the number one tourist destination in Baler. Guests are treated to stunning views of the surfing scene and are just a few steps from the beach if you fancy a ride in the towering waves of Baler. If you're booked in the beachfront rooms, you'll also wake up to the beautiful sunrise of Sabang Beach overlooking the Pacific Ocean.



The 106-room beachfront and surfing resort with a vibrant and contemporary design that appeals both to families and the young hip crowd is designed by renowned architect Ed Calma. The resort is a combination of the chill surfing vibe of Baler and upscale comfort brought by the Zen-like design and open-space layout accented with bold colors.



Costa Pacifica is also a perfect place to take kids and senior citizens who might not be up for surfing the big waves of Baler. The resort has 2 outdoor pools with the view of the beach, one of which is a kiddie pool. Lounge chairs are placed by the poolside if you prefer to top of your tan.





Our Pacifica Premiere Suite
We arrived at the resort as early as 10AM and while the usual check-in is at 2PM, the friendly staff offered us refreshing lychee drinks as a welcome and checked us in in just a minute or two. We were then escorted to our rooms, just a couple of minutes walk from the resort lobby. We were also allowed to check out the following day until 2PM instead of the usual 12noon since no one was booked in our room after our stay.


We booked the beachfront Pacifica Premiere Suite located on the 2nd floor with a private veranda. It's a spacious 38 square meter room that can accommodate 2 people (up to 3 people for PHP1500 fee) where you have the option to have a king-size bed or 2 separate double beds, both with a day bed.


We spent most of our time at our private veranda overlooking the beach, listening to the waves with the cool breeze blowing into our suite. We kept the floor to ceiling glass sliding doors open most of the time while in the room because we love the beach breeze more than the A/C when on vacations.


All of the 106 rooms in Costa Pacifica are equipped with cabinets with hangers, A/C, cable-ready flat screen LED TV, WiFi access for every checked-in guest,  telephone, in-room safe, coffee making facilities, mini bar, and fridge.

The en suite toilet and bathroom with natural day light are stocked with bath towels and linens, hot and cold shower, bathroom amenities, a hairdryer.



By sundown, the views from our room veranda was just stunning! It was a great rest after a tiring afternoon of surfing session.



Aside from the suites in the main resort, Costa Pacifica also offers casas if you want a more private accommodation. These are separate buildings behind the main resort with its own pool.
Recreation 
As a surfing destination, the main activity offered is surfing for just PHP350 per hour with an instructor and surfboard rental that you can sign up for at the resort in-house Charlie Does surf shop. You can also rent kayaks if the waves are calmer.

Had enough of the beach and the pool? Check out the resorts's game center for kids and kids at heart. If you're more into lounging outdoors, beside the large pool is a massive lawn with wooden lounge chairs where you can set up a bonfire.

Culinary offering at the Beach House 
The resort's main restaurant called the Beach House offers local and international dishes prepared with the freshest ingredients. The food here is so good that the restaurant is always included in Where to Eat Guides in Baler and can even be enjoyed by guests who are not checked in the resort. You can choose to dine in inside the restaurant or al fresco, both with a view of the resort's tropical pool and the beach.

We had our lunch at the Beach House once we arrived in the resort and feasted on local dishes like Pancit Baler, Chicken Binakol, Baler Bagnet, and Baler Sisig. Each dish costs around PHP300 and the very filling spread was just enough for our group of hungry 6 adults and 2 kids.

The breakfast buffet at the Beach House is served to every checked in guest and boy was that a sumptuous way to start off our day. They have salads, pancakes/waffles, a variety of cheese and breads, breakfast viands with rice including the must-try Baler longganisa, cereal and porridge from oats, arrozcaldo, to champorado, sunny side up eggs and omelette of your choice, and fresh fruits.










Overall 
With vibrant and spacious relaxing rooms, upscale tropical ambiance in a prime location, delicious food, topped with great service, it's no wonder travelers are claiming Costa Pacifica is the best resort in Baler and have earned a ton of 5-star reviews. While there are plenty of budget accommodations in Baler perfect for a weekend surfing trip with friends, Costa Pacifica is a great choice for families or groups who don't mind splurging for top-notch facilities and service for their home away from home in Baler, Aurora.