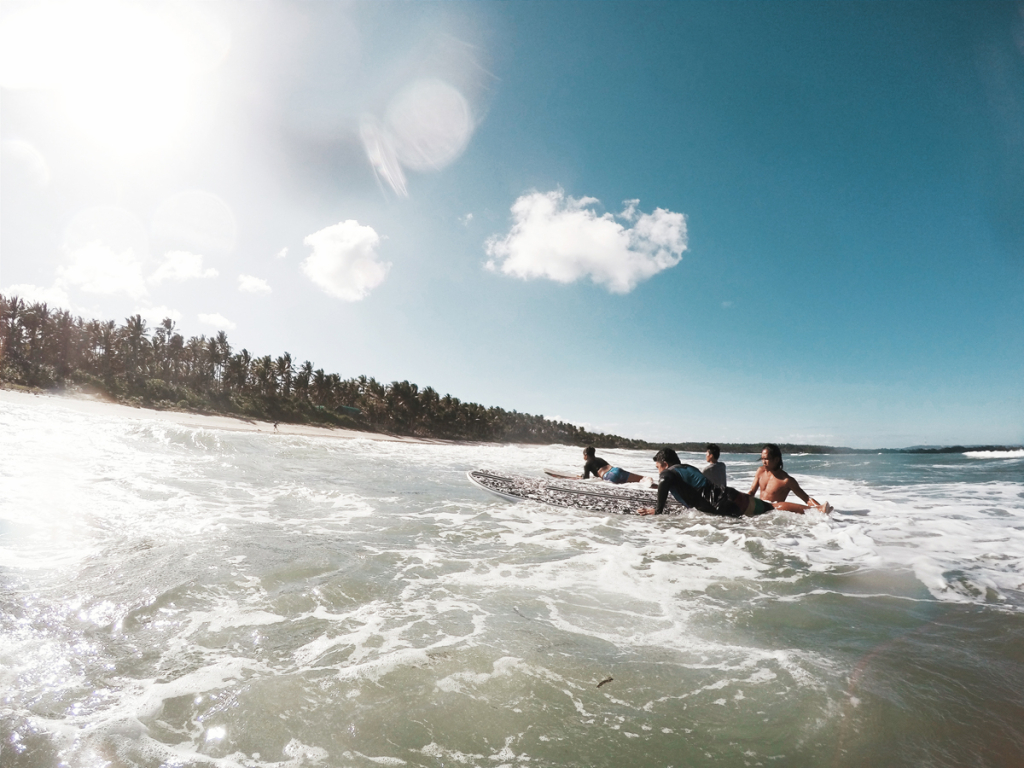 "Are you from Bicol?", was what I remember someone asking me back in high school when I told him that my favorite food is laing, a Bicolano dish cooked with dried taro (gabi) leaves, coconut milk (gata), and chili peppers for a kick. Anyone who knows me personally knows that I hate eating vegetables, but this vegetable dish won over other more popular and meat-based Filipino and international dishes.
I am not from Bicol. I was born in Iloilo and grew up in Manila and only tasted laing when someone in our house cooked it – not even authentic Bicol laing. The truth is, I haven't even been to Bicol yet, not until last week when I spent 6 days in the region with Beep and our friends.
More than the destinations, I was excited to finally eat laing in the place where it came from. "My Mom's laing is better than this", my friend Steff, who grew up in Bicol, assured me as we ate the dish in one of the most famous carienderias in Legazpi on our first few hours in the region – and what we were eating was already one of the best laing I've had.

Our host in Bicol, Steff (and her flower crown)
An Introduction to Bicol  
"I climbed coconut trees back in Sorsogon"
, was one of the first things I learned about Steff when I first met her during our college days. She left Bicol after high school to study in Manila. We grew closer after graduating but it took 7 years for me to visit her province after hearing so much about it despite the fact that it was just in Luzon and can be reached by a bus on a 14-hr journey or a 1 hr and 5 min flight from Manila via Legazpi (you can book via
Saleduck
to get travel deals and coupons for big savings).
What do I know about Bicol before this trip aside from it being the home to Mt. Mayon and its perfectly shaped cone, my favorite dish, the paradise-like island of Caramoan and the wakeboarding park in Camarines Sur, the whalesharks of Donsol, and that it's always the first area to experience the most destructive typhoons that enter the country? Well, that was it, really. And for most Filipinos who haven't visited the region, these are also the only things that they know about Bicol. 
Luckily for us, we had Steff and her family, to show us around, mainly in her hometown, Sorsogon – a perfect introduction to the many surprises that Bicol has to offer.
Getting to Know Sorsogon
Located at the southernmost tip of Luzon and the southern easter tip of Bicol region, all of the municipalities of Sorsogon including Sorsogon city lie along the coast (except only for 1, Irosin). It's known as the gateway of Luzon to Visayas and Mindanao because of its close proximity to the Visayas islands. Their language also has similar terms with the languages of Visayas, that's why I could understand 40% of Steff's conversations with her family and the locals.
Unlike our other trips where we research about the destination to plan our trip, we wanted Steff to surprise us and give us a local's perspective of her hometown – and surprise us she did!
Why It's Every Traveler's Dream Destination 
Sorsogon is undeniably one of the best destinations in the country because it has everything that a traveler is looking for in the ultimate getaway. Here are just some of the many reasons why we think you should hop on a bus to Sorsogon ASAP:

Subic Beach in Matnog
1. Get pink-ish fine sand between your toes at Subic Beach and Tikling Island of Matnog
We had the islands all to ourselves on a sunny Friday afternoon where we swam in their crystal clear waters. The pink-ish sand is a mixture of white sand and crushed red corals. Subic Beach has a number of open-air cottages and AC/non-AC rooms by the beach for rent (you can also pitch a tent) for day trips and overnight stay.

With the Hobo at Tikling Island
While the smaller Tikling Island is an undeveloped beauty that reminds us of Boracay Island (but without the big crowd and hotels/restaurants) because of its powdery white sand. The sand is so fine, your feet sinks as you walk along the beach, with the view of the turquoise waters clearly seen from the horizon.

Beep says hello from the crystal clear waters of Subic Beach
For island hopping, you can contact Sir Eddie of Matnog Tourism Office at 09173167741 who will help arrange your day trip or overnight stay. The motorized boat can be rented for PHP1600 (day trip) to PHP2000 (overnight) with a maximum of 10 passengers per boat. The open-air cottages for day trips can be rented for PHP500, overnight stay in the rooms starts at PHP1500 up to PHP3500, and camping starts at PHP300 to PHP400.

 Do not dip your camera in this part of the sanctuary, they'll eat it! 
2. Feed the fishes at Juag Lagoon Marine Sanctuary at Matnog
One of the destinations when island hopping in Matnog is a private fish sanctuary that is home to various species of fishes – gigantic ones! We met the owner, Kuya Alex, who allowed us to get into the lagoon to feed and swim with the fishes. They don't always allow tourists to swim with the fishes but we were exempted since we were just a small group and there were no other visitors.

Screaming for their lives because of gigantic fishes
There's no entrance fee to the sanctuary, but you can buy the pellets and small fishes for feeding for PHP100. You can contact Kuya Alex at 09183045437.

Adrenaline junkies choose to cliff dive in Paguriran Lagoon
3. Cliff dive at Paguriran Lagoon at Bacon 
Reminiscent of the lagoons in Palawan, Bacon's (pronounced as Ba-kon) pride is Paguriran Lagoon. When it's low tide you can walk to Paguriran from the beach but if it's high tide you can hire a boat or swim to the lagoon. It was low tide when we got to Paguriran on a Saturday morning so we just walked to the lagoon and climbed the cliffs (make sure you're wearing slippers because the rocks are sharp) to the back of the island for cliff diving. The water in that part's deep so wear life vests if you don't know how to swim.

Paguriran Lagoon and the beach when it's low tide
We were with Steff's daredevil uncle and cousin who climbed the higher cliffs and dived into the water. The best part? You don't have to pay for anything to enjoy the island and lagoon!

I had fun capturing the crew riding the waves of Sorsogon
4. Ride the waves of Rizal Beach at Gubat
One of the newest destinations in Sorsogon is its surfing spot at Rizal Beach, Gubat. We rode the waves at
Lola Sayong Eco-Surf Camp
, founded by a group of locals who love to surf and are also surfing instructors in the camp.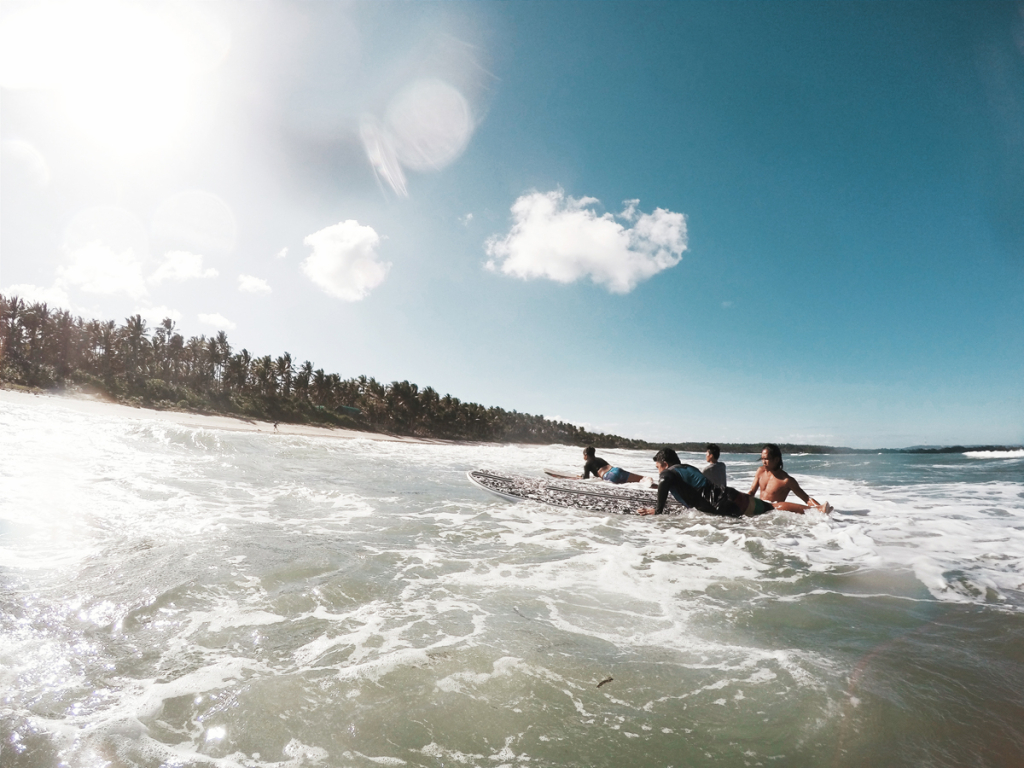 Our travel companions learning to surf at Lola Sayong surf camp  
One of our instructors was part of the founding group, Kuya Nards, who gave really great tips to our first-time surfing companions. Our first trip to the camp was on a Saturday late afternoon but we couldn't go surfing because it was already high tide. We went back on a Monday, straight from Legazpi, at around 2:30 PM and the waves were perfect for beginners and even advanced surfers. An hour with an instructor and a board is PHP350. For inquiries, you can contact them at 09052421693.

5. Swim with the whale sharks (butanding) at Donsol
If you want to swim with the gentle giants in the Philippines, do it in Donsol where they do it the right way. Unlike other whale shark interaction destinations in the country, Donsol takes good care of the whale sharks who are migratory creatures. They do not feed them because the whale sharks feed on planktons that are abundant in the waters of Donsol. They enforce strict rules for tourists who want to interact with the gentle giants – proper distance, no touching, and limited number of boats and swimmers allowed. It's
endorsed by the World Wide Fund for Nature (WWF-Philippines)
, who also assisted the local government of Donsol to protect the whale sharks while still allowing tourists to interact with the wild creatures.
Since they don't feed the whale sharks to lure them, there's no guarantee that you will be able to see or swim with them. Each boat's capacity is only up to 6 tourists for PHP4100 (up to 3 hours) and is non-refundable. For a higher chance of whale shark interaction, the best time to go to Donsol is during the peak season of April-June.
We didn't get to swim with the whale shark (there was 1 during our trip) but we saw it from our boat. At least we have one more reason to go back to Sorsogon!

Our host, Steff, kayaking in Lake Bulusan. Photo by  Joey Dionela
6. Kayaking at Bulusan Volcano National Park
While Albay has the active volcano of Mayon, Sorsogon has Mount Bulusan. A protected tropical rainforest and wildlife sanctuary, the lake is believed to be formed by tectonic damming where another crater of a volcano is filled up with water. The tranquil emerald-green lake is surrounded by a lush forest and is a perfect spot for picnics, kayaking, water biking, swimming, and even bird watching. You can also hike Mt. Bulusan if you're more into mountaineering (and go to the lake after your climb), which we might do on our next trip to Sorsogon! Entrance fee is PHP20 and kayaks can be rented for PHP150.

Our travel buddy, MJ, and her signature mermaid swim in the hot spring of Irosin
7. Dip in the hot and cold springs at Irosin 
The best way to cap off a tiring day when in Sorsogon? Natural hot spring. The active volcano of Bulusan provides geothermal heat for springs in the area. We went to Mateo Hot and Cold Spring in Irosin which is open until 10PM and will only cost you PHP45 (adult). We went here after our Matnog island hopping to soothe our tired bodies. We didn't dare try the cold spring since it was already sunset, maybe when we're in Sorsogon during the hot summer season.
Go and explore Sorsogon!
"There's so much to do in Sorsogon, we have to go back", said one of our companions. Indeed, a week in Sorsogon wasn't enough to enjoy everything that this province has to offer. Steff says that there are waterfalls, caves, and other beaches that we didn't have the time to explore anymore but are worth going back for.

Beep riding the wave into the sunset
In just a few days that we were in there, we were more than convinced that Sorsogon has everything a traveler is looking for in an ultimate destination. We hope that more tourists, especially Filipinos are made aware of this because, really, Sorsogon is underrated.
This isn't the last you've seen of us Sorsogon, we'll be back.