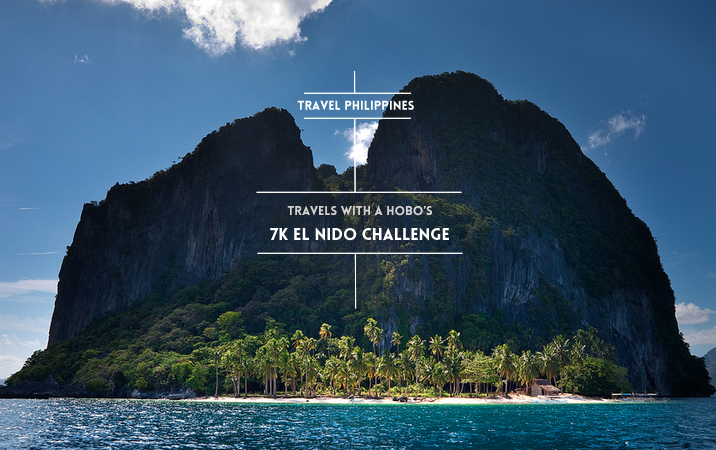 Is 7k enough for 5 days in El Nido?  ()
If we told you that you can spend 5 days in paradise on Earth that is El Nido, Palawan for only Php 7,000 all-in, would you believe us? This coming week, Travels with a Hobo's Gem and Beep (and friends) will take on the 7k El Nido Challenge. Game on!
Why did we decide on 7k for the challenge? 3 years ago (when Beep and I were mere officemates), I was inspired to go to El Nido by the 7k Extreme Challenge of We Are Sole Sisters' Chichi. I actually was able to get cheap flights then and have already booked accommodations and van services but 2 days before our 'El-Nido-here-we-come' day (which fell right smack on my birthday), I got sick and had to be admitted to the hospital.

I cried so much on my birthday that year because of that. Worst birthday ever lol.
This year, I have the chance to redeem my 3-year younger sickly self and finally go on that much-awaited El Nido trip!
THE MECHANICS
1. The 7k challenge will include a Php 7,000 budget for each person in the group from their own wallet of course lol
2. The airfare, land transportation, accommodation, tours, food expenses, terminal fee/travel tax and environmental fee are to be included in the final computation. Other expenses that are not related to traveling in and experiencing El Nido like souvenirs, cigarettes, etc are not included.
3. Every transaction that involves money will be listed down and to be blogged by the end of the challenge/trip.
4. The prize for winning the challenge? Self-fulfilment for proving that you can enjoy El Nido without breaking the bank. And an unforgettable experience that shall be remembered for the rest of our lives.

THE PLAN
1. Cheap plane tickets. We scored 2-way plane tickets to Puerto Princesa, Palawan from Air Asia.
Damage: Php 911/pax
2. Land transportation. We initially wanted the cheapest option ordinary/non AC bus labeled as a 'Time is Bronze' option for Php 350/pax (a whopping 8 hours). Our second option was the RORO AC Bus that is more comfortable and will take us to El Nido faster for a published rate of Php 483/pax (6-7 hours). The AC shuttle vans have a published rate of Php 700/pax (5 hours). After deliberation with out companions, issues about road dust and comfortability were raised so we ended up choosing the RORO AC BUS. But a last minute offer came our way from Tay Miloy's Inn that will be more convenient for us and will take less travel time.
Damage: Php 500/pax for a van that will pick us from the airport and take us directly to El Nido. Having a van that will pick us up from the airport means we won't have to ride a tricycle (Php 20/pax) to San Jose Terminal where the buses and vans to El Nido are.
2. Cheap Accommodation. We're booked at Tay Miloy's Inn where we'll be staying at a room for 5pax with a private shower room and CR.
Damage: Php 960/pax for 4 nights
3. Great deal on island hopping tours and kayak rentals. There are 4 island tours in El Nido: Tour A, B, C, and D. We decided to do all 4, with 2 island tours each day through combination tours (combi tours). Usually, combi tours cost Php 1,500 but we got a really great deal from Kuya Harvey of Lagoon Tours who will also provide us with kayaks for rent.
Damage (island tours): Php 1,000/pax for each combi tour x 2 = Php 2,000/pax for Tours A, B, C, and D
Damage (kayak): Php 150/pax for a half day rental
Now we got the basic expenses laid out, the damage so far is…

Php 4521!
That means we still have Php 2479 for food and miscellaneous expenses for El Nido.
Will our 7k El Nido Challenge be a hit or miss?? Stay tuned!
---
UPDATE: We did it!
We successfully traveled to El Nido for 5 days by only spending less than Php7,000! Find out how we did it in this post.