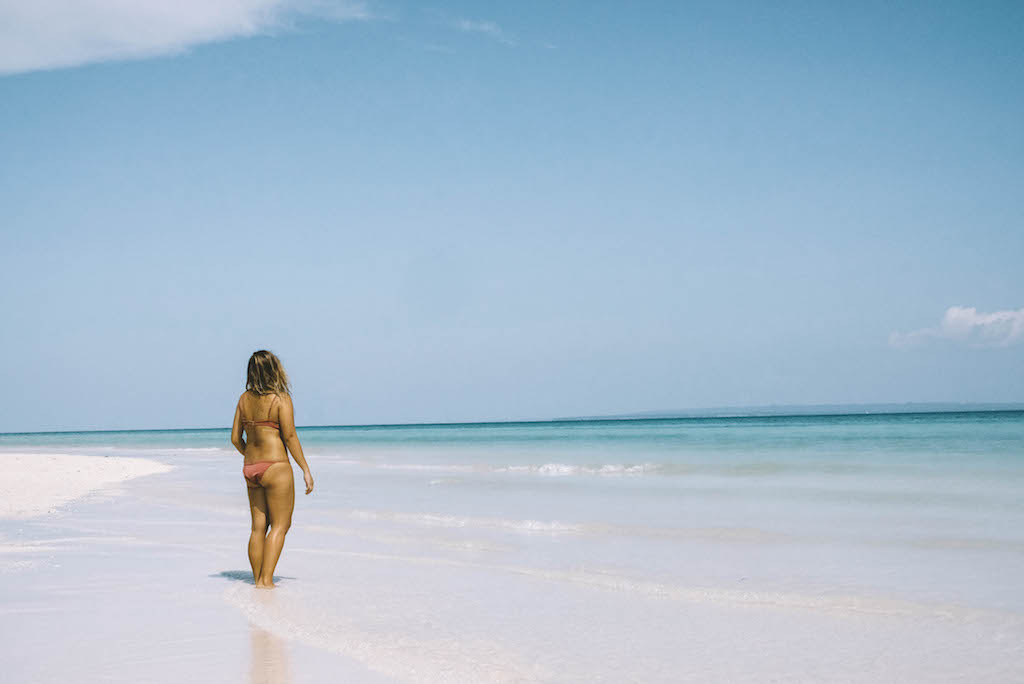 Kota Beach
With over 7,000 islands (7,641 to be exact), the Philippines has a lot of hidden paradise waiting to be explored. We thought we've already seen the best of Philippines when we traveled to
El Nido
and
Coron
,
Palawan
which are always listed in the top beach destinations in the world (if not number 1); but our trip to
Bantayan Island
, a small island north of
Cebu
, proved us wrong yet again. This is what we love the most about our home country and our promise to explore  more of the
#PhilippinesFirst
, there are a ton of little El Nido's in every corner of the archipelago that mainstream media don't write about or are not included in coveted destination lists but are equally stunning as the ones they do. 

Kota Beach
Bantayan Island got attention from tourists in the recent years because it was the location for a local movie but compared to its more famous island brothers and sisters in the country like Palawan and Boracay, it's still yet to become a priority must-go to destination in the Philippines for a lot of local and foreign travelers. I was surprised to find out that even my friends who were born and raised in Cebu, the main island, haven't been to Bantayan Island yet!

Local fishermen at Hilantagaan Island
The island got its name from the word bantayan, which translates to "keep watch",  because it used to have stone walls and watchtowers built to look out for pirates that would raid and capture slaves in the islands. One of which is still preserved in one of the municipalities of the island. It's a fishing village known for the best tasting danggit (dried fish) but have been benefiting from tourism especially from travelers who want a more relaxed destination.

Hilantagaan Island
What's so special about Bantayan Island that we highly recommend it to be your next travel destination in the Philippines? Let us break it down for you: 
1. Soak up the sun in its uncrowded beaches with fine white sand and clear blue waters
Travelers have gotten used to the idea that you need to stay in an expensive resort or go island hopping to experience the best white sand beaches nowadays. Not in Bantayan Island!  The island, especially in Santa Fe, is blessed with a number of white sand beaches without the crowds and a lot of them without entrance fees (if there is, it's just a dollar or two because it's within a resort or is privately owned).

Kota Beach

Hilantagaan Island

Paradise Beach

Virgin Island
You can choose from stretches of fine white sand beaches like Sugar Beach, Kota Beach, Paradise Beach, and Alice Beach to name a few. During our stay, we went to Kota Beach (no entrance fee if you don't enter through the resorts) and Paradise Beach (PHP50.00 entrance fee). It felt like we had these beaches all to ourselves. We spent days in these beaches with peace and quiet. Just me, Beep, and the sound of the waves.

Kota Beach

Virgin Island
While you can go island hopping at PHP700.00 for 2 pax to Virgin Island (charges PHP500.00 entrance fee for the first 2 pax and PHP100.00 per additional person) and Hilantagaan Island, you can opt to just stay in the main island so you spend less. We did the island hopping to these two islands as well.

Virgin Island

Cliff diving spot 

Paradise Beach Camp
Virgin Island had a lot of tourists though so we ended up liking Hilantagaan Island more which was a fishing village with no tourists in sight! If you're an adrenaline junkie, there's also a cliff diving spot near Paradise Beach that the local kids like going to.

Kota Beach
2. Take a dip in the natural cave pools of the island 
Aside from white sand beaches, Bantayan Island charmed us with their natural cave pools – yes, pools in real caves! You can choose from 2 cave pools in the island: Ogtove Cave Resort's and the Sto. Nino Cave at Bantayan Island Nature Park and Resort. We went to both.

Ogtong Cave Resort

Ogtong Cave Resort
Both spring-fed cave pools are inside private resorts but you can enjoy both and other resort amenities even if you're not a checked-in guest for an entrance fee of PHP200.00.

Sto. Nino Cave at Bantayan Island Nature Park and Resort

Sto. Nino Cave at Bantayan Island Nature Park and Resort
Don't know which one to choose? If you really can't go to both, take note that Ogtong Cave Resort is nearer the busy areas of Santa Fe but can be crowded because of it's small size, while the cave pool at Bantayan Island Nature Park is bigger, in fact it's the biggest in the island, but is about 30 minutes away from Santa Fe port.
3. Explore the island at your own pace on a rented bicycle or motorbike
Beep and I both love the carefree feeling of riding a bike especially when we're away from the busy city. This is one of the reasons we really loved Bantayan Island, bikes and motorbikes are available for rent throughout your whole stay for just a small price (PHP100-300.00 per day but you can get a better deal if you'll rent them for a week). The rental shops are scattered around Santa Fe town.

Biking was our choice of transportation in exploring the island but it got quite challenging for some destinations outside of town. There was a day when we were drenching in sweat as we biked to Paradise Beach and the cliff diving spots then it started to rain so we had to wait it out under the trees or random houses. Not only did it make for romantic movie-like moments, it was also a chance for us to burn all those seafood we've been eating endlessly in the island.

We recommend that you only bike though within Sante Fe town. It's better to rent a motorbike for tourists spots outside of town or hire a tricycle that you can come to an agreement with for a whole day tour. For tricycle tours, get in touch with our hired tricycle land tour guide, Kuya Aldo Ilustrisimo at 09233253259.

4. Watch one of the most breathtaking sunsets that almost (!) made me tear up 
I'm a sunset person so I was really looking forward to watching the sunset at Kota Park in the town of Madridejos. I'm honestly not exaggerating when I say that it was one of the most beautiful sunsets we've seen in all our travels – and we've already seen a lot!


We got there at around 4:30 PM and hung out at the boardwalk with locals who were also there to watch the sunset. As the sun set, hues of pink and orange filled the sky and reflected on the ocean – it was so moving, so breathtaking, I almost cried. This is one thing you should NOT miss when you're in Bantayan Island.

5. Feel like your Alice in Tropical Wonderland at this mangrove eco park 
Be one with nature and take a refreshing stroll along the bamboo walkway of the enchanting Obo-ob Mangrove Eco Park. It's maintained and managed by local organization  OMAGIECA and was built to raise environmental awareness on how mangroves play a vital role in our marine ecosystem.


For PHP50.00 entrance fee, you can explore the eco park and they also give you a straw hat! If it's high tide, you can also ride a kayak for PHP150.00.  Make sure to stop at the nipa huts with the elevated viewing decks!

6. Seafood is so affordable, you can feast on them every meal, everyday
Last but not the least – the food! Being a fishing village, fresh seafood is so cheap in Bantayan Island, you can eat them for every meal! I can't count how many meals we feasted on scallops during our trip. We ate this plateful of scallops that only cost us PHP120.00 at a local Sutukil restaurant near the public market that Kuya Aldo, our tricycle driver, recommended to us. There are also locals that walk around at the restaurant strips of MJ Square with baskets of freshly caught and steamed scallops that you can buy for just PHP100.00 per kilo!


Here's how to get to Bantayan Island via Cebu: 
1. From Mactan Airport in Cebu, ride the MyBus shuttle to North Bus Terminal. It's just PHP25.00! Check airfares and book your plane tickets to Cebu here.
2. Board the bus to Hagnaya Port (PHP165.00). It's a 4-hour ride with 1 stopover for quick snacks and bathroom break.
3. From the port, ride the ferry (RoRo) to Bantayan Island (PHP170.00 + PHP10.00 terminal fee). It's 1.5 hours of travel that will take you to the port of Santa Fe.
4. From the port, walk to the Tourism Office just outside the gates of the port to register and pay for the Tourism Ecological Fee (PHP30.00).
5. There are tricycles when you walk outside that will take you to your resort.
Accommodations in Bantayan Island: 
We hope those are enough to convince you that Bantayan Island should be your next travel destination! It's the perfect alternative for crowded island destinations without burning a hole in your pocket. Here's to exploring more of the #PhilippinesFirst!