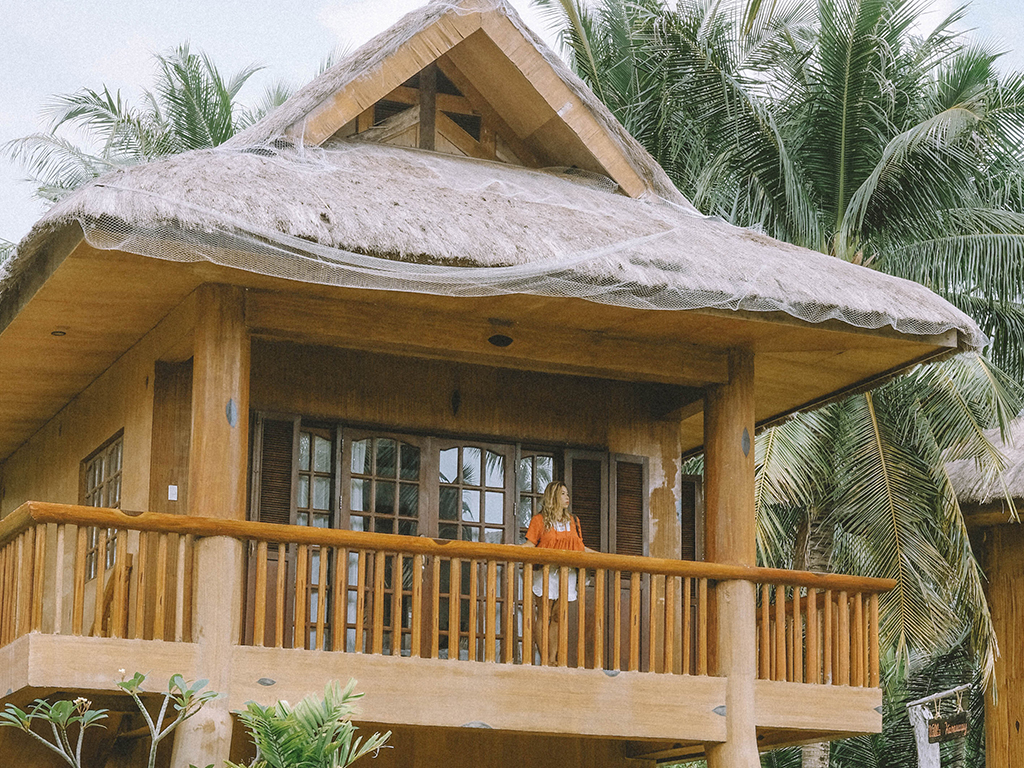 What's your idea of paradise? For us it's being surrounded with palm trees while inside a nipa hut-like house with the sound of the waves lulling us to sleep on a lazy afternoon. Luckily, we have a lot of those here in the tropical country of the Philippines with our 7,641 islands.
Bantayan Island in Cebu
, an underrated destination that we fell in love with after staying there for a week (
READ: Why Bantayan Island Should Be in Your Philippines Travel Bucket List
) , is one of those places and we found the perfect tropical retreat in Bantayan Island's
Hoyohoy Villas 
and became our home for 2 nights.



Located in the town of Santa Fe, Hoyohoy Villas is just a few minutes away by tricycle/bike/motorbike from the port and the town center. We rode a tricycle from the port that took us inside the resort for P20 each. Once we arrived, we checked in at the open-air reception/restaurant called Simoy and were served fresh mango juice for welcome drinks.
Our Villa  
Hoyohoy Villas is a boutique resort with architecture inspired by a rice granary. The villas have thatched roofs and are elevated as they stand on stilt foundations. From your villa's surrounding balcony, you'll have a view of the resort's tropical garden with an outdoor pool and you'll be just a few meters from the beach.



Since each room is in a separate villa and there are only a total of 6 villas, you can expect utmost privacy and peace and quiet.  5 of the villas have an open-air lounge area at the first floor, while 1 villa has 2 rooms, 1 in each floor, perfect for a bigger group.
There are also big windows and a glass door on 3 sides of the villa so even when you're lying in bed, you still have a view of the palm trees in the resort and your room is lit up with natural light. We loved waking up to the sunrise peeking through our curtains.


Each room has cabinets that can fit all your clothes good for months, a cable TV inside a wooden cabinet, tailored with a queen bed and a single bed, and fully air conditioned if you don't feel like opening the windows for the natural breeze.



The bathrooms have hot and cold showers with a large bathtub, toiletries, and get this – a garden shower! I liked the fact that there was no TV in the bathroom, it's the perfect excuse to disconnect and just relax while you take a dip in the bathtub.



The Resort
By day, you can hang out by the huts and gazebo at the beachfront The resort has a great view of the sunrise, while at sunset it's enveloped the beautiful pink and orange hues.



We had breakfast at Simoy where they serve Filipino and international dishes.

At night, the resort lights up with a romantic tropical mood. Beep and I ordered drinks at the bar in Simoy and spent a few hours at the beachfront gazebo  just listening to the waves.



Even though we just stayed for 2 nights at Hoyohoy Villas, we really felt at home, completely undisturbed in our private tropical retreat in Bantayan Island. It was the idyllic island life that we've always dreamed of having. If we ever go back to the island, we don't mind staying in Hoyohoy Villas again, maybe longer than just 2 days!