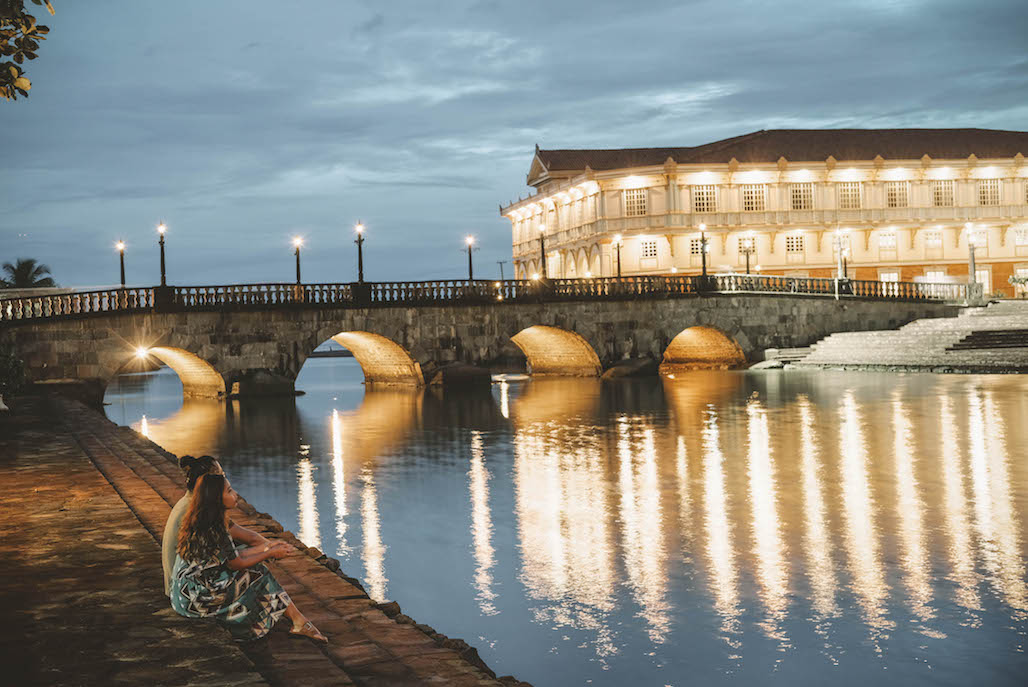 Aside from the world-renowned tropical islands in the Philippines, one of the reasons why our home country is a must go-to destination is our rich culture shaped by our history. It's evident not just in our traditions and cuisine, but also in our architecture. When you travel to a number of rural destinations in the country, you can still see old houses with Spanish influence since we were under their rule for over 300 years from 1521 to 1898, but there are only a few of them that stand today.
Luckily for our generation, a treasure trove of these houses are now well preserved in a one-of-a-kind open-air museum and heritage resort in Bagac, Bataan – Las Casas Filipinas de Acuzar. Just 3-4 hours of travel from Manila, the capital city, you can already step back in time and get a taste of what it felt like to walk in the cobblestone streets of old Philippines at Las Casas. Now we can proudly say that we've traveled not just to the most beautiful spots in the country, but to 18th century Philippines too.



The heritage resort is owned by a Filipino architect and businessman, Jerry Acuzar, who envisioned to design and create a one of a kind village with REAL hundred year old Spanish-Filipino houses that were bought as his collection. The houses were carefully dismantled piece by piece, transported, and rebuilt to their former glory in the site. More than the beauty of the houses, it's amazing to learn about the history behind each  house that used to be a home for real families 200-300 years ago.


Our hotel room 
Most tourists opt to do a day tour (PHP1,500 per person), but with a destination unlike other places we've been to, we chose to book a hotel room in the heritage resort to really savor the experience. We had 2 full days and 1 night to explore the place and dive into our country's history, because experiences like this shouldn't be rushed. We booked a Deluxe Room for 2 guests for a total of PHP 6,586 and got a 20% discount because we booked it with the Traveloka App and used their promo code. You can read our review of Traveloka App for booking hotels here.

Aside from the free breakfast, booking a hotel in Las Casas includes a complimentary day tour pass. So if you do the math, it's like we only paid for PHP3,000 for our hotel room.

From the reception where we were welcomed by the front desk staff in traditional Filipino costumes, we boarded one of their jeepneys (free service for tourists in the site) that dropped us off at our hotel. Our hotel is actually the El 82 building that once stood in Binondo, Manila as an arts supply stored owned by Don Roman Ongpin, a Filipino-Chinese businessman who was instrumental in helping Filipino revolutionaries that one of the streets in Manila is named after him.

Our hotel room was designed to make you feel like you're back in time too, from the dim chandelier lights and details of the furniture, to the faucets, shower, and bathroom mirrors. They did however incorporated modern touches like adding a TV, A/C, and Wi-Fi for a comfortable modern stay. Beep and I loved the bed that was so massive we think it can fit up to 4 adults!


Our most favorite part of the room though was the bathroom. Beep is a big fan of big bathtubs so I wasn't surprise to find him soaking (and sleeping) in it for a hot bubble bath for hours when we were resting in our room.


At the back of our room, there was a door that led to a balcony with a view of a Venice-like canal and private  casas that you can also book in Traveloka App if you're a big group and have the budget for it.

Exploring the houses and structures 
Roaming around Las Casas Filipinas de Acuzar was like reading a storybook, you'll keep on turning the pages to read more as it takes you back in time 200-300 years ago. The names of every house in the resort are based on where they were originally from. Each house has a rich history that you will find out during the day tour so I won't go into much details. These are just some of the houses that you can explore in the resort:


This is Casa Bizantina, a 3-floor house originally from Binondo, Manila that can be rented entirely as part of the resort's hotel. It's actually the most expensive Casa in the resort. The tour guide said that the bathrooms are supplied with Hermes toiletries. We couldn't go inside the house that day because guests were occupying it.

Casa Baliuag serves as the home of the owner and his family when they're in the resort. It was originally located at Baliuag, Bulacan and once served as the municipal hall of the town in the 1950s. The owner's wife is from Bulacan that's why this is the house they chose to call their home in Las Casas.

This is Paseo de Escolta, a 3-storey building recreated with old and new materials to look like the commercial buildings in Manila back in the early 1900s based on magazine photos of the real ones. The 2nd and 3rd floor are hotel rooms that guests can stay in.

Casa Luna was owned by a prominent family from La Union, specifically the uncle of the famous Luna brothers, Antonio the general and Juan the painter.

Casa Jaen was originally from Jaen, Nueva Ecija. It served as the residence of the first Mayor of Jaen.

This brick house was definitely one of my favorites. Casa Ladrillo stood out among the Spanish era Filipino houses because of its European features, it actually reminds me of Downton Abbey! While the real Spanish era houses in Las Casas were transported from different parts of the Philippines, Casa Ladrillo's design was actually based from plans in the National Archive and it was built in the resort.

These pink doors at one of the structures were too cute to not take photos in front of them. It houses stores and a photography shop on the first floor to recreate the vibe of old Escolta in Manila.

What the views might have been when you bike along the streets of Old Manila. Aside from riding the jeepneys, kalesas, or the trams, you can rent a bike in Las Casas Filipinas de Acuzar for PHP150 each to explore the open museum and heritage resort in your own pace.

You can also ride one of their colorful kalesa for PHP150 for 2 pax. Our driver for that afternoon gave us a short tour too with trivia that were not mentioned in our guided day tour.

We also did the viewing of Hotel de Oriente, a recreation of one of the first luxury hotels in the Philippines in the 18th century. You need to pay PHP150 per person for this and can be done right after your day tour. They were only able to copy the exterior of the hotel since there are no more records of what's inside the real one.


The interior of their version of Hotel de Oriente reminds us of European palaces because of the intricate details but with a Filipino touch.  Everything you see inside the Hotel de Oriente are wood work by Bagac local women. They had to use different kinds of wood for the colors and patterns. There was also a massive replica of the Spolarium painting by Juan Luan made entirely with wood.



Las Casas at night
When the sun goes down and the day tour guests leave, that's when you're really transported back in time. All the restored real Spanish-Filipino houses and cobblestone streets light up as if you're taking a romantic stroll in old Manila. We had these spots and views all to ourselves that night. This we think is enough reason for you to book a hotel or casa in Las Casas instead of just a day tour. It was one of the most romantic nights we've had in a while.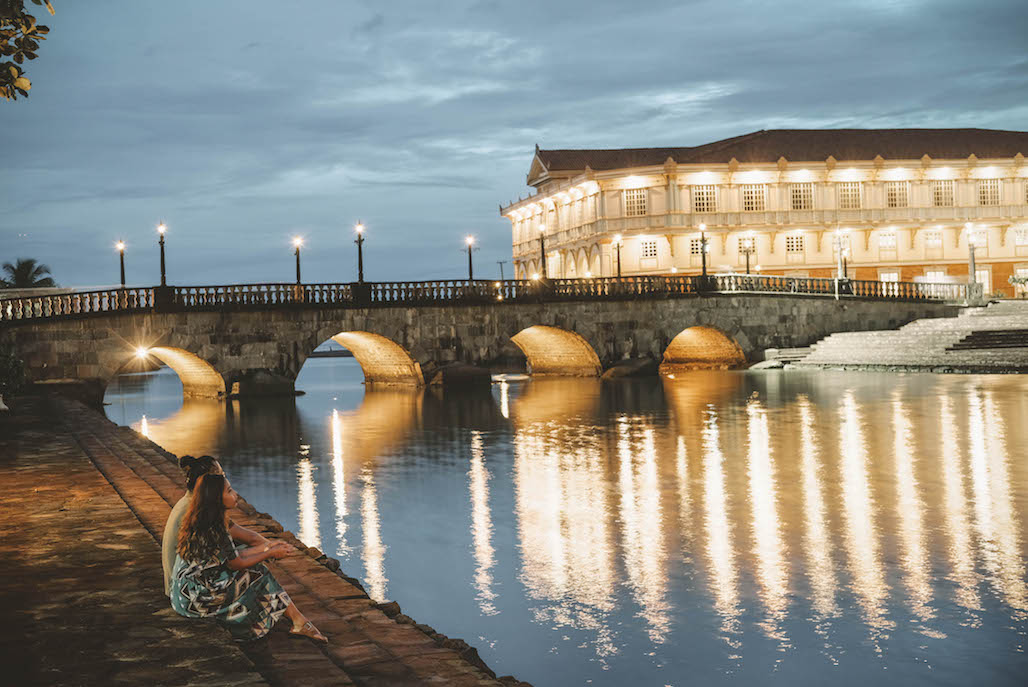 After checking out the next day, we were still allowed to stay in the heritage resort to explore more of Las Casas. A day tour really isn't enough for this place. The staff told us that Mr. Acuzar has more houses in his collection that will be transported to the resort. With only less than 100 hectares utilized in the 400 hectare site, more surprises await visitors in the future.

Do make the trip to Bataan and visit Las Casas Filipinas de Acuzar. It will make you appreciate our country's history more and you'll have countless of Instagram-worthy photos to boot!
Until our next visit, Las Casas!