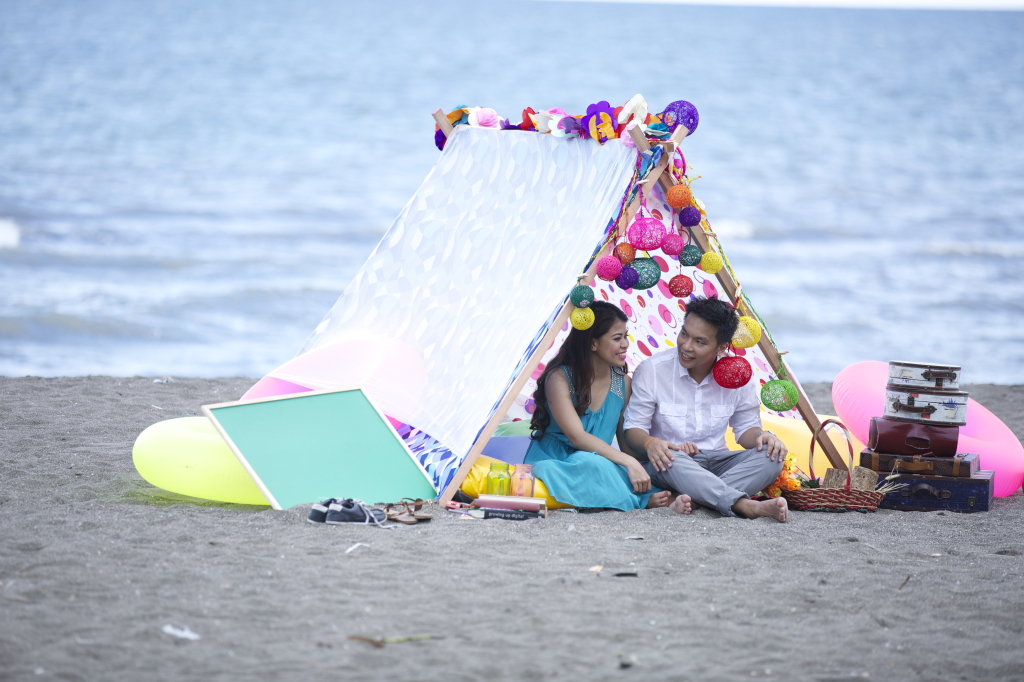 Love makes you do crazy things. It can make you jump out of a plane, propose on bended knee in Batanes, and shout to the world that you want to grow old and spend forever with each other. That's exactly what our first featured Hobo Love, Will Travel couple (and two of our favorite people in the world) did – Deej and Joni.
I will never forget that one December night in 2013 while I was waiting for Beep to finish work, scrolling Instagram to kill time. Scroll, like, scroll some more, oh another food post, scroll, STOP – there it was, a Batanes post by Joni who we knew was currently on vacation with Deej and their friends. This was not just an ordinary travel photo post in Instagram. I screamed, my eyes and mouth both wide open. Without saying a word, I shoved my phone's screen in Beep's face and I started to hit him hard on his shoulder out of excitement – finally, Deej and Joni were engaged after 7 years of being together. 

A Couple That Inspires Others to Travel
Even before Beep and I started to travel together and launch a travel blog, Joni was already documenting their trips in her own blog, Little Whims. They're one of the most well-traveled couples we personally know. The truth is, they're the inspiration behind our own adventures. Seeing Joni's posts about their frequent travels to local and international destinations pushed me to make travel happen. Without all her tips, advice and  cheering me on to take risks, I wouldn't have had the confidence to submit visa applications or book for the cheapest plane tickets in seat sales – Travels with a Hobo probably wouldn't exist today!

How They Make Travel Happen
Deej and Joni were straight out of college in their first jobs when they first met, became friends, and eventually more than friends. It wasn't long after that when they developed the love for travel. Like others who are just starting to make a living, it was difficult for them to grow their savings to splurge on trips but they shared the principle that they would rather invest in unforgettable experiences traveling the world than material wealth, not minding the debts brought by their trips. This principle with practicality in mind is how they make frequent travels possible.
"Half the fun of travel is in the company. We have this crazy group of friends who we always travel together. Before our group started planning trips outside the Philippines, we explored our own country first by going on road trips in Luzon and domestic flights to other parts of the country. Every once in a while, we would get together or start an online conversation to talk about our next big adventure", says Joni.
Some of their most memorable trips together as told by Joni:

"Bali, Indonesia is so much like Boracay, but there's something about their little island that's very attractive and endearing. Bali is teeming with tourists from all over the world, but you will still get a great sense of their history and heritage, which is something I really loved about the Balinese. Their local coffee is a must-try! One of the best beach destinations in the world, Bali would have been my first choice for our honeymoon if we haven't already been there before. And oh, in Bali we were millionaires!

"


"I will never forget our trip to China. We landed in Beijing but we set aside a few days to travel farther north to Harbin. It was winter during this time and it was in Harbin where I experienced the coldest weather thus far. At -20°C, it felt like my fingers and ears were gonna fall off! The Ice and Snow Sculpture Festival was the reason we commuted via a sleeper train all the way from Beijing and it really was an amazing sight to see. Personally, I will never be able to survive in a place that cold but it was a good experience nonetheless, one I will definitely tell my kids about over and over again someday."

"It was in Queenstown, New Zealand where Deej, me, and two other friends tried skydiving. We convinced ourselves that there's no better place for us to go for it than in the skydiving capital of the world. I honestly didn't want to go skydiving because I'm such a wuss, but I'm glad my companions pressured me to overcome my fears. It was, by far, the most daring thing I've ever done! New Zealand is such a beautiful and a laid-back country that up to this day, Deej and I would sometimes talk about the possibility of moving there someday – if the opportunity knocks.

"


On their honeymoon: "Japan is an amazing country.  Every place we went to left us with a jaw-dropping expression on our faces! We were particularly amazed by their oh-so-convenient train system, their super advanced technology, their countryside that's somewhat like New Zealand, their punctuality, and the friendliness of the locals. I won't forget the time I approached a store personnel to ask for directions going to our hotel. Since he doesn't know a word of English, he left the store counter just to walk with me and point me in the right direction."

On Budget Travel and Traveling as a Couple 
1. Divide the tasks, don't just make one of you do everything
Their honeymoon trip to Japan was actually their first time to travel alone together. Joni says that she was in charge of deciding where to go, what to buy and where to eat, as well as budgeting their money and asking strangers for directions. Deej was in charge of studying the very comprehensive railway system of Japan, getting them from point A to point B, listing down all their expenses on his mobile phone, and taking pictures.
2. Splurge on the local experience
Joni says that she's the kind of traveler who isn't into shopping. "I only shop for some pasalubongs and souvenirs (we collect fridge magnets and Starbucks country mugs, sometimes snow globes and shot glasses too) but that's it. Splurge on the local experience, not on merchandise you can also find in the Philippines, such as designer clothes and bags, or gadgets".
3. Explore other places too
Joni advises  that as much as you can, don't plan to go back to the same country or destination you've already been to. "I know how it is to fall madly in love with a place, but there are others that are as wonderful and deserving to be explored. You can come back to that country you can't move on from after a few years. The "reunion" would definitely be sweeter then".

Deej proposed to Joni at Rakuh-A-Payaman in Batanes (better known as the "Marlboro Country"). "Two months before this, Deej already bought the ring to give me so I guess he was just waiting for the next big trip we're taking to pop the question. And Batanes, up above the hills and overlooking the expanse of nature, was indeed the best place to propose. Having our ever-supportive travel buddies there, of course, was the icing on the cake. We went to a lot of breathtaking places in Batanes but it was in Rakuh-A-Payaman where Deej, as soon as we arrived there, immediately thought: "This is it!" "

Deej and Joni tied the knot last October 2014 in a beautiful garden wedding in Tagaytay, a much-awaited celebration not just for them but all of their family and friends who have been eagerly waiting for these two lovebirds to say their I Do's.

When asked if they would keep traveling if they have kids, "Definitely! Deej and I began traveling when we were already working so we want to make that different for our future kids. We want to expose them young and teach them the value of appreciation and sense of adventure. Off the top of my head, our first trip with our kid when he/she turns five would be to Disneyland HK. Sounds like a cliché but one can never have too many trips to "The Happiest Place on Earth."
Congratulations Deej and Joni! 
 All photos courtesy of Joni and Deej.