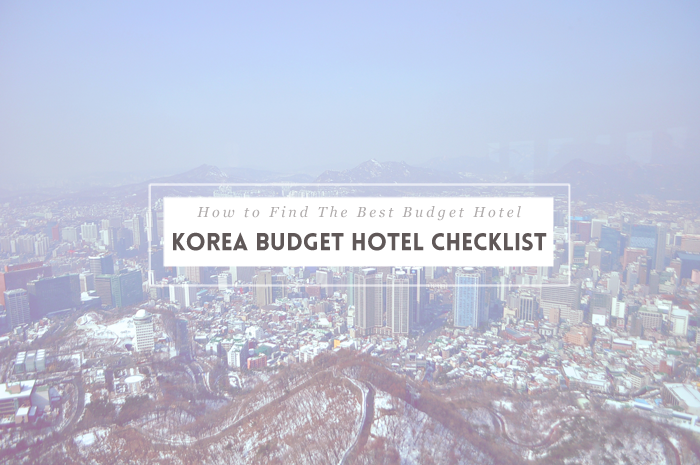 GIVEAWAY ALERT: Are you going to Korea this 2015? You're in luck! We're giving away a FREE STAY at a new hotel located in the heart of Seoul! Scroll to the bottom of this post to find out how you can join.
Having a small budget for South Korea travel doesn't mean that you should stay in dingy, cramped hotels. You can find a home away from home and enjoy your stay in Korea  IF you know how and what to look for in a budget hotel.
While it's a big factor, budget is NOT the only criteria you should take into consideration. In this article, we list down what other things you should look for in a budget hotel aside from fitting your budget. This list will help you in deciding if the budget hotel you're eyeing to book is really offering a good deal. 
LOCATION
1. Is it near the places you want to go to? 
Before finding an accommodation, plan out your itinerary first and map them out – which part of Seoul are most of them located in? That's where you should find a hotel. It's important that you know which places you want to go to so you can decide which part of South Korea you want to live temporarily. Sure you can commute from your hotel but Seoul is a big city. you'll enjoy your trip more and maximize your time and money if your hotel will be nearby the places you'll be going to.
Here's a map of the districts in Seoul City. Take note that the city is divided into two: North of the Han River and South of the Han River. 

2. Is it located near a subway, specifically Line 1? 
Commuting is really convenient in Seoul because of the very brilliantly designed Seoul Metro Subway. Getting from Point A to Point B will be fast and easy when you know which stations to get off from or transfer to. We highly recommend that you get a hotel near a Line 1 subway (the main line) because it's the subway line that's connected to all of the other subway lines. What does that mean? Transferring from one station to another is conveniently easy and sometimes it lessens the need for transferring too!
Here's a map of the Seoul Metro. Looks complicated, right? I know it might be confusing at first but I promise you, the Seoul Metro will be your best friend once you study it carefully. See that dark blue line? That's the Line 1, the main subway line that is connected to almost every other subway line.

THE ROOM
3. Is there enough space for your luggage?
One problem about budget hostels is that you might be saving up on the expenses but the rooms are really small that there's barely enough space left for your luggages! Make sure to check out the photos of the room you're booking first to see if there's plenty of space for your bags.
4. Are the floors in the room heated? 
This is important when you're going to Korea during the Winter, Autumn, and early Spring seasons where it can get really cold outside. The last thing that you need are cold floors! Most of the accommodations we've had all had heated floors, but still make sure that the hotel you're going to book will have heated floors too.
5. Does it have its own bathroom? Does it include free toiletries and towels? 
Some budget hotels and guesthouses have sharing bathrooms. If privacy is important to you, make sure to get a hotel with its own bathroom. Free toiletries and towels will be great too so you can save more space in your bags for your souvenirs and shopping.
HOTEL FACILITIES
6. Is there a kitchen?
Having a kitchen in the hotel will help you save up on food expenses during your South Korea travel. Some budget hotels have a pantry/kitchen where there's free breakfast food that you can cook on your own (toasts, eggs, jams, etc). Some have a kitchen in the room itself, so you can just buy your supplies in a nearby supermarket. It will feel like you're true Seoul locals!
7. Is there a laundry room? 
Want to pack light? Find a budget hotel with a laundry room or a washing machine so you can just wash and dry your clothes to wear them again. Washing machines in Korea have the quick dry feature so you can dry your clothes overnight and wear them the next day.
CUSTOMER SERVICE
8. Do they have a Facebook page/website with helpful information like South Korea travel tips and directions on how to get to the hotel? 
You know you're in good hands if the hotel you're going to book has a regularly updated Facebook page and updated website where they post pictures of other happy travelers renting a room with them. Some also post travel tips like where you can go for a specific season in Korea like in Spring for the cherry blossoms. We also think that the hotel's customer service is A+ when they have clear instructions on how to get to their hotel, with photos for example and not just a map.
9. Do they respond to your inquiries fast with clear English? 
We understand that planning for your South Korea trip can be time-consuming and looking for a hotel is definitely one of the things that will take up a lot of time – from looking at reviews to comparing your shortlist. It helps that a hotel responds fast to your inquiries so you can make quick decisions as well so you can have everything prepared beforehand.
REVIEWS
10. Is it highly recommended by travelers? 
Trust us on this: Reading reviews of hotels is the best way to judge if a hotel will fit your needs or not. Look for hotel reviews in sites like TripAdvisor and Agoda, search for reviews in blogs, check out the hotel's website/Facebook page for the comments.
---
We love helping other budget travelers find good deals like budget hotels. In Korea especially where there are a ton of hotels to choose from!
RECOMMENDED BUDGET HOTEL: G-STAY RESIDENCE
G-Stay Residence in Korea is a new budget hotel that is located in the heart of Seoul and is Travels with a Hobo approved! Why? They passed our Korea Budget Hotel Checklist! 

 LOCATION
G-Stay  is located at the Yongsan district (check the district map above!), at the heart of Seoul, so you can travel to many destinations easily.  It's nearby Namyeong station of Line 1 (the main subway line) and they're only 1 stop away from Seoul Station.

Another station nearby is Sookmyung Woman's Univ. station of Line 4 (only 3 stops and 5 minutes to Myeongdong, one of Korea's premier shopping destinations).

G-Stay hotel is located near convenience stores, restaurants/cafes, and coffee shops like Korean BBQ restaurants, Krispy Kreme, Caffe Bene, Gong Cha, Starbucks, Paris Baguette, and EDIYA Coffee. Korean cosmetic stores like  like Etude, It's Skin, Tony Moly, ARITAUM, and Innisfree are nearby as well.
ROOMS + FACILITIES
G-Stay rooms are equipped with A/Cs , heated floors, high-speed Wi-Fi, flat-screen TV with satellite channels, and have their own private bathroom (with towels, a hair dryer, and free toiletries including soap, shower gel, shampoo, hair conditioner).


Their room types include:

Double Room (1 double bed for 1-2 pax) for 60,000 won/night

Twin Room (2 single beds for 2 pax) 60,000 won/night

Family Room (1 double bed and 1 single bed for 3 pax) 80,000 won/night
 All of the rooms have a kitchenette with stovetops, a full-sized refrigerator, and a washing machine.

The hotel uses key cards for security. The building is highly-secured with guards and CCTV cameras.
CUSTOMER SERVICE
G-Stay has a regularly updated where they post helpful South Korea travel tips  and complete directions on how to get to their hotel.

GIVEAWAY: 2 WINNERS OF 1 FREE NIGHT AT G-STAY + 10% DISCOUNT FOR THE REST OF YOUR STAY
Travels with a Hobo is giving away 1 FREE night  (+ 10% discount for the rest of your stay) at G-Stay to 2 LUCKY READERS who are going to Korea this 2015. You'll be saving 60,000-80,000 won for the free night stay plus more savings for the 10% discount! You can avail of the FREE stay anytime this 2015!
MECHANICS + FAQs
Who are qualified to join?
1. Anyone who is going to Korea this 2015 (has a valid visa and plane tickets already).
2. You've already booked plane tickets to Korea for 2015 and are going to apply for a VISA. Do you need help with visa application? Read our guide here. 
3. You're currently processing your VISA for your 2015 trip to South Korea.
4. You don't have plane tickets and VISA yet but you're planning to go to Korea this 2015 and you're SURE that you will go.
What if I win and I don't get issued a VISA? What if I have to cancel my trip? 
Sorry, you will be disqualified. We will be choosing new winners to give the prize to.
Until when can I avail of the prize?
Anytime this 2015! Even if your trip is on Dec 2015, you can still join!
How long will the contest run? 
The giveaway will run for a month starting March 22 and will end on April 23. The winners will be announced on April 24 and will receive an email from Gem.
How will you choose the 2 winners? 
The winners will be chosen randomly, like randomly picking a name out of a hat. So if you have more entries, you'll have more chances of winning!

How can I join? 
Easy! Just follow the instructions in this Rafflecopter: