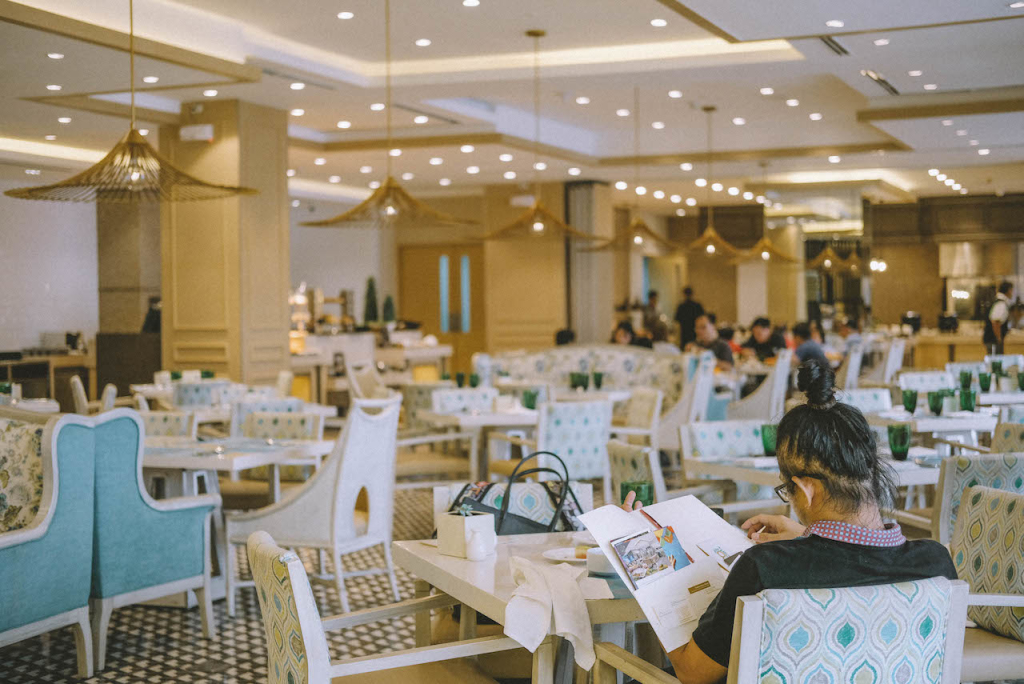 Whenever we crave for quick travels, Tagaytay is always a top choice because it's just a couple of hours drive from Manila. Aside from being a day trip destination, we also sometimes rent a Tagaytay condo unit in Airbnb with a view of Taal Lake and Volcano and buy groceries and cook our meals. While that option is very homey and convenient, we also want to experience a different side of Tagaytay where we're pampered and our meals are prepared with perfection in mind. Fortunately, we were invited by Taal Vista Hotel , a historical landmark in Tagaytay, for a weekend full of romance and good food.


Nestled on the Tagaytay Ridge with its perfect view of Taal Lake and Volcano, Taal Vista Hotel brings nostalgia to its guest because it's been around since the 1930s. A lot of people, including you probably, grew up visiting the hotel with their families on weekends. The hotel was renovated in 2002 to the style of the original Taal Vista Lodge, it's old name. It opened its doors in 2004 to welcome guests back, both familiar and new faces, to a new and improved hotel with additional facilities and amenities (a total of 261 rooms) for business and leisure.
A warm welcome in cold Tagaytay
Beep and I traveled to Tagayatay for our weekend stay on a rainy and an unusually foggy day. I had to drive slowly because of the zero visibility that we almost missed the entrance to the hotel. Conveniently, the hotel is just on the main road and you can't miss it if there's no thick fog. We checked-in at the temporary lobby of the Lake Wing (the main lobby was under renovation) and were assisted to our Deluxe Room.


Upon entering our room, we instantly forgot about the bad weather because of the warm welcome and the cozy ambiance of the interiors. There were treats (chocolate cake and their signature pan de coco) on our table and a handwritten letter from the hotel's General Manager. Such a sweet gesture to make out stay more memorable!

Aside from the comfy bed, the room also had a couch, TV, mini-bar fridge, safety deposit box, slippers, flat iron and board, hair dryer, and of course, free Wi-Fi.

We also liked the toiletries in their bathroom. They all smelled so good and had great packaging too.
Since we could barely see a thing outdoors because of the thick fog, we had no choice but to stay in the hotel grounds and explore their amenities. No problem at all for us since the main reason we went up to Tagaytay that weekend was because we were invited to try the buffet and menu in their two restaurants inside the property: Veranda and Taza Fresh Table.
A showcase of Filipino cuisine and culture at Veranda
As soon as we arrived at the hotel and finished with check-in, we went straight to the lunch buffet of their newly-renovated Veranda restaurant that looks so bright and modern chic. Great choice in lighting and patterns for the furniture and flooring.


This is what Veranda used to look like before the renovation

Veranda is open daily to serve checked-in and walk-in guests with a variety of authentic local dishes and international cuisine.

On weekends, they offer the Heritage cuisine buffet where they serve a collection of Filipino classics with a modern twist. Make sure to catch the cultural show during weekend lunch at Veranda, it was an amazing showcase of culture from different places in the country that represented Luzon, Visayas, and Mindanao.

For the lunch buffet, make sure to try the scrumptious lechon belly, sisig, bulalo soup, grilled specials, lumpiang sariwa, ensalada, noodle station, and traditional kakanin!







Beep liked that they served maki rolls aside from filipino cuisine, while I liked their organic salad bar with not your usual choices of dressing like pineapple vinaigrette and salted egg vinaigrette.


Plus points for having a special buffet for the kids!

But even more points for having a swanky bar right inside Veranda!

It was still under renovation when we went there but it still looked really nice especially with the hanging light bulbs


We also had our breakfast buffet at Veranda where we almost died of happiness because of the endless supply of one of the tastiest bacons we've ever had!

Their breakfast offerings are a mix of Filipino and international cuisine as well. I think we got a bit of every kind of food they served.

There were pots of hot soup to wake you up like arrozcaldo and champorado, waffles and pancakes, a wide array of breads and pastries, organic salad for the veggie lovers, viands to match your garlic fried rice like adobo, tocino, fish, sausage, eggs, and last but not the least, they had TAHO!










Our most romantic and intimate dinner yet at Taza Fresh Table 
The highlight of our weekend stay though was our 7 course meal at the garden-to-table restaurant, Taza Fresh Table. It was hands down THE most fancy, romantic AND mouthwatering dinner we've ever had, period.


Taza Fresh Table is their newer restaurant in the hotel and it's main difference from  Veranda is that it offers its signature variety of international cuisine using the the best and freshest ingredients sourced from local suppliers and their own garden.

The intimate celebrations package by Taza Fresh Table includes a candle-lit table setup on the garden or lawn of the hotel with a personal butler, praline chocolates, roses (you can request for a bouquet), and a bottle of Italian sparkling wine. All of these with the cool Tagaytay breeze makes it the perfect surprise proposal over dinner don't you think? Actually, during our dinner at Taza, we were able to witness the 3rd (!!!) proposal of that night. Ah, it was so romantic! The package costs PHP8,000 per couple.
Unfortunately, it was still raining that night so all the intimate celebrations package (including ours) had to be set up inside the Taza restaurant but it was still romantic though!

Our dinner started at 6PM and kicked off with Beep giving me a bouquet of red roses (courtesy of Taza) then our personal butler opened our bottle of Italian sparkling wine.



We started off with shrimp ceviche,  a serving of fresh ricotta , basil, and tomatoes. I generally don't like eating tomatoes but I really liked this because of their blend of sauces and oils in it.

We were then served with the tastiest cauliflower, roasted then pureed into a soup and followed by the garden-to-table salad with edible petals.


Until now, Beep and I can't stop talking about this plate of Mushroom Risotto that was served as our appetizer after the salad. It's made with different kinds of mushroom for a unique earthy flavor, truffle oil, and parmesan cheese – flavors so perfectly crafted together that it become one of our favorites that night. We loved it so much that we don't mind going back to Taza on one weekend just to satisfy our craving for it.

Before the main course, we were served with lemon basil and mint sorbet to cleanse the palate.

I chose the pan seared spring chicken while Beep chose  the strip steak that he couldn't stop raving about.


Every single dish served to us that night not only looked exquisite but they were all flavorful. It was actually the first time we've ever tried a full course meal so we were overwhelmed with how fancy everything was but what was even more impressive was they tasted just as good as they looked.


When we were done with our meal, we didn't even notice that we've already finished the entire bottle of sparkling white wine.

From hearty meals to cozy accommodations, Taal Vista Hotel has everything you're looking for in a relaxing or romantic getaway in Tagaytay. No wonder they've been a landmark and a go-to destination for families and couples since the 1930s, they really know how to make their guests feel pampered. Thank you Taal Vista Hotel and staff for a weekend that we'll never forget!