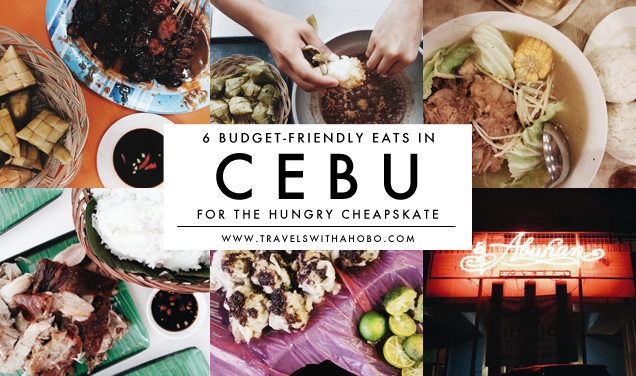 We're cheapskates even when it comes to food – Beep especially. Most boyfriends take their girlfriends to fast food joints when they're on a budget date, Beep, meanwhile takes me to the UV Express terminal in Park Square, Makati to eat at the stalls (we're frequent customers of Paotsin!) before heading home.
We set a PHP7,000 budget for our recent Cebu-Bohol trip, so we had to choose the more affordable dining options. While we usually eat in carinderias like the locals in our budget trips, we couldn't pass up the opportunity to try the highly-recommended eats in the Queen City of the South.

I must confess, I know that food writing isn't my forte so I'm not a big fan of posting food shots in our Instagram account (). To my surprise however, I Instagrammed every food we feasted on in Cebu- with novel-length captions to boot! I don't know what they put in their food, but Cebu's grub was just that good that it tricked me into becoming a foodie in Instagram even for just a couple of days.
We couldn't try every recommended budget restaurant in Cebu as our limited time in the city permitted us to only eat and try the food in 6 places (another reason to get our butts back in Cebu!). Now, they're not all as cheap as the others in the list but they're affordable if you'll be splitting the bill with a group of friends. Now enough of the yapping and let's get to the food, shall we?  Here are the 6 budget-friendly eats in Cebu that every hungry cheapskate MUST try (in no particular order):

1. Tuslob Buwa
If you're looking for a filling meal that won't burn your wallet in Cebu City, you should definitely try "Tuslob Buwa", which is Cebuano for dip (tuslob) and bubble (buwa). You will literally dip the puso (wrapped rice) in the simmering hot sauce made from pork brains, liver spread, pork fat, shrimp paste, soy sauce, and their secret broth – served with 10-12 pieces of puso. This dish isn't for people watching their cholesterol but it sure is worth the calories! Ask for chilli to add a kick to your dip. If that pan wasn't hot, I swear we could have licked it clean.
Price:  PHP100 for one set (good for 4 people)
Location: Gorordo Ave.,Cebu City (beside Yamaha and InkinIan)

2.  Larsian BBQ  
BBQ is a favorite among Filipinos, especially with me and Beep because it's cheap and delicious – the perfect combo for cheapskates. Oh how we love our streetfood isaw!
After almost getting left by the plane in Manila going to Cebu, Larsian was our first stop for late dinner. It's a popular market-style dining place for hot off the grill BBQ of all kinds – from pork, chicken, to seafood – cooked in their signature BBQ sauce.  What's not to love about a place entirely dedicated to affordable ihaw-ihaw – and open 24 hours?!

Once you get inside, you'll be greeted with vendors of the many BBQ stalls. Gather those vendors and bargain with them because they offer just about the same food anyway – like Manila's Dampa. You'll also get to choose which food you want them to grill for you from their display. The chorizo is a must-try!
Grab a seat and get comfy, it won't take long until they serve you your plate full of grilled BBQ with a basket of puso (wrapped rice). Best way to eat in Larsian? With your bare hands (or use plastic gloves)! It's not the cheapest BBQ but it sure is worth it.
Price:  Beep and I paid PHP130 for our meal (that's about PHP60 per pax depending on what you order) 
Location: Fuente Osmena Circle, Cebu City

4. Kusina Uno and Abuhan's Pochero
In Cebu, bulalo is more known as "pochero", and they have 2 versions: 1) your usual soup-based pochero and 2) sizzling pochero. Kusina Uno and Abuhan are two different restaurants yet they're both known and claim to have the best pochero in town.

We tried the soup-based pochero in Kusina Uno and the sizzling pochero in Abuhan. Both had plenty of servings in a bowl/sizzling plate good for 4 pax and both have meat so tender it falls off the bone even with just a fork's prick. Not only are their pochero the perfect meal to cap off a tiring night, both restaurants are also open 24 hours!
Price per order: 
Kusina Uno: PHP 385 (soup) PHP 395 (sizzling) 
Abuhan: PHP 365 (medium) PHP 410  (large) – same price for soup and sizzling
Location: 
Kusina Uno: F. Cabahug St, Cebu City
Abuhan Dos: F Ramos St, Cebu City Abuhan Tres: Unit 108 i2 bldg. Asiatown I.T. Park 

5. Rico's Lechon
I think it's a grave sin to go to Cebu and NOT eat lechon! With a number of known lechon restaurants claiming to be the best one in Cebu, some tourists might just go to the nearest restaurant and satisfy their craving for what Anthony Bourdain says to be the best pig ever.
While there were a couple of nearby lechon restaurants in our hotel's area, we chose to go to Rico's Lechon even if it meant riding a cab to shell out more cash from our small budget. And we think we made the right decision because upon Instagramming our Rico's Lechon order, other travelers commented and verified our hunch – Rico's Lechon IS the best one in Cebu (still, we think we need to try all of them before crowning them with the title of the best roasted pig). Aside from the lechon, their pandan tapioca dessert (PHP60) is another must-try!
Price per order: 
Original: 1/4kg – PHP190 (good for 1)
1/2kg – PHP310 (good for 1-2)
3/4kg – PHP450 (good for 3-4) – we ordered this for our group of 4 yet we had still so much lechon left!
1kg – PHP595 (good for 5-6) 
Spicy: 
1/4kg – PHP210(good for 1)
1/2kg – PHP340 (good for 1-2)
3/4kg – PHP495 (good for 3-4) 
1kg – PHP640 (good for 5-6) 
Locations (3 branches): 
1) Highway 77, Talamban, Cebu City
2) Acacia Street, Ayala Access Road, Cebu City (near Kusina Uno)
3) The Ridges Commercial Complex, Panagdait Road, Mabolo, Cebu City

6. Siomai sa Tisa 
This one is not only the cheapest but it's also the BEST one of all the foods we tried in Cebu. Travels with a Hobo approved!  Just when we thought we've already tasted the best food in Cebu after feasting on Rico's Lechon, we tried D' Original Siomai Sa Tisa in a modest stall. Served in a plate wrapped in plastic and topped with chili garlic sauce, the first bite of this famous cheap food was just pure heaven inside our mouths. Hands down, best food we've ever eaten in Cebu. So good, you'll wipe the plate clean of every morsel including the siomai wrapper bits! I've honestly haven't eaten siomai anymore since we got back from Cebu because no siomai will ever compare!
Price per order: PHP7 per siomai. One serving has 8 pieces which is good for 2 pax but it's so good you'll want to eat the entire plate yourself and probably order another!
Location: You can find them everywhere in the city, just look for the posters with the words "D' Original Siomai sa Tisa" in food stalls.
I'm telling you, you're missing half of your life if you haven't tried Cebu's tasty yet budget-friendly grub! Have you been to Cebu? What other must-try cheap eats can you recommend?