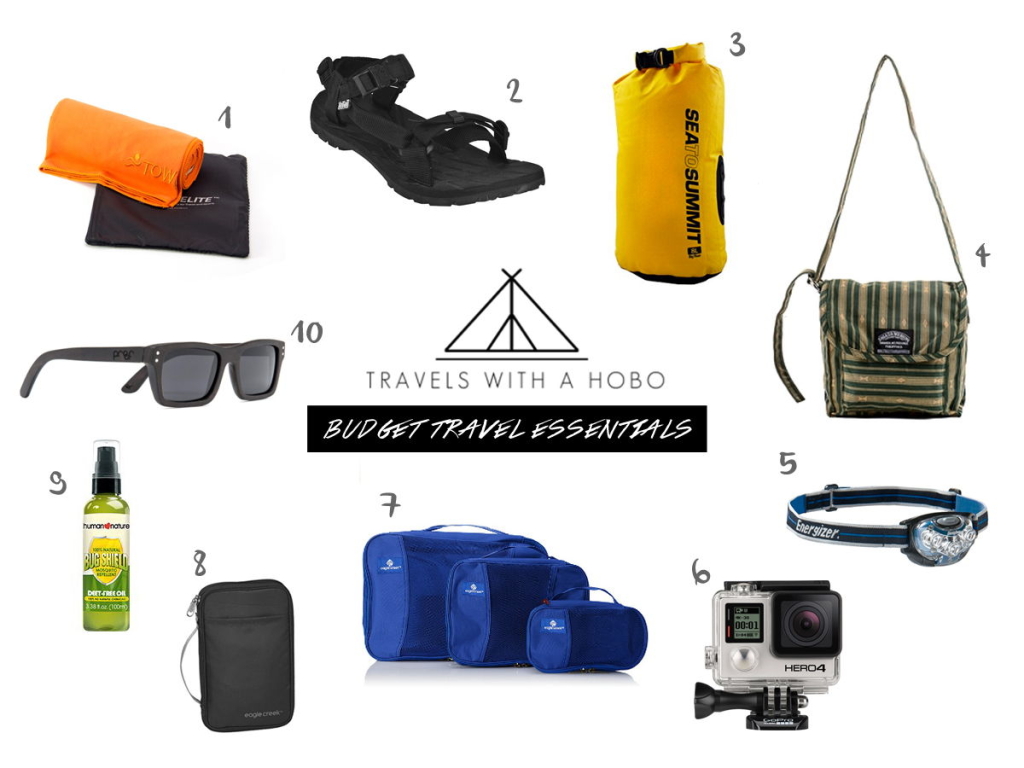 We won't be able to go on budget travels in the first place if it wasn't for Beep (the Hobo) who introduced me to this travel lifestyle. Before I started traveling with Beep back in 2012, an overnight trip with just a small bag was unthinkable for me. Beep, who has been climbing mountains in the Philippines for about 10 years then, is an expert in the outdoors and can survive with just a small backpack (or even a bindle!) – that's why he's called a Hobo, he looks like one too.
If there's one thing that I learned from him after years of traveling together to mountains and islands, it's how to pack light for a hassle-free travel on a shoestring budget. We bought some of ours here in the Philippines while the others are from Amazon that we bought and shipped via
halpU.com
Here are some of our must-haves that we've invested in so far that we think every budget traveler should save up for:
1. Microfiber towel 
One of the first things that goes into our bags are these compact and lightweight microfiber towels that can be folded up to the size of a thin notebook. Beep and I both have 1 of the beach towels from
Towelite
. It's super absorbent, quick-drying, hypoallergenic and gentle on the skin . Unlike your ordinary towels that eat up so much space, microfiber towels can be easily slipped in your bag. We use it as a blanket too, sometimes!
2. Hiking sandals
These sandals aren't just for hiking, they're the perfect footwear for ANY adventure. I first used my pair when we tried the extreme activity called canyoneering in Alegria, Cebu where we had to jump off from 12-15 feet high rocks into the fast-flowing turquoise colored deep river. Sure, it's not as stylish as those trendy leather sandals, but these durable sandals can survive the roughest wet or dry activity you'll be doing during your travels for YEARS! My pair is from
Tribu
. Aside from the hiking sandals, Beep also has one of their beach sandals. Not sure which brand to get?
See more reviews here
of hiking sandals.
If you're doing activities like mountaineering or trail running that require closed shoes, invest in a good pair of hiking shoes or trail running shoes, check out this review of trail running shoes from
Runnerclick.com
. Aside from the Tribu sandals, Beep and I both have Merrell shoes that we use for hikes.
3. Dry bag 
Do you always find yourself in the water when you travel? You need this. It secures all your valuables regardless of how rough the conditions are. It's perfect for exploring waterfalls or river canyons, kayaking, rafting, etc. We have the
Sea to Summit Big River Dry Bag
that can fit our GoPro (and accessories), DSLR, smartphones, travel organizer, and our microfiber towels! We also use it as extra luggage if we bought too many souvenirs that won't fit in our bags.

4. Hand-carry bag 
For our valuables, my trusty hand-carry bag is the Sagada Weaving messenger bag that is 100% hand made by Ifugaos, who have been weaving these bags since 1968. I got this bag during our trip to Sagada and I instantly fell in love with its signature tribal design. You are also helping out the indigenous communities when you purchase their bags. If you're traveling to Sagada, make sure to get one of these! I also bought table runners for my mom haha. I wanna go back actually to get a backpack version of my messenger bag.
5. Headlight
When we're hiking or camping, packing our hands-free headlights is a must.  It's basically a flashlight that you can strap on your head. It's very useful for when you're walking along the mountain trails at night or early dawn, and when you're camping for a night in an island with no electricity. Beep and I both have one of the Energizer headlight that we bought from a local hardware store.
6. GoPro 
For the first few years of our travels, I only lugged around my DSLR to capture picturesque views and photos of each other. We realized that we needed a waterproof action camera when we found ourselves spending a lot of time in our travels exploring the rich marine life underwater,  cliff diving, hanging off of metal wires on the edge of a mountain, and driving motorcycles or ATVs with amazing views – activities that we can't use a hand-held, bulky, and non-water proof DSLR to capture the moments. The
GoPro
is a very small action camera but it's quite powerful and can capture photos and videos in AMAZING quality! Along with our GoPro, we've invested in extra batteries and external charger, pole, headstrap mount, dome (for over-underwater shots), and are saving up for more accessories. You can purchase your GoPro in the Philippines at their
kiosk in SM Aura
(in front of Crate and Barrel) and other sports/adventure shops like
R.O.X. branches
and
The Landmark in Makati and TriNoma
. They also feature GoPro user photos in the Philippine and accounts.  For our travels, I bring both my DSLR and our GoPro.
7. Packing cubes 
There are plenty of tricks to compress your clothes when packing, one of which is to roll them up. To save up on more space, we used to compress our rolled up clothes by putting them inside plastic bags and squeeze/vacuum out the air. This isn't really an eco-friendly practice for packing though so we looked up for alternatives, and that's when we found out about packing cubes. These packing cubes keep our clothes organized because we can sort out and pack everything per cube, no more rummaging through big plastic bags. We love the Pack-It Cube set from Eagle Creek. It's a great gift too for anyone who loves to travel!
8. Travel organizer 
Beep tends to misplace his valuables so I've taken the responsibility of keeping all of our passports, plane tickets, and other important documents in one organizer – saves us time from looking for them in our hand-carry bags too. We use the Eagle Creek RFID Travel Zip Organizer that has an RFID Blocker technology (keeps your personal information safe from RFID readers). It has slots for up to 7 debit/credit cards, your boarding pass, passports, money, receipts, and even a pen.
9. Insect repellant
As budget travelers, we opt to sleep in budget-friendly accommodations like tents, open-air cottages, or fan rooms. While we're one with nature, mosquitos will keep you awake all night. That's why we always make sure that we've packed our bottle of
Human Nature's Bug Shield DEET-Free Oil,
a citronella insect repellant made with natural ingredients by the local social enterprise Human Nature. It's cheap too at only PHP99.75! It smells really good and keeps us mosquito bite-free all night. We're big fans of
Human Nature
! ❤️
10. Sunglasses
Sure we're budget travelers, but that doesn't mean that we have to look homeless. A stylish pair of sunglasses with a classic design like the 
Proof Eyewear Boise Wood in Black Maple
is my go-to accessory for still looking fresh in travel photos even after a bumpy 16-hour long bus ride or 5-hr hike. I also love their hard wood sunglass cases that we use to store our other valuables. Beep prefers his sturdy and classic Ray-Ban aviators. We swap our sunglasses too since they suit both men and women. Not sure which style to get? Refer to this guide on
eyewear trends
by
Vision Express
, check out their online sales too!
11. Powerbanks 
To keep our phones fully charged even if we're in the middle of nowhere. Since we do DIY budget travel, we always have to keep in contact with tourist officers, our guides, or accommodation contact person when we're on the road. We're also doing real-time updates during our trips for our social media accounts (and for our Moms). 

12. Universal adapter 
This is really handy when we're traveling outside the country. We used to borrow adapters from the guesthouse owner or hostel receptionist but they usually only have limited adapters or sometimes they don't have any. We use a number of gadgets so we need them plugged in whenever they're not in use. We also bought this from our local hardware store. 

13. Refillable bottles +  
We pack refillable bottles so we help lessen waste. We one up our water with Nuun, an electrolyte enhanced drink tabs that is gluten free, dairy + soy free, and is made from plant-based ingredients so you stay hydrated without the sugar. You can purchase Nuun from Planet Sports branches. 
14. Hygiene/toiletry/medicine kit
We use the Deuter wash bag that we can hang in the bathroom and keeps our things organized. I used to have just one small bag  where I dump in all my toiletries and such but it's hard to find anything in there. 

15. Rope and duct tape 
These are very handy when you're camping or when you have any mishaps that need quick fixing. We use the rope as a clothesline or to tie up anything on our bags in case we need them on the go. Beep once used a duct tape as a quick fix for a broken shoe until we could find a store to buy a new one. Make sure you have a handy folding knife too in case you need to cut the rope. See more survival reviews here.
There you have it, our budget travel essentials! We'll be adding more to this list as we discover more must-haves for our trips. Do you have any budget travel essentials not in our list that you think we should invest in? Share them in the comments below. 
P.S. Looking for gifts for travelers but not sure what to get? Try this guide from Thatsweetgift.com for finding the perfect gift for travelers that's within your budget.