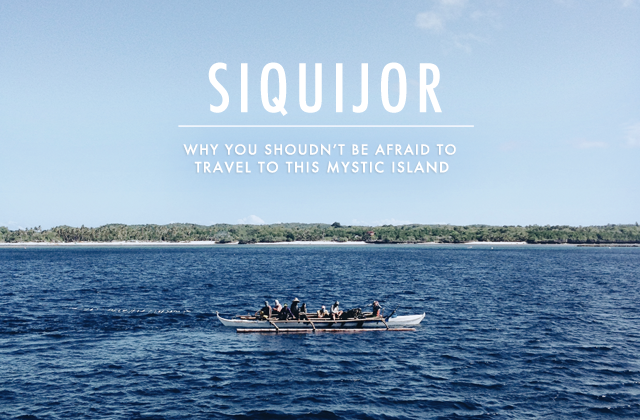 "Don't look straight into their eyes" 
"If someone insists on giving you a gift, politely decline it" 
These are just some of the warnings that people told me when they found out that I was going to Siquijor for a week-long Central Visayas trip with the Tourism Promotions Board (TPB) Philippines. While there were other destinations in the Philippines to choose from for TPB's first-ever domestic Product Familiarization Tour which I was invited to take part in, I immediately chose the Siquijor-Dumaguete-Bohol tour just because I've always dreamed of going to Siquijor.
Shrouded in magic and dark tales, the mere mention of the word Siquijor sends chills down the spine of many Filipinos. Believed to be inhabited by mystical and dark creatures like aswang, ghosts, witches, and sorcerers; this reputation might have gotten people to repulse the third smallest island in the Philippines , but it's for the same reason that tourists (myself included) are attracted to the island once called Isla de Fuego (Island of Fire). It was dubbed so because of the eerie glow of the island according to the Spanish conquistadors who discovered it in 1565. The truth? It was just swarms of fireflies that flitted around the island's Molave trees seen from a distance.
Getting to Know Siquijor, the Mystic Island
Siquijor is easily reached by boat, about an hour from Dumaguete. It was morning when we traveled to the island so I didn't see it glowing like what the Spaniards saw. I didn't have any hint of reservations about the island for my first visit because the more mysterious a place is, the more I want to explore it. Of course I was curious if the tales were true. What were the people like? Do they really have a cold stare in their eyes? Will I finally see an aswang face to face and live to tell the tale?
As we approached the island, I was bewitched. Siquijor's untouched beauty is evident in its turquoise waters, long stretch of white sand, and lush green trees throughout the small island. 

My first encounter with Siquijor locals wasn't scary either. I was still aboard the boat when I spotted locals. Instead of mysterious beings, I was welcomed by a boat boarded by local fishermen. I waved at them and they happily waved back at me.
We docked at the beach front of the Coco Grove Beach Resort where we got the warmest and grandest welcome from the staff who were mostly from Siquijor.

I had to ask myself, is this the same island feared by many that we've heard so much about? 
Our first experience in Siquijor was far from the strange stories that we've heard, we got to know more of the island with a guided tour aboard a van that drove us around. The island is actually so small that it will only take you about 3 hours to tour it, without stops of course.
While the island is small, there are numerous activities and tourist attractions that Siquijor has to offer –  a single post won't suffice! For my first post on Siquijor, I'll try to paint you a picture of my short but sweet trip in the island.
The Curse of Imelda Marcos and the Faith Healers of Siquijor
If you're from the Philippines, chances are you might have heard of the urban legend about former First Lady Imelda Marcos, who allegedly went to Siquijor to seek a faith healer for the scales that grew on her legs. According to the legend, when she was in charge of the construction of the San Juanico Bridge, street children were sacrificed to make the foundation of the bridge stronger since it would be the longest bridge over sea water in the country that would connect Samar and Leyte. Some say that the blood of the children were mixed into the cement, another gruesome version tells that the children were dropped into the cement mixer. A mermaid who lived in the river saw this and she cursed Imelda, which according to people was the reason why she wore long skirts.

Today, the island still have a number of faith healers who practice alternative healing methods. During our trip, we visited a faith healer who practiced "bolo bolo" using a stone, a small tube used as a straw, and a glass half-full with clean water. The faith healer will hover around your body while blowing air into the glass with the tube to form bubbles (bula bula), thus the name "bolo bolo". If the patient has an illness or someone did black magic on you, the water will become murky and be filled with particles that would represent your illness. They will throw out the water and repeat this process until the water is clear. Once it's cleared, it means that you're healed. More about my bolo bolo experience in another post.
A Healing Tree and the Black Magic Mary 
Balete trees are often feared by Filipinos because of its eerie vines and roots, which according to folk tales, is often a home of dark creatures. In Siquijor, being a mystic island that it is, there's one Balete tree that is actually flocked by tourists. The 400-yr old Balete Tree, believed to be enchanted because of its healing powers, has a refreshing natural fish spa where fishes nibble on your feet's dead skin. The tree isn't so scary when there are dozens of small fish (some are huge!) tickling your feet.

We also visited a couple of old churches in Siquijor, but there's one church that is especially popular with tourists and locals because of legends that surround a statue. The Sta. Maria Church houses the statue of St. Rita of Cascia, the patron saint of abused wives.  Known as the Black Magic Mary, the hair-raising statue carries a skull on her right hand and a crucifix that seems to be inverted on her left hand. Some people say that the skull belongs to a real man who was beheaded by his wife. Another rumor is that the statue walks out of the church after sunset.

Bewitching Siquijor: Behind the Mystery and Dark Tales
1. Folk Healing Festival
While other provinces are famous for celebrating festivals for patron saints, Siquijor has their Folk Healing Festival.  Thousands of people visit Siquijor for the country's biggest organized gathering of faith healers, shamans, and black magic practitioners to create potions and perform ritual cures. Love potions are freely available for tourists in Siquijor. We saw a store in the Enchanted Balete Tree that also sells herbal bracelets and voodoo doll keychains.

2. A Peaceful Island
For a place known for mystical creatures and black magic, you'd think that cases of missing or murdered people will be usual like in other provinces known for such. The fact is, Siquijor has a zero crime rate, and the locals are very proud of this. Some say that people are afraid of committing crimes because if someone wronged you, people who do black magic will just be around the corner if they want revenge. If there's a saying "Isang bala ka lang" (one bullet, you're dead), in Siquijor there's "Isang karayom ka lang" (one needle, you're dead  - hinting voodooism).
3. The Perfect Getaway
Tourists have the option of homestay for accommodation. Luxury resorts also abound the island, perfect for relaxing and romantic getaways thanks to the island's natural beauty and serenity, it being isolated from its neighboring lands. We visited a couple of the resorts which were all fascinatingly beautiful, and a lot (if not all) of them offer diving (which I promised myself to try when I revisit Siquijor). I'll write more about the resorts we visited in a separate post.

Why You Shouldn't Be Afraid of Traveling to Siquijor
One thing that I noticed though is that most of the tourists I saw were foreigners. Could it be because Filipinos are too scared to visit the island?
The negative notion of people about Siquijor ward off cautious tourists, but these tales and strange traditions are forever embedded in their culture. Rather than trying to change their reputation, they embrace it – which is what I love about Siquijor.
These tales are part of the island's unique charm.  It's either you're curious and want to dive deeper into the mystery (and end up discovering the beauty of the island) or you stay firm with your belief that Siquijor is home to strange phenomena and dark creatures and should be avoided (and missing out on half of your life).
If there's one thing I learned from all my travels, it's that the unfamiliar often leads us to the most beautiful places. What you might know now about Siquijor is just like the synopsis at the back of a book. And like what St. Augustine said, "The world is a book and those who travel only read a page". There is so much more to Siquijor than meets the eye. Let go of your presumptions and travel to Siquijor, it will be an experience to remember and worth telling your grand kids about.
You are worth coming back to, Siquijor. See you again soon.