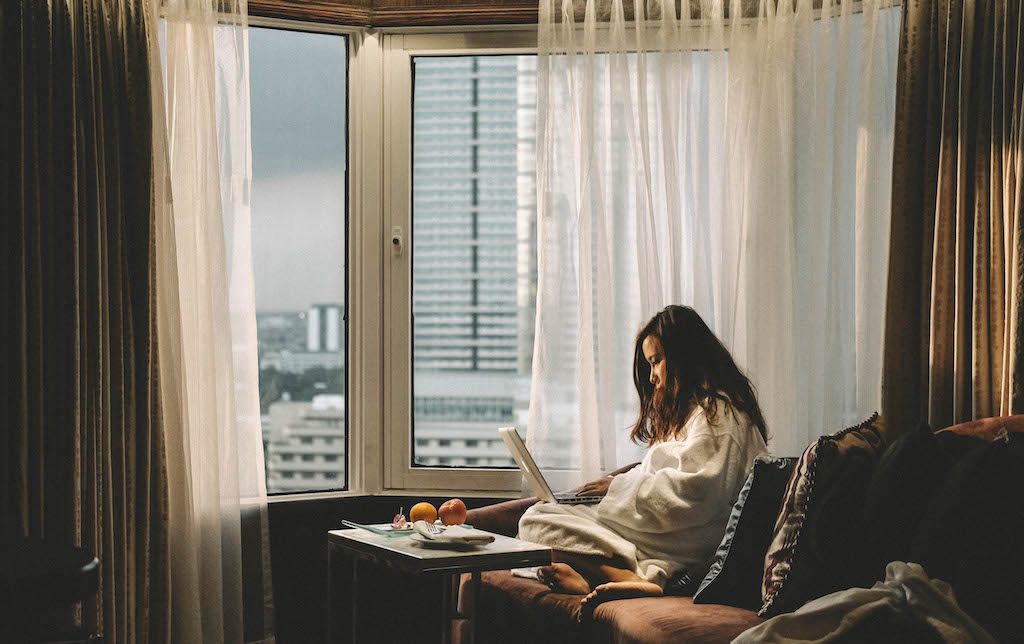 Travel guides will tell you that watching the famed Manila Bay sunset along Roxas Boulevard is a must-do when you're in Manila, Philippines. I'll be honest, I've lived here all my life but I've never really went out of my way to go to that famous strip and actually wait and watch the sunset until it gets dark. I know, I know, for someone promoting exploring the 
#PhilippinesFirst
 not just to tourists but to my fellow Filipinos, I should be ashamed of myself. That's why a few weekends ago, Beep and I planned a staycation in one of the hotels along Roxas Boulevard for the best view of the sunset and get a much-needed short trip too.


We heard a lot of good things about Diamond Hotel Philippines  located at the heart of Manila City and its magnificent golden Manila Bay sunset view from the rooms. As budget travelers, we usually stay in budget inns or hostels, never in a 5-star hotel but have always wanted to out of curiosity.

So to finally tick that off our bucket list and hit two birds with one stone,  Beep and I booked a room in Diamond Hotel Philippines.
Diamond Hotel is also just a stone's throw away from the hottest nightlife spots in Malate, Manila and a few minutes drive to other must go-to tourists spots like Luneta Park, Intramuros, Manila Ocean Park, and National Museum.

We parked at the basement of the hotel, complimentary if you're a check-in guest. After going through the security checks, we went straight to the reception for check-in. I was asked to give PHP3,000 for the security deposit. I didn't have enough cash with me that time but fortunately they have an ATM machine in the hotel. I made a quick withdraw and went back to reception to get our room card.
We opted to stay in a Premier King Room located in the Premier floors of the 500-room hotel, 22nd and 23rd. It's a 40sqm room with a king size bed and free buffet breakfast for 2. The room includes an office desk, coffee/tea maker, a small fridge stocked with drinks (with alcohol) and snacks, an in-room safe, cable TV, and WiFi access.










The bathroom looked luxurious with its marble flooring and walls. Apart from the shower, it has a bathtub (which Beep loves!), toiletries (from the usual shampoo, conditioner, lotion, soap, dental kit to the extra jars full of cotton balls and bath salts). I also loved the illuminating round mirror mounted on the wall which I promise to get for myself in the future!


The bathrobes are A+ in quality! The slippers too. Usually in other hotels we stay in, the complimentary hotel slippers are meant for a short stay use only, but Diamond did not scrimp on small things like this. I'm still using the slippers at home, they're that good quality!

They also have a shoe shining service for guests, just put your shoes in this box provided in the closet and call the number indicated for them to collect it


As expected from a 5-star hotel, the room was designed with luxury and comfort in mind. Beep didn't want to get up from the bed, while I worked on my laptop in the Diamond Hotel bathrobe by the big windows as I waited for the sunset. You can tell I loved their bathrobe because I wore it the entire stay, except for when we go out of the room of course haha.
Manila Bay sunset from our room
I was immersed in what I was doing in my laptop when I glanced at the window and it was already sundown. I immediately woke up Beep to watch it with me.

When you thought you're already seeing the best sunset, a few minutes later it shows off with yet another stunning sunset.


We stayed by the windows to watch the orange hues enveloped the city of Manila until the last peek of the sun and night fell to showcase another magnificent view – Manila at night.

We had a good night's sleep thanks to their comfy bed that will just suck you in and lull you to sleep especially after  a nice hot bath.
Breakfast at Corniche
By morning, we had a complimentary newspaper placed by our door. Being a print-lover more than digital, I loved that. There was also a note to remind us that we're scheduled to check-out that afternoon and a a heads up that they're expecting an influx of check-in guests so we should prepare to check-out earlier to avoid inconvenience.
The buffet breakfast is served at the hotel's lobby at Corniche restaurant which also serves lunch and dinner buffet. The food served is a combination of Asian, Western, and Japanese cuisine. Plus points for Halal food choices!


When you check in, they give a note to remind guests that they have a strict dress code for dining in their restaurant. They don't allow guests wearing slippers/flip flops, bathrobes, swimwear, and sleeveless undershirts. We walked in the restaurant for the breakfast buffet all made up and noticed that they didn't allow some guests to come in because they didn't follow the dress code.

We got seated by the floor to ceiling glass windows with a refreshing view of a lush tropical garden.

We were supposed to spend that morning at the hotel pool but it was under renovation. They did however offered an alternative for guests to be driven to a nearby luxury hotel with a pool if they requested to.
We checked out 30 minutes before the due time as advised by the hotel and there really were A LOT of guests at the lobby. But check-out was fast and there was no hassle, we got our security deposit back and they bid us goodbye.
Though we only had 1 night for our first 5-star hotel experience, it was more than what we could ask for. We'd love to go back again!