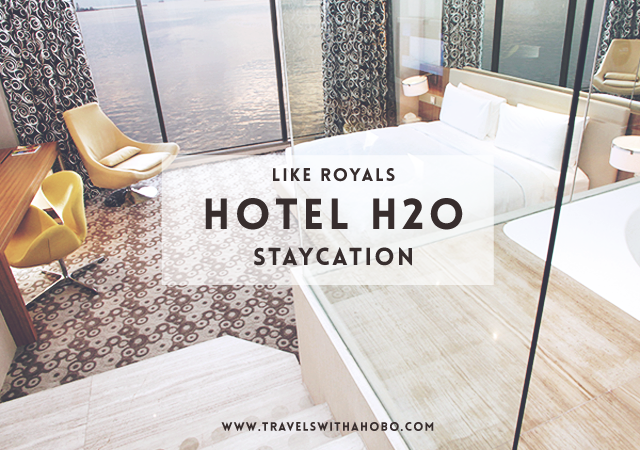 We're budget travelers. We don't really like spending over P500 for a room that we'll just be sleeping in every night during a trip. Why would we want a spacious room with unnecessary inclusions like a huge flatscreen cable TV and the comfort of an A/C unit when we'll just be spending majority of our days outside of it? If we have a place to pitch a tent or can find a stranger's couch (or floor) to sleep in, we will still be able to make the most out of our trip (and have more money for our next travels). After all, a trip isn't about the accommodation.
Ever since I started planning our budget travels, we haven't stayed in any luxurious hotels. Since we've been in such a long backpacking hiatus because of work (our last trip was an overnight beach camping trip), I found myself craving for a much-needed weekend vacation. I had some out of town ideas but with typhoons hitting the country almost every weekend, I opted to try something new this time with Beep: go on a staycation. And not just a staycation, but actually splurge (a little) and treat ourself to a relaxing weekend like royals.
Although I was open to splurging, the budget backpacker in me still had to make sure that we were going to get a great package deal. 5-star hotels were definitely out of the question because even in packages, they still have a ridiculous expensive price tag. My search led me to discovering Hotel H2O's Dream Package staycation deals.Spoiler alert: It was one of the best weekends of this year.

Aqua Room (published rate is P11,700)
Hotel H2O, located inside the Manila Ocean park, is the only marine-themed hotel in the Philippines. They're famous for their Aqua Room where you get to literally sleep with fishes in an aquarium wall inside your room.

Bayview Room (published rate is P10,700)
I found out about their Dream Package in their website. The package inclusions are offered for 2 guests: an overnight stay  in the Aqua or Bayview room, set breakfast, welcome drinks, 30-minute hot bed treatment and one-hour body massage at Zenyu Eco Spa, 10% discount on food and beverage at Makan Makan (the hotel's partner restaurant), and Deep See Rush tickets to Manila Ocean Park (includes 5 attractions: Oceanarium, Sea Lion show, Marine Life Habitat, Jellies Exhibit, and Musical Fountain show). The starting rate of the package is P6,913 net.
I remembered that a college friend of mine, Ate Arnie, works in Hotel H2O so I messaged her to inquire about the package. I saw in their website that they have rooms with bathtubs and jacuzzis and I was really tempted to get an upgrade. If I'm going to splurge, why not get a room with a jacuzzi, right? I could already imagine myself taking a dip in a bubbling jacuzzi. I asked her about room upgrades and I was so damn happy to find out that I could get a room upgrade for only P610 (per higher category). Sweeeet. I then decided to get the Club Bay room for an additional P1830 (regular published rate is P14, 700).  She even booked the room and dates for me. Thanks Ate Arnie! And so, our Dream Package with Club Bay room had a final price of P8,743. (I shall make a comparison of regular costs and the package cost by the end of the post)
Come afternoon of Oct 12, Beep and I went to Hotel H2O where check-in was a breeze. Along with our key card, they handed us our breakfast coupons, spa coupons, and the Deep Sea Rush tickets to Manila Ocean Park.
When we entered the room, I swear our jaw dropped when we finally saw our home for the weekend.


Aside from the jacuzzi that really got us psyched, the bed was also one of the best things in the room. BEST BED EVER. It was so soft that you'd wish you could take it home with you. I loved it so much that I wanted to ask the hotel staff where they get their mattress lol.
When we opened the curtains in our ceiling to floor windows, it felt like we were inside a cruise ship. We wrapped ourselves in the bathrobes provided for us and jumped on the most comfortable bed in the world to watch Game 3 of the UAAP finals. (IKR, manonood lang ng UAAP, naghotel pa haha)

After the game (congrats DLSU!), we headed to the Zenyu Eco Spa for our massage and hot bed treatment. The negative ion spa is part of the Ecoparadise chain from Japan.

The one hour massage was really relaxing, so relaxing that Beep was snoring halfway through it. Right after we were towelled off with hot towels, we were then directed to the hot bed rooms.

The hot bed treatment is their most popular service. Japan's Ecoparadise developed a method to construct specialized Antioxidant Hot Bed Therapy Rooms. The room is set at 45 degrees Celsius so expect to sweat it out during the 30 minutes that you'll be lying on the floor. It's not like a sauna though, the lady in the front desk of the spa explained to us that the therapy will help in cell regeneration, improved blood circulation, and reduce the active oxidation within the body. I don't really understand all of that but I did felt really relaxed when we got out. The massage and treatment that was included in our package is regularly priced at about P1500.

After dinner, I wanted something sweet but almost all the shops in Ocean Park was closed although it was only 8:30 PM. Good thing the Green Bean coffee shop in the hotel lobby was still open. I got the  Green Bean Matcha Ice Blend and was reallllly surprised by how perfect it was. It was way better than the Green Tea fraps at Starbucks and CBTL! I think Beep was getting secretly annoyed with me raving about it since I first took a sip until we got to our room where I finished drinking it. Great, now I'm craving for it.

To cap off the night, of course, it was time for the jacuzzi to show us what it's got! While watching a random movie on the TV, we waited for the jacuzzi to get filled up with lukewarm water. As soon as it was filled halfway, we tested out the features like the bubbles and jets. There were a lot of ooohs and aaahhs, and even more when we noticed the light effects. If that wasn't enough, it also had a built in FM radio!
After a good night's sleep in the most comfortable bed in the world, we headed to Makan Makan for a filling breakfast and a nice cup of joe to prepare us for a long day ahead. Each of our meal's regular cost is about P350.

After check out, we headed out to Manila Ocean Park since Deep Sea Rush tickets were included in our package. The ticket regularly costs P550. I loved how this package gave us something to do even after our stay in the hotel. Beep hasn't been to Manila Ocean Park before so it was such an amusing sight for me when he looked like a kid during our afternoon date. It was cute at first but there were times when I had to pull him like a spoiled little brat just so we could move on to the next location. Haha!
Now for the comparison of expenses:
Regular Rates:
Club Bay Room – P14, 700 ; Aqua Room – P11,700
Breakfast for 2 – P700
Massage and Hot Bed for 2 – P3,000
Deep Sea Rush tickets for 2 – P1,100
———-
Club Bay Room
P19,500 (regular) – P8,743 (promo)
We saved P10,757!
Aqua Room
P16,500 (regular) – P6,913 (promo)
You can save P9,587!
Really great deal from Hotel H2O! Their Dream Package is only running until Oct 2013 so hurry and book it if you want a sulit staycation. They also have a new promo for Oct 14 – Nov 7 that is a bit similar to what we availed of. Check out their promos here.
Disclaimer: This is not a sponsored post. I just really like to spread the word to people about good deals.